Beyond batting big
K. Datta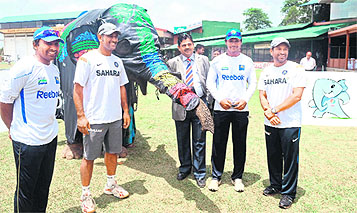 For all the criticism of a track at the Sinhalese Sports Club in Colombo, that has been described as a 'batting paradise, you can't take away credit from the double century by that batting phenomenon called Sachin Ramesh Tendulkar.
WAITING FOR THE WORLD CUP: Sri Lankan skipper Kumar Sangakkara (second from right); Indian captain M. S. Dhoni (second from left), and Sachin Tendulkar (right) pose with an elephant during the recent launch in Colombo of mascot Stumpy (extreme right) for the 2011 Cricket World Cup. Photo: AFP

Tee Totaller
Donald Banerjee
Dhaka ball boy scripts history on Brunei greens
Mohammed Siddikur Rahman, who worked as a ball boy at the Kurmitola Golf Club, Dhaka, to pay for his school fees, created history by becoming the first Bangladeshi to win an AsianTour event. The unheralded man from Dhaka, who learned his game by fashioning his first golf club with a seven iron head on a metal rod, defeated South Africa's Jbe Kruger in an exciting play-off to win the Brunei Open at Bandar Seri Begawan last weekend.
Fitness mantra
Magnificent Magnesium
Mridula Wattas
Did you know that diabetes management was not just about insulin dosage, carbohydrate counting, and high-fibre diets? Or that your errant systolic blood pressure could also be tamed by eating a diet rich in some mineral along with the standard treatment? Or that osteoporosis (weakening of bones) management was not just limited to calcium. Yes, there is this mineral, magnesium, which is never in the limelight but quietly facilitates many processes in our body and helps in all the above problems.