Talking art, the Tata way
Tatas had, and continue to have, a close connection with the Asian and European Arts. This is evident from the latest publication, East Meets West, written by eminent experts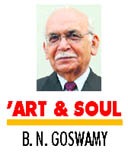 THERE used to be a great journal with the name Journal of Indian Art and Industry, which started being published in England by William Griggs every quarter from 1884 onwards, and which, sadly, folded up in 1917 while the First World War was still on. But this piece is not about that journal (even though one is so tempted): it is about the connection between art and industry, in fact between art and a great industrial family, the House of Tatas. There is something about the Tata name that commands instant respect in most minds, for it directs one's thoughts towards pride in being Indian, towards vision and energy and philanthropy.
But despite there being monumental evidence to the effect — the Prince of Wales Museum, the National Centre of Performing Arts, the Marg magazine, the Homi Bhabha Fellowships, all carrying the Tata imprint, are distinguished examples — not everyone realises the close connection the Tatas had, and continue to have, with the arts. But one can be certain that the recent publication, East Meets West, by Marg, and the exhibition with the same title at the Prince of Wales Museum — now bearing the ponderous name, Chhatrapati Shivaji Maharaj Vastu Sangrahalaya — will in some ways help. For both have as their exclusive focus the Asian and European Arts in the Tata collection.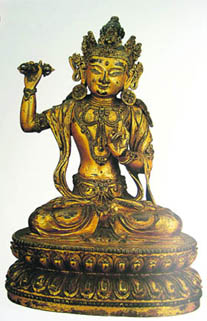 The Bodhisattva Vajrapani. Gilt Bronze; China, 15th century
Gift of Sir Ratan Tata to the Prince of Wales Museum, Mumbai

My first personal acquaintance with the Tata collections was at a slant, and goes back some 30 or so years. I was researching the work and career of the great 18th century Pahari painter, Nainsukh of Guler, and, in the University Library at Berkeley, came upon — purely fortuitously — an entry in a Sotheby's London auction catalogue of 1931, which mentioned the sale of a group of paintings and drawings listed as "the property of Sir D. J. Tata", better known to us as Sir Dorab Tata. A number of objects were inventoried, and their description, however brief, led me to believe that these — portraits, hawking expeditions, darbar scenes, musical soirees, and the like — were the work of Nainsukh, even though the painter was not even referred to, being almost unknown at that time.
Many of them carried the name of one "Rajah Buldes" or "Buldeo" as per the description, which I guessed was a misreading of the name "Balwant (Singh)", Nainsukh's patron at the small hill state of Jasrota, whom I was already familiar with from my earlier work. From where Sir Dorab Tata got these paintings and sketches, and what led him to put these up for sale, is something I was never able to find out, and is still speculated upon.
But my guess at that time proved to be right, I hung on to the information, collated it to the known works ascribable to Nainsukh, and wove it into my book on Nainsukh of Guler, which was published from Zurich in 1997.
This, however, was acquaintance at a slant, as I said. When one gets to know all the art the Tatas collected, and gifted to national institutions, one is truly staggered. For the number of objects given to the Prince of Wales Museum alone exceeds 5,000. It all started in some ways with the visionary founder of the industrial family, Jamsetji Tata, who is said to have seen some spun-iron pillars at an exhibition in Paris and decided to secure these for his Taj Mahal Hotel in Bombay. But it was with his two sons — Dorab and Ratan Tata, both of whom were knighted — that collecting began in true earnest.
Ratan Tata (1871-1918) had a passion for antiques and having built up a large collection of Japanese and Chinese objects — then so much en vogue — he housed them in the 17th century royal mansion he had bought in England.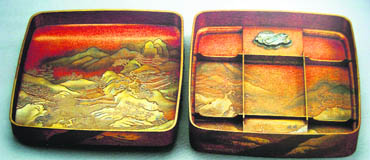 Writing Box. Lacquer with applied decoration in silver and coral Japan, 19th century. Gift of Sir Ratan Tata to the Prince of Wales Museum, Mumbai

But nearly everything was eventually to land up at the Prince of Wales Museum to which he bequeathed more than a thousand objects. Sir Dorab (1859-1932) might be remembered today more for his industrial enterprises and his philanthropic projects, but his interest in art also ran deep and his largesse, now housed in the same museum, comprised close to 1400 objects.
The story of the Tata munificence has been told earlier and by many, but it is told with precision and crispness in the new publication by Pratapaditya Pal, who edited the volume together with Sabyasachi Mukherjee and Rashmi Poddar, having got eminent experts to write on the different segments of the collection: Indian Paintings and Manuscripts, Textiles and Arms, Himalayan Art, Art from China, Japan and Burma, European Paintings and Decorative Arts.
Here, in the beautifully produced volume, Mughal jades glisten, silver water jugs raise their swan-like necks, Kashmir shawls stretch out languidly in incandescent colours, Balwant Singh hunches under a tent writing a letter, the Buddha, shedding grace, touches the earth calling upon her as a witness.
But there are also Chinese vases of almost translucent nephrite, exquisite Japanese writing boxes in lacquer decorated with silver and coral, delicately carved Burmese ivories, European paintings, including a riveting 16th century portrait of 'a woman aged 21'.
Naturally, and understandably, the collection bears the mark of the times in which it was put together. But, when one sees it as a whole, it is not easy to move from one object to another, for the eye remains constantly at the point of being seduced.
There is much to say about the interest of the Tatas in contemporary Indian art, too. But for that one might have to wait. Meanwhile, towards the end of this piece, two possibly related things. While the Tata family is Parsi, and Parsi institutions are generously supported by it, all the Tata educational, scientific and cultural Trusts are emphatically committed to the fact that any support or grant given to individuals or institutions must be without regard to religion, nationality, language, caste or creed. This admirable bit I knew about. But I was not aware till now that it was Sir Ratan Tata, who persuaded the, then, British authorities to excavate the ancient Mauryan site of Pataliputra, now Patna. The excavation was carried out with funds provided by him between 1913 and 1917.
Countless objects — terracottas, plaques, sculptures, coins — were recovered, but the excavation also revealed the remains of Ashoka's great pillared hall that was modelled possibly upon the assembly hall of Persepolis. My own ignorance about this apart, I think very few know this fact.