General-ly speaking
Chetna Keer Banerjee
Former Army officer-turned-writer Sajita Nair offers insights into gender, generals and garrisons

DebutantE novelist Sajita Nair, who after herself serving in the Army has penned a portrait of military life, seen from the eyes of two women officers in Sheís a Jolly Good Fellow, tells about the book, battalions and things beyond:
How has your book been received by both men and women in the Forces? Any gender comments it has elicited?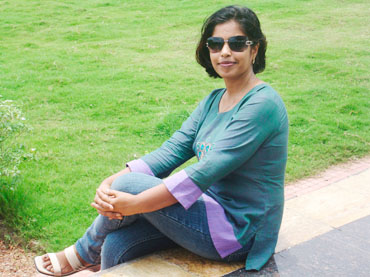 Sajita Nair

The book has been received well, by both sexes, since each could relate to it. Most women who read it told me that the book entertained and inspired them in equal measure. Men enjoyed reading the humorous bits and saw life in the Forces from a totally new perspective ó a womanís perspective.
There have also been those who have misinterpreted the novel and highlighted why women officers are unfit to serve in the Army. Some have even stated that the women officers in my novel donít see any Ďmilitary actioní. Unfortunately, they missed the essence of the story, since it is about the women fighting to fit Ďiní the hitherto male-dominated workplace, rather than against any external enemies.
Would you say that your novel shatters stereotypes about defence personnel or, in some ways, reinforces them?
Like any other workplace, there are all kinds of people in the Forces, too. Iíve created characters that I thought were necessary for my story. The two lady officers, the protagonists, have completely different personalities. The other characters, too, are entirely different from each other and donít fit into any stereotypes.
The particular insights that you had acquired while working in the field that helped shape the novel?
I have lived and worked in remote Army units and also in field locations. During my tenure, I gained insight into every aspect of its life, starting with the tough military training, handling weapons and machineries, interaction with troops, commanding convoys and living in tents in remote field locations. These insights and experiences helped me create the right backdrop for my story.
In writing about a workplace of which you had first-hand experience, how did you juggle the fact and the fiction?
Having understood the work atmosphere in the Army, I could give authenticity to my story which came from having lived the life I was writing about. Although the plot is entirely fictional, the situations that the protagonists face, descriptions of places and many of the experiences they go through are based on reality.
Do you feel itís easier to write about a field youíre familiar with than creating an entirely fictional world?
It certainly is easier to write about something you are familiar with. But if a writer plans to write about something that he/she is not familiar with, it is important to thoroughly research the subject and get every nuance right. Sometimes small, seemingly insignificant details can add to the imagery and give the story and its characters an authentic feel.
Would you say your novel falls in the Chick Lit genre? What do you feel about much of the Chick Lit being published by Indian writers today?
Slotting my novel into any genre didnít occur to me when I was writing it, since all I strived to do was to tell a good story, really well. I realised early in the writing process though, that my story worked better with a humorous undertone.
Although humorous, my book, unlike most chick-lit, has substance and is thought provoking. Fashion, shopping and sex do not figure in it at all. Instead, it follows the life of two strong women officers who choose a different path and march right through adversities, learning their lessons the hard way. Although my book is light and entertaining, it reaches out to the readers. Many who read the book commented that it left them feeling motivated and raring to go.
Any other works of fiction on the defence forces thatíve inspired you or youíve enjoyed reading?
Iím not much into military fiction but Iíve enjoyed reading Tom Clancyís The Hunt for Red October, since my husband is a submariner. More than the tactics, technicalities and strategies of military operations in novels, I enjoy the human element, the emotional side to the people in it.
How has the experience been in different towns where youíve had launches, in terms of reader participation, response to the book etc?
Iíve had launches at Visakhapatnam and Bangalore, among other places. At all these places, the book was well received. There was much curiosity and interest also because of the novelty of the subject. At Visakhapatnam and Kochi, I had a lot of support from the naval community since my husband is a naval officer. At Bangalore, it was the young and on-the-go crowd who showed interest in my book.
At all these places, Iíve had people ask me all kinds of questions, ranging from my own experiences in the Army to why I chose protagonists who were completely opposites. At Bangalore, there was also an interesting discussion about the modern woman and her need to find the right balance between femininity and feminism. In all, what I found was that my book appealed to a large cross-section of people from various walks of life.
Whatíre the ways in which youíve tried to reach out to readers? The advantages and disadvantages of being a debutante writer?
Deep inside, each of us harbours doubts about our own capability, competency and achievability of goals. With my novel, Iíve tried to reach out to these aspects in all of us. From the inspiring lives of my protagonists, there is a lot to be learnt about how a change in the mental make-up from ĎCan I?í to ĎI Can!í brings about positive results. It inspires one to be determined, strong and consistent with efforts, irrespective of all the hurdles that come in the way.
As a debutante author, I do not feel any pressure to fit into any pre-prepared mould. On the downside though, most people think twice before picking up a book by an author they havenít heard about. But I believe that if a book is good and it reaches out to its reader, it will certainly find its place.
Tell us about how you got initiated into writing?
I have always enjoyed the process of expressing my thoughts through words. As a child, I maintained journals and wrote about friends and teachers at school. In the Army, when transferred to remote locations, I wrote long letters to friends. After my release from the Army, I took up writing seriously. I was published in a few reputed publications and also won some writing contests. Writing and publishing my dream novel followed as the natural progression.
Where do you go from here in terms of writing?
A lot of writing is in the pipeline. For now, Iím working on a sequel to Sheís a Jolly Good Fellow. There are also other ideas that I plan to work on, eventually.