Back of the book
Pleasures, pilferers and a princess
The Pleasure Seekers
By Tishani Doshi.
Penguin. Rs 499.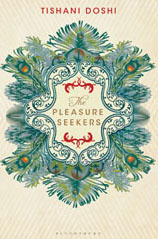 It all started in August 1968, when Babo became the first member of the Patel family to leave "Madras" and fly to London to further his education. His father should have known there would be trouble. But off Babo went, and now here he is, in a flat off the Finchley Road, untraditionally making love to a cream-skinned girl from Wales, Sian Jones.
Meet the Patel-Joneses: Babo, Sian, Mayuri and Bean in their little house with orange and black gates next door to the Punjab Women's Association. As the twentieth century creaks and croaks its way along, these four navigate their way through the uncharted territory of a 'hybrid' family.
In this tender debut, Tishani Doshi, a prize-winning poet, effortlessly captures the quirks and calamities of one unusual clan in a story of identity, family, belonging and all-transcending love.
The Thing about Thugs
By Tabish Khair.
HarperCollins. Rs 299.
Amir Ali leaves his village in Bihar to travel to London and befriends an English captain, William Meadows, to whom he narrates the story of his life —the story of a murderous thug. While Meadows tries to analyse the strange cult of the Indian thug, a group of Englishmen sets out to prove the inherent difference between cultures and people by examining their skulls — an approach that has violent results.
Set in Victorian London, this story of different voices from different places draws connection from the 19th to the 21st century, between England and India, across individual and cultural differences.
Known for his refusal to fit his work into established "diasporic", "sub-alternist" or post-colonialist narrative traditions, acclaimed poet Khair finally engages with these traditions by subtly deploying literary techniques from Victorian literature, ranging from Charles Dickens to P.M. Taylor's Confessions of a Thug and Joseph Conrad's Heart of Darkness.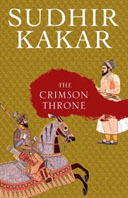 The Crimson Throne
By Sudhir Kakar.
Penguin. Rs 450.
Three decades into Emperor Shah Jahan's reign, while the monarch indulges in the pleasures of the flesh to divert himself from the travails of his aging body, the country is bracing for the brutal succession to the Peacock Throne. Little escapes the discerning eye of two European travellers, Niccolao Manucci and Francois Bernier, who find their way in the innermost circle of royals as healers.
Set amid the grandeur and intrigue of 17th-century India, the book probes the continuities of imperial expansion and a splintered Islam through the eyes of two "outsiders".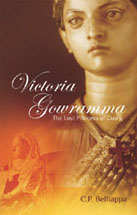 Lost Princess of Coorg
By C.P. Belliappa.
Rupa & Co. Rs 295.
The book tells the extraordinary tale of an 11-year-old princess, Victoria Gowramma of Coorg. The last Raja of Coorg, Chikka Veerarajendra and the last king of Kodagu, who was banished from his land by the British in 1834, used the pretext of his 11-year-old daughter embracing Christianity and acquiring western education as a ruse to secure permission to visit England. The imperialists tried to make a matrimonial alliance between the 11-year-old princess and Maharaja Duleep Singh. Queen Victoria took fancy to the 11-year-old princess, but the princess' coquettish ways put off the Maharaja and disappointed the Queen. — IANS