Thinking personís drama
Christopher Nolanís Inception is all about the mind and dreams and
how one is able to enter the psyche of another person

THERE are sci-fis and there are sci-fis, some of them in-your-face FX heavy like Star Wars, and others which tickle oneís mind, like John Frankenheimerís Seconds (Rock Hudson) or Ralph Nelsonís Charly, both 1960s classics. Christopher Nolanís Inception, a thinking personís drama, comes close to those classics.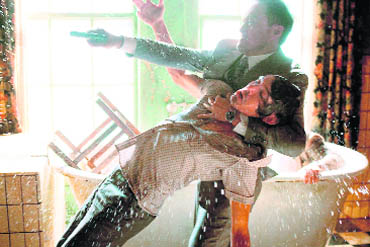 Leonardo DeCaprio is his usual
competent self in Inception

What works against it is its undue 148-minute length and the fact that Nolan made two Batman films (the last being The Dark Knight) to get used to the huge sets and ambience. For this, he probably thought that Inception too should be in the biggie mould.
Inception is all about the mind and dreams and how one is able to enter the psyche of another person. How much of it is authentic and how much a figment of imagination is anyoneís guess, even though the fare is made workable, if not quite plausible.
Dom Cobb (Leonardo DeCaprio) is a thief, who enters the minds of others in order to access information. Itís all about "shared dreaming" and "a dream within a dream" (probably the cinematic equivalent is the double flashback) and "limbo" and there are evocative lines like "an idea can either define or destroy" thanks to Nolanís absorbing screenplay.
Commissioned by Saito (Ken Watanabe), Cobb has to enter the mind of Robert Fisher Jr (Cillian Murphy) to plant some vital information in the corporate world and he has the assistance of architect Ariadne (Ellen Page).
There are other cameos by veterans like Michael Caine and Tom Berenger but they scarcely deserve a mention. It is Cobbís wife Mal (Marion Cottilard), who plays a major role in his dealings because of an inherent guilt complex but this too is needlessly drawn out. If it meant to be Bergmanesque, it fails by a long way.
Inception is endowed with the right establishing shots and Hans Zimmerís music heightens the suspense. Nolanís handling is adept aided by Wally Pfisterís caressing cinematography.
But Nolan has little regard for the Bunuelian formula (90 minutes at the outer limit). One could have allowed him 20 minutes more. But by prolonging the agony, he dilutes the overall impact. Leonardo DeCaprio is his usual competent self and Ellen Page provides adequate support. As Yusuf, Dileep Rao has a good cameo in the film, which by Hollywoodís falling standards, is still worth watching despite its shortcomings.