Romantic capital of Europe
Copenhagen is seeped in old-world charm. Its castles, palaces, museums,
copper-roofed houses and cobbled streets co-exist happily with its ultra-modern
amenities and entertainment options, writes Mukesh Khosla


Kronborg Castle in North Zealand is famous as the setting of Shakepspeare's Hamlet

DON'T just fall in love with Copenhagen. Just fall in love in Copenhagen", goes the catch line for the capital of Denmark. That it is also the romantic capital of Europe is apparent from the fact that it has a number of sights, especially for those in love. From the sculpture of Cupid at Thorvaldsen Museum to the 10 romantic hotels that promise to make your stay memorable, the city seems to be partial to those romantically inclined.
The capital of the Danish Empire, once a fishing village, evolved into a premiere city of Europe over the last 1,000 years. This long heritage lends it an old-world charm. Its castles, palaces, museums and cobbled streets hark back to a rich cultural past.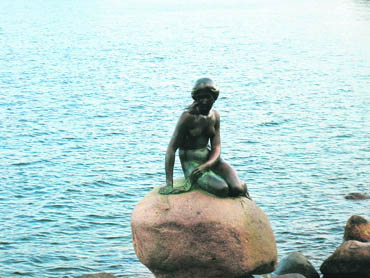 The bronze sculpture of the Little Mermaid was inspired by Hans Christian Anderson's children's classic tale of the same name

There are several ways you can see Copenhagen — on foot, on its fast and convenient local trains, on buses and on a bicycle. The bicycle seems the best option for the fit and adventurous. There are around 150 parking slots in Copenhagen from where you can pick up a bike for around four Euros. When you are through with your biking, you can return it to any of the parking lots and get your money back!
Copenhagen is called the city on water, and the other great way to see the city is to take the canal tour on a boat. On this one-hour round trip you can see most of the important sights of the city though only from outside. You'd go past Amalienborg Palace, Modern House of Contemporary Performing Arts, National Museum, Royal Danish Theatre and Opera House.
During the ride do not miss Borsen, one of the world's oldest stock exchanges built by King Christian IV in 1619; this magnificent building housed the Danish stock market until 1974.
One of the most prominent sights you will see on the canal tour would be the symbol of the Danish capital — the bronze sculpture of the Little Mermaid. The statue, inspired by Hans Christian Anderson's children's classic tale of the same name, was installed on a rock at the Copenhagen harbour in 1913.
Though an important tourist attraction, it is also the most vandalised piece of art. In 1964, its head was knocked off by vandals and a new head had to be sculpted. Twenty years later in 1984, its arm was chopped off. It was later recovered and fixed on the statue. In 1998, the head was sawn off again but returned mysteriously by the thieves a few days later and was re-fixed amidst much fanfare. In fact, in 2003 it was blasted off the rock with dynamite and had to be re-fixed.
One of the other pleasures of Copenhagen is to stroll through Stroget, which must be Europe's longest pedestrian market running from City Hall Square (Radhuspladsen) to Kongens Nytorv. It has everything a tourist may want — from budget-friendly stores to antiques, souvenirs and designer labels.
Walt Disney admitted that he got his inspiration to build Disneyland from the Tivoli Gardens. This fascinating amusement park, built almost two centuries ago in 1813, has a lot to offer in terms of roller-coaster rides, games and entertainment. There are around 30 restaurants; dozens of rides, flower-bedecked parks, a glass concert hall, pantomime theatre and an aquarium as well as dazzling fireworks at night
For the foodies, Copenhagen offers endless street-side cafes, eateries and posh restaurants to suit all pockets — from a 200 Euro meal at a Michelin-star restaurant to the street foods that includes mostly seafood dishes like fish cakes with tartar sauce and the smorrebrods — open rye-bread sandwiches, washed down with excellent home-brewed coffee, all for less than a couple of Euros.
Indeed, Copenhagen is a city that smiles. It offers plenty for the tourist. From history and heritage to fun and entertainment and from a great shopping experience to a city that loves its food. It is virtually a romance that blossoms the time you set foot in this capital of the Danes. — NF
FACTFILE
Places to see: Copenhagen has over 50 museums, both contemporary and heritage. A single ticket that allows you to see them all. In some places entry is free. The Round Tower, Europe's oldest observatory, dates back to 1640. it is in the Latin quarters of Copenhagen. North Zealand just outside Copenhagen has the Kronborg Castle, famous as the setting of Shakepspeare's Hamlet
Local sights: Art museum, Ny Carlsberg Glyptotek, magnificent Gefion fountain, famous square Kongens Nytorv, Old Fish Market, Rosenborg Castle, Amalienborg Palace and Carlsberg Brewery
Places to stay: Budget: Copenhagen downtown: a bed in a 10-bed room for DKK 165 (Rs 1,350)
Middle level: Hotel Zleep Ish`F8j: a double room comes for DKK 400 (Rs 3,200)
Luxury: Scandic Palace: Double room starts at DKK 1200 (Rs 9,600)
Important tip: There are many 'Gay' hotels. Do check before checking in
Places to eat: Budget: Mopeds drivers can be found all over the city, offering sandwiches and coffee starting DKK 12 (Rs 100)
Normal: Cafes like K`F8dbyens, Fraskati, Salonen offer good food under DKK100 (Rs 800)
Fine dine: Noma, Kokeriet, Kong Hans, Era Ora for great Nordic food DKK 300(Rs 2500)
Places to shop
Main shopping areas are Stroget and K`F8bmagergade. There are also large stores like Det Ny Illum and Magasin du Nord and shopping malls like Fisketorvet and Frederiksberg
Local sight seeing tours
Grand Tour of Copenhagen covers all-important sights DKK 200 (Rs 1,600)
City and Harbour Tour Starts on a bus and continues on motorboat DKK 175 (Rs 1,400)
Hans Christen Anderson tour: His house, his art and other memorabilia DKK 100 (Rs 800)
Local timings
Opening Hours: Common opening hours: Monday - Friday: 10.00 to 18.00 or 19.00 (10 am - 6 or 7 pm)
Saturday: 9.00 to 15.00 (9 am - 3 pm)
Sunday: only bakeries, florists and souvenir shops
Local transport
One of the world's most efficient web of buses, trains, metros, taxis and boats