Books back on TV
Literary works find new space on small screen, writes Radhika Bhirani

Remember Wagle Ki Duniya, Bharat Ek Khoj, Hasratein and other such fascinating television serials. All these were based on literary works and, after a long gap, the Indian television is again witnessing serials based on stories by noted Hindi as well as regional writers.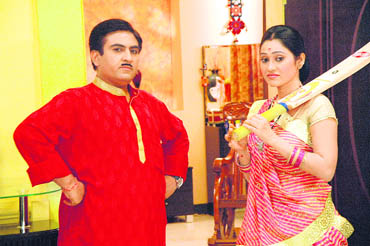 Taarak Mehta Ka Ooltah Chashmah is based on Gujarati journalist Taarak Mehta's popular column Duniya Ne Undha Chasma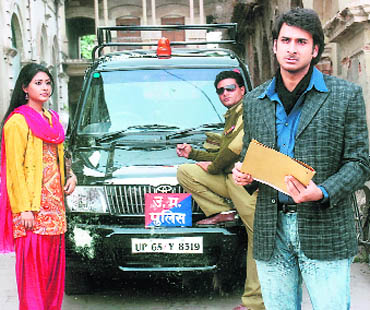 Keshav Pandit is inspired by Ved Prakash Sharma's novel
Vijay Aur Keshav Pandit

Some of the shows currently being shown are screen adaptation of books or short stories. They include Taarak Mehta Ka Ooltah Chashmah and Lapataganj — both on SAB TV. Zee TV's Keshav Pandit is inspired by Ved Prakash Sharma's novel Vijay Aur Keshav Pandit.
"Books offer a wide variety of fresh stories and never-seen-before concepts for television," says Anooj Kapoor, executive vice-president and business head, SAB TV.
Among all entertainment channels, SAB TV is hosting the maximum shows based on literary works. Their upcoming comedy Papad Pol — Shahabuddin Rathod Ki Rangeen Duniya is based on stories by reputed Gujarati humorist and stand-up comedian Shahabuddin Rathod.
Taarak Mehta Ka... is based on Gujarati journalist Taarak Mehta's popular column Duniya Ne Undha Chasma and Lapataganj is a take-off on the writings of renowned Hindi satirist, Sharad Joshi. The two shows have boosted SAB's TRPs like never before. It is mostly producers or channel officials, who approach writers to convert their work into a TV show. Either they buy the rights of the book or engage the author to script the work to avoid straying from the theme.
Ved Prakash Sharma is scripting Keshav Pandit himself after producer Ekta Kapoor approached him.
"I stay in Meerut. But Ektaji called me and told me she wants to make a show on my novel Vijay Aur Keshav Pandit. She bought the rights of the book and asked me to script the show. I think it is a very healthy practice that novels are being converted into shows as writers get a wider platform and more readership," says Sharma.
Similarly, Gujarat-based Shahabuddin Rathod was approached by Vipul Shah, co-founder of production house Optimystix. "Vipul is from my district and he is aware of my work. When he told me he wants to present my stories in Hindi, I was very happy. I knew this will help my work in reaching out to more people rather than just Gujaratis," said Rathod.
Writers maintain the channels are taking care to stick to their original stories. "They always consult me regarding the set up and portrayal of characters. They feel since I have written the story, I will be able to add authenticity to it," adds Rathod. In the past too, many directors and producers took inspiration from books for popular TV shows.
Govind Nihalani's Tamas in 1987 was based on an eponymous book by Sahitya Akademi winner Bhishma Sahni, and acclaimed filmmaker Shyam Benegal's Katha Sagar depicted short stories by renowned writers like Rabindranath Tagore, Leo Tolstoy and Anton Chekov among others. Benegal's 53-episode series Bharat Ek Khoj was also based on Jawaharlal Nehru's book Discovery Of India.
Actress-turned-producer Manju Singh, known for playing Amol Palekar's sister in Golmaal, also brought short stories to TV with Ek Kahani.
Malgudi Days, one of the most popular shows on Doordarshan, was based on the works of R.K. Narayan. It was first made in 1986, and re-telecast on other channels subsequently. The show was revived in 2004 by a new director.
In the 1980s, literary works were dominating Indian television with shows like Sujata Mehta and Farooq Shaikh-starred Shrikant, based on Sarat Chandra Chattopadhyaya's novel Shrikanto; Satyajit Ray's detective series Feluda; Mr Yogi based on Gujarati novel Kimball Ravenswood; and Wagle Ki Duniya, based on R.K Laxman's popular cartoon character, The Common Man.
In the 1990s and later, the trend started diminishing from small screen. A few literature-based works like Hasratein and Resham Dunk were aired. While Hasratein went on to be an extremely popular show, Resham Dunk was taken off air soon.
The trend is catching up once again, and hopefully it will last long. — IANS