Colouring of Classics
As Hum Dono and Haqeeqat, classics of the 1960s, are set to be released in colour soon, Ranjan Das Gupta questions if the colourisation of a black and white print will spoil its originality

WHEN a Mumbai-based corporate offered to colour Rayís masterpiece, Pather Panchali in 2008, directors, artistes and technicians from Kolkata starting from Mrinal Sen to Goutam Ghosh to Prasenjit openly came out on the streets protesting such a move and supporting Rayís son Sandip Ray in preventing the colourisation of the classic.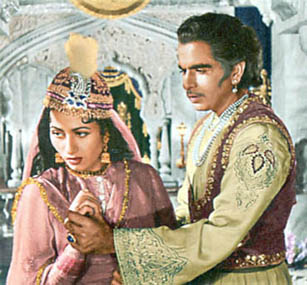 K. Asifís Mughal-e-Azam was an exception. It was already partially coloured and full colourisation added to the grandeur and texture of the film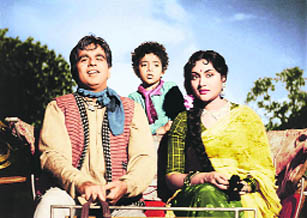 The coloured version of Naya Daur did not initiate even an encouraging initial draw

Sensing danger, the corporate moved back. Hollywood icons like Sir Richard Attenborough, Martin Scorsese and Meryl Streep, too, criticised efforts to colour any of Rayís black and white films.
Bollywood is quite contrary to Tollywood or other regional cinema producing concerns in the aspect of colouring. The trend started with the colouring of Mughal-e-Azam around four years back.
The K. Asif classic was already partially coloured and full colourisation added to the grandeur and texture of the film. It was re-released in India, Pakistan, United Arab Emirates and London. Though well received, it did not yield the same box office results as it did when released in 1960.
Ravi Chopra, who coloured his father B. R. Chopraís 1957 superhit Naya Daur thought that the film would receive tumultuous applause. His calculation proved wrong as the coloured version of Naya Daur did not initiate even an encouraging initial draw.
What is the problem with black and white classics being coloured and re-released? Manoj Kumar clarifies the point, "It is stupid to spend crores colouring a black and white classic and then release it again. The audience is still nostalgic about the old film and a colourisation, however technically strong it may be, will automatically provide a jerk to the viewer. No one will want to see a Do Aankhein Barah Haath, Pyaasa, Kaagaz Ke Phool or Shaheed in colour."
Supporting his statement, Madhur Bhandarkar says, "When Steven Spielberg shot his best film Schindlerís List, he conceptualised the film shot by shot in black and white. He did not opt for colour as he knew that the stark reality of World War II and the gruesome pathos he wanted to project would never appear that appealing in colour. No wonder, he stopped his ambitious project of remaking Diary Of Anne Frank in colour as he knew it would never create history as the black and white version did. I am very much against the colourisation of classics of the 1940s, 1950s and 1960s."
When in the 1980s, in Hollywood an initiative was taken by certain production concerns to colourise and re-release the earlier classics of John Ford, Alfred Hitchcock, Billy Wilder and Sir David Lean, it received stiff resistance from stalwarts like Sir Richard Attenborough, Francis Ford Copola and Sir Alan Parker.
Sir Attenborough went on record saying, "The government of any conscious nation should prevent outright damaging of national cultural heritage like colourisation of classics. In my wildest of dreams I cannot imagine watching How Green Was My Valley, Rebecca, Brief Encounters or A Gentlemanís Agreement in colour."
Colourisation of a Hindi or vernacular black and white classic costs a minimum of around two to three crore. The cost can go even higher based on the mood and texture of the film. It is a very meticulous as well as laborious process to colour each nuance, scene, moment and even change the visual concept from the original black and white.
Then, there is no guarantee of huge box office returns even if a coloured version of any classic is re-released. Even top video and CD manufacturers do not say with surety that the VCDs or DVDs of these coloured versions will initiate successful returns.
Illustrating this aspect, Kiran Shantaram, son of Dr V. Shantaram, says, "Who will spend money to purchase the CD or DVD of a coloured version of Padosi, Do Bigha Zameen or Shree 420? Had my father been alive, he would have strongly opposed such moves. I request the film fraternity not to flirt with black and white classics. Let these remain as they are."
As the year moves on, two classics of the 1960s, Hum Dono and Haqeeqat are to be released again fully coloured. The former has been coloured by Legend Films of USA and the later by Time Brush Films of Australia in collaboration with a leading laboratory of India. Both master creations of Vijay and Chetan Anand were conceived and shot in black and white with war backdrops.
According to Dev Anand, producer of Hum Dono, "I have spent crores to colourise Hum Dono and it was first shown to a select audience last September at Sri Fort, New Delhi. I was overwhelmed with the response it got and am very optimistic about a worldwide release of the film this September. The colouring is perfect with soft and realistic tones matching every nuance, mood and texture of the film."
About the coloured version of Haqeeqat, Ketan Anand, son of Chetan Anand, says, "The natural colours of the mountains at Ladakh where Haqeeqat was mainly shot, the war scenes and even the uniforms of the soldiers appear realistic in colour. A few persons who have watched the prints are very optimistic. I am planning a Diwali release of the coloured version of Haqeeqat. I do not want to disclose the exact amount that has been spent for the colourisation of my fatherís most ambitious venture which he disclosed to me during the shooting of Param Veer Chakra that he wanted to shoot Haqeeqat in colour."
In all fairness to Ketan Anand, Chetan Anand had point blank said in 1995, "The reality, tragedy and essence of a defeated Indian army which I showed in Haqeeqat based on the 1962, Sino-Indo war would have appeared artificial in colour." His chief assistant and art director, M.S. Sathyu, supported him and does not favour colourisation of the classic.
It is high time the dream merchants of Bollywood understood that remaking or colourisation of a black and white classic does not hold good with the audience. It very well understands that old wine in a new bottle is never the same as it was in its original form.