A fine balance
Despite early morning flights, events, fitting sessions, interviews, strutting the ramp, late night parties…models find out time to exercise and remain fit
This is considered an unattainable combination - beauty with brains. Even though some beauty queens have managed to exhibit both in different capacity, the deadly combination is a tough thing to achieve. Off late, another combination is looked upon as a 'not so easy a thing' to achieve.

Sculpting success
The work of renowned artist Som Dutt Sharma and sculptor Mohammad Iqbal has delighted visitors during the two-week camp at Kalagram. While Som Dutt Sharma (62) has brought to life the legend of Kavi Kalidas's Dushyant-Shakuntla, Mohammad Iqbal has created a wisdom incarnate sculpture, Gyan in stone.
Som Dutt Sharma — Photo: S Chandan





On display


Umpteen varieties of traditional items at reasonable prices…exhibitions in the city sure have a lot to offer
Any amount of planning is incomplete without sufficient funds. Whether it is planning to improve the condition of the roads or to provide better education facilities or planning to do up your house or even your wardrobe… everything boils down to 'money' and how it can be budgeted. When it comes to doing up a house, which means getting in a new sofa set, expensive upholstery, bed-sheets, table lamps, brand new suits…the budget can really sky-rocket. In this case, exhibitions taking place in the city are the bait.



Freedom of speech
The Haryana Urdu Academy delved into the past through an exhaustive and informative lecture on the topic - 'Role of Urdu writers in the freedom struggle of 1857' - by internationally acclaimed author and educationist, Professor Mushirul Hasan, at the Red Bishop complex on Tuesday.

Women zone
Region's emerging group has launched a product specifically designed for cleansing female intimate area called Hygimate Femiwash in one of its division Espana Cura. The product was launched by the managing partners of the group. Hygimate Femiwash, which is a minimal foaming daily cleanser contains lactic acid and natural lacto serums which maintains natural pH balance.



News worthy
What decides the success of a channel? The mighty, the sleek and stylish 'remote control' of course! Whether it is a chic looking news channel promising first-hand news from the spot, or an entertainment channel giving a spicy dose of reality or a toon channel with Micky and Minnie Mouse talking in Hindi, it is remote control that decides the popularity quotient.
Winners take it all
The Chandigarh Lalit Kala AKademi has announced the names of the award winners for the Annual Art Exhibition 2010. The jury, Kanchan Chander and Manish Pushkale, both from Delhi, has recommended the following names for awards. In the professional category, the winners are Seema, Kanchan Verma, Som, Virendra Kumar Rana and Himanshu Mahajan while in the student's category the winners are Manmeet Kaur, Neha Sharma, Sonal Garg, Urmila Pal and Vaibhav Sharma.


Men in white
Our parents wore them, our leaders have always worn them … and kurta pyjamas are a hot fashion trend on the campus as well
What separates style from fashion? Fads fade away while customs remain. Doesn't the ultimate trend traverse generations? Tune into campus and it's dress code kurta pyjamas. The ethnic wear is more than a custom collectively followed by student population.
Bonding over banquet
One way parents can keep up communication with their teenage children is to sit down together for dinner, finds a new study. The results show that while parent-child communication generally declines as kids go through middle school, eating meals together can help protect against this conversation dip.


Road show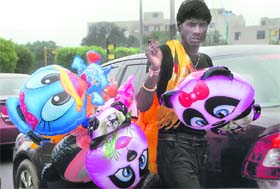 A young boy sells inflatable toys on the city street. Lifestyle photo: Vinay Malik
Not game anymore
Nowadays, kids are more often seen with a joystick in their hands than marbles or a hopscotch pebble. And a new UK study reveals that 75 percent of children have never even played hopscotch.
Mind the comp!
A new study has revealed that giving teenagers access to computers can weaken their reading and maths skills. The Sunday Telegraph reported a survey of more than half a million children revealed that technology is counter-productive in improving student achievement, reports a website.
What's with accent dude!
Human brains imitate speech patterns of other people, even complete strangers, without meaning to due to an inbuilt urge of the brain to "affiliate" with them. Researchers say humans want to "bond" with others, even when a voice cannot be heard or, somewhat embarrassingly, even if another person is a foreigner.


'True' colours
Campus, campaigning, colours, cars, placards…it's all colours of campus! With countdown to the elections having begun, students have started showing their 'true colours'. While cars seem to be the popular platform, the display of loyalties need not be restricted to the vehicles alone. So what party are you supporting? How about sporting it on your sleeve? Fortnight before the elections is the time when the campus comes alive. Our lensman Vinay Malik captures some moments.