M A I N N E W S
Destruction after the deluge
Crops in 2.68 lakh hectares affected n 58 lives lost in Punjab, Haryana
Prabhjot Singh
Tribune News Service
Chandigarh, August 11
In the flash floods that followed the onset of southwest monsoon last month, both Punjab and Haryana suffered heavy losses. Fiftyeight persons died, 134 head of cattle perished, 6546 houses were damaged and crops spread over 2.87 lakh hectares were affected.
Flood losses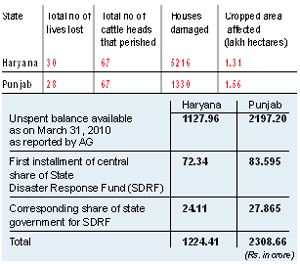 While the worst affected Haryana areas were Kaithal, Kurukshetra, Ambala, Fatehabad, Sirsa and Yamunagar, in Punjab maximum damage was caused in Roopnagar, Patiala, SAS Nagar, Ludhiana, Fatehgarh Sahib, Moga, Mansa, Jalandhar, Tarn Taran, Faridkot and Ferozepore areas.
The Union Minister of State for Home Affairs, Mullappally Ramachandran, gave this information in Rajya Sabha today in a reply to a question by Om Prakash Mathur. Though the Union Government put the affected crop area in Punjab at 1.56 lakh hectares, the report prepared by the Punjab Agriculture Department says that nearly 3.5 lakh hectares of cropped area were affected by the flash floods. In some of the areas, farmers have been advised to go for fresh plantation of paddy.
Experts maintain that re-plantation of paddy, delayed, may adversely affect the yield. Instead of leaving the fields fallow, it was suggested that re-plantation at this stage would still give farmers to get 70 to 80 per cent of what they would have normally produced.
In Punjab, flood relief disbursement has been left to Deputy Commissioners. Even those farmers who have been advised to go in for re-cropping of damaged fields, the quantum of relief to be given has been fixed at Rs 5,000 an acre.
The Union Government maintained that the state governments concerned were initially required to undertake relief operations in case of natural calamity out of the corpus of the Calamity Relief Fund (CRF) and the State Disaster Response Fund (SDRF) already placed at their disposal.
In cases of calamities of a more severe nature, where available resources under the CRF/SDRF accounts are found inadequate, additional assistance is extended from the National Calamity Contingency Fund(NCCF)/National Disaster Response Fund (NDRF) to the states concerned after the laid down procedures have been followed.
Figures of Calamity Relief Funds with Haryana and Punjab given by Mullappally Ramachandran in Rajya Sabha are given in the adjoining box.
Under the central relief scheme, financial assistance is given to assist the affected persons to revive their economic activities. This is also done by way of gratuitous assistance as an immediate help to overcome the stress and not for compensation of loss, Union Minister of State for Home told the Rajya Sabha.