Child play!

When there is a will, there are ways to teach underprivileged children. Satinder Pal Bajwa is investing his talent and passion for squash to educate poor children

Almost everything comes with an expiry date, unless you have insured yourself with some US-based company, which promises to keep your body preserved for 200 years. Any takers? Not many, we guess! Charity too comes with a limited life span. How long can one go on feeding, looking after, caring for the 'not so self-sufficient' lot without funds flowing in?

Satinder Pal Bajwa with his students at Khelshala. Photo: Vinay Malik

Joy ride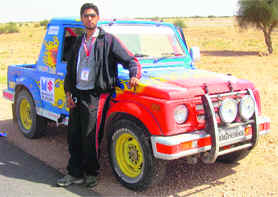 Monsoon Ride 2010 winner Jagmeet Gill feels winning a rally is not just about speed but being at the right place at the right time, literally
You need a lot more than just the adrenaline rush to be able to complete a daring task. Courage may help you begin with it but it can't be accomplished unless you have what Jagmeet Gill, a city-based rally driver, considers imperative. "Passion for adventure has to be paired with the presence of mind. Passion will only encourage you to move ahead on the task but the presence of mind will guide you to overcome every challenge." And, striking the right balance between the two is what helped Jagmeet win Monsoon Ride 2010.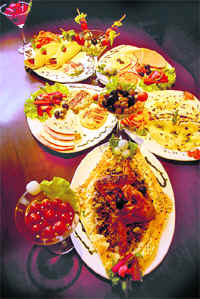 Exotic & healthy
Another pleasant break from the butter chicken-dal makhani routine comes with the Bristol Hotels and resorts, Zirakpur announcing the Moroccan food carnival at their restaurant and lounge. Bringing the choicest Mediterranean and middle-eastern delights, the menu reads exotic and fresh, with interesting and spicy dips and sauces to complement the palate. "Morocco is the culinary Mecca of North Africa. With the festival, we are introducing the Moroccan menu to our main course and bar menu. We bring the most desired and popular dishes of the cuisine, with authentic flavour and herbs of the region," says Sunny Virk, managing director, Bristol hotels and resorts. The list of delicacies includes some favourites like kibbe, flavoured Pita bread, wraps and dips.
Photo: Vinay Malik
Best of West
They call it the 'retail delight', claim "fashion has just one address", but this is the 47th to be precise! "We opened in Ludhiana around two years back but Chandigarh eluded us for a long time. Opening the store here is a special moment," and with this Gaurav Mahajan, COO, proudly introduces brand Westside to the city and vice versa. He adds, "We were not able to get the right kind of property, finally we are opening in the industrial area, it's the next commercial hub."
| | |
| --- | --- |
| Of all the Indian and Western musical instruments, the violin is endowed with the rare quality of being closer to the human voice, capable of expressing emotions to near perfection," claims the young violin player and classical vocalist, Ranjan Kumar Srivastava (34) of Gwalior gharana. But he laments that unlike the South there are few specialist teachers or gurus in the northern region for this complex musical instrument and that is why there are less takers. Raised in Bihar, he advanced in playing violin for 12 years in the South before settling in Delhi. | Ranjan Kumar Srivastava |
Cool apparel
Drawing on the success of previous offerings, Ashapura Apparels have unveiled their latest range of loungewear and sportswear for men, women and kids under their brand name Valentine. With focus on style and comfort, the collection is an array of lightweight and cool fabrics that look chic and comfortable for all weather conditions. Natural fabrics have been used which are thinner, with a softer feeling on the skin and will make you feel cool and comfortable. The collection includes a vibrant range of joggers, pajamas, Bermudas, Capri's and t-shirts.
Love it or hate it!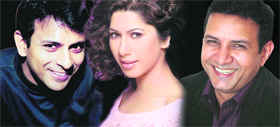 The Durga Das Foundation is bringing to the city an English play Love on the Brink, an absurdly comic tale of love and the pursuit of happiness. Produced and directed by well-known theatre person and film actor, Lillete Dubey, it is based on a Tony award winning Broadway musical, Luv by Murray Schisgal. It was originally written in the 60s and was a huge success on Broadway and has since been adapted to a thoroughly Indian situation by Sandhya Divecha.
PET PAL
People for Animals, Chandigarh has the perfect companion for anyone who is ready to be loved unconditionally and just forever and ever:
Fast forward
Self-discipline, health, feeding the hungry or simply faith — city folks take to fasting for reasons more than one
Fasting is an accepted norm of our socio-religious life. Abstaining from certain foods for certain days is part of almost all major religions. Be it for religious reasons or health, its holds significance in people's lives. We explore.
Off the mark
Memories can't always be trusted
Memories can't be trusted and become contaminated when people discuss their recollections of an event with others, according to a new study, which may have legal implications regarding reliability of witness accounts.
Beauty is beastly
Attractive women are overlooked for jobs that are considered 'masculine'
Researchers have found that women feel discriminated against when they apply for jobs like finance director, engineer or construction supervisor that are male dominated. Women face issues while applying for jobs perceived as 'masculine' such as research and development manager, finance director, engineer or construction supervisor. A study by the University of Colorado, Denver business school found that if a woman is attractive, it is seen as a disadvantage for such job profiles.
Renee writes
at lifestyletribune@gmail.com or Life Style, The Tribune, Sector 29-C, Chd
Have patience
I am a 26-year-old married woman with a three-year-old son. My marriage could not be as I dreamt. My husband does not want to have anything to do with me ever since we got married. He is under the influence of his parents, particularly his mother. Presently I am working as a private secretary in a multinational company in Baddi. For last few months I am having an affair with my boss who is very attractive. He takes care of my demands as a husband does. My husband failed me miserably. He doesn't even love our son. I can't leave my boss. What should I do?
Bond WAGON
A different daughter
Relationship: Daughter in law – father in law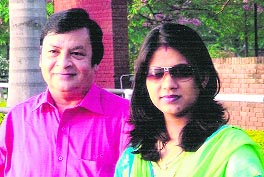 Time together: 4 years
Same to same: We both are disciplined, value time, are fond of eating and love watching comedy movies and serials.
Yet different: I subscribe to 12 newspapers and numerous magazines and want her to read. She does not have much interest in news. Professionally, being an astrologer and author, I watch all the programmes on astrology, Pooja has no interest in the subject. She is totally devoted to Jainism while I sparingly go to religious places but have read all major religions deeply. — Madan
Mission girl child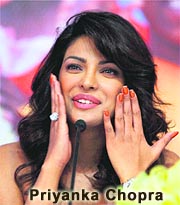 Bollywood actor Priyanka Chopra, who was today appointed UNICEF ambassador, says she will be working for the cause of girl education in the country."I have always been conscious of my social responsibility. I love what I do and I don't take up anything until I strongly feel about it. Working for children means a lot to me because when I visited the girls in slums it educated me a lot," Priyanka said."These girls are raising children when they are themselves kids. They are uneducated, malnourished and have no health awareness. Just to be able to give the girl basic education is what I will be working for as a UNICEF ambassador," the Fashion star said. The actor who recently launched her own website and is quite active on Twitter and Facebook, admits that she will use these portals as tools to create awareness among people.
Angry not-so-young man!
Salman Khan is angry and this time it has nothing to do with Vivek Oberoi. The Bollywood superstar, famous for being politically incorrect, is irked by the current state of affairs in the country. The 44-year-old star, who plays a corrupt cop in Abhinav Singh Kashyap's upcoming film Dabanng expressed his displeasure on the micro-blogging website Twitter.
Act of charity
Bollywood heartthrob John Abraham was so moved with the story of his upcoming film Aashayein that he decided do the film for free. The long-delayed is finally hitting the screens on August 27, but the actor believes that it will touch a chord with the audience.
Love hurts
Hollywood star Jennifer Aniston has won a three year restraining order against a stalker who travelled across the US to marry her.
Learning to love
Hollywood actress Drew Barrymore admits she is still in the process of learning about love and is trying to be less stubborn in relationships.
Anu forever
Even five years after working with Juhi Chawla in My Brother... Nikhil, filmmaker Onir still calls her by her character's name Anu in the critically acclaimed film."Just met Juhi Chawla. Always so warm and concerned. She is just lovely. Growing beautiful with each day. She is still saved as Anu on my phone. Anu was Juhi's name in My Brother... Nikhil," Onir posted on micro-blogging site Twitter.
Strength of 'g'
Considering how superstitious many Bollywood stars have become, it seemed Arbaaz Khan had his first production Dabangg spelt with double 'g'. But he explains otherwise."Dabangg means fearless.
Lifestyle invites responses on the following issue from the readers: @@What role do siblings play in your life?@@Please e-mail the responses in around 200 words to lifestyletribune@gmail.com or post along with your photo and contact number to 'Relatively Speaking', Lifestyle, The Tribune, Sector 29, Chandigarh. The best few responses will be published.