BANDwidth
Rock band Bandish, in the city for a performance, fine-tune their notes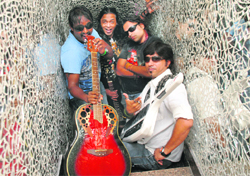 Whenever you come across a rock band, other than knowing their genre of music, there is one evitable query…how long will they stick together? Notoriously known for 'break ups', finding an all-intact music band is a bit surprising and elating at the same time! Hindi Rock band Bandish showed up in the city with all the four members and we sure were interested in their longevity. "We came together to create music. We all have been treated in more or less the same manner in our 16-17 years of career," echoes the group.
For a better world
Young trainees of AIESEC from around the world are working relentlessly to bring about a positive change in society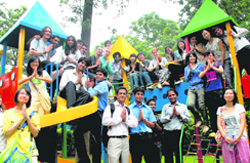 Working on environmental issues, spreading AIDS awareness and breeding cultural sensitivity — these students from all over the world are doing their bit to bring in a positive change. AIESEC, one of the largest youth-run organisation that has a presence in 107 countries, is working relentlessly in the city and around.

With as many as six projects — Project Genesis and ASK, spreading awareness about HIV threat and prevention in different segments of the society; Project Conserve to raise environmental issues, Project Worldview, a multicultural school education programme that aims to imbibe cultural sensitivity; Project FootPrints for child welfare; and Project Pragati on rural and community development to its credit — AIESECers truly believe in making a social impact.

Off the road!
Drive through rock, slush and water, the sport of Off Roading sure packs a punch
Sometimes all you need to do is to get off the track to savour some real fun and watch some real stuff. Sometimes all one needs is a challenge that can put our capabilities to test. Off Roading is one such adventure sport that could be a revelation of sorts.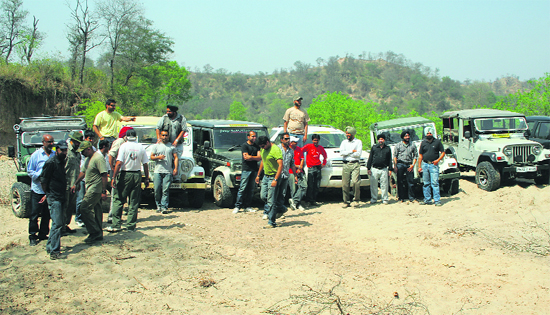 Even before an artist begins working on a painting, the concept of how it is to be framed is there in his or her mind

The finest landscape painting might fall flat, if not on the floor than even while hanging on the wall…. if it's not in the right frame of things. For, a frame is much more than an edge that fixes around a piece of painting. For, attaching a frame to a canvas is more than mere clipping of the ends. For, a frame enhances the mood and meaning of what's being communicated through canvas. The artists emphasise; the elaborate innovative frames aren't just about paintings looking good in the art galleries.

Food for thought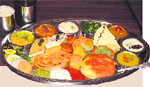 Independence Day in India is celebrated with great enthusiasm all over the country. On this special occasion, Rajdhani, India's favourite thali restaurant is offering customers a sumptuous feast of authentic Indian food.
Change on platter
City food joints keep experimenting with their menus for that fresh appeal
Every weekend, every night, sometimes at lunch, sometimes even breakfast; special days, anniversaries, patch up exercise after a fight with a loved one…convenient corporate meeting, best hangout with friends and once-in-a-month celebrations for your parents. No, we are not experimenting with the calendar days or moments of our life. Now are we trying to sound like an advertisement that reminds you of your 'duties'? Anyways, the point is we are talking about eating out and the frequency with which we do it.
| | |
| --- | --- |
| | |
The perfect toast
French researchers claim to have finally worked out the right way to pour a perfect glass of champagne — just tilt the glass and let the popular wine trickle gently down the side. Although the "discovery" confirms what experienced bar tenders and drinkers have known for centuries, the researchers claim it's the first time anyone has scientifically proven the correct method for dishing out the bubbly.
Sweet truth
Sugary drinks, consumed in moderate quantities, do not promote weight gain, according to a new research. The study, which was conducted by Marie Reid, Richard Hammersley and colleagues from Queen Margaret University, Edinburgh, set out to determine the long-term effects of adding a sucrose drink to the diet of overweight women on dietary intake and mood.
Sweet something
To celebrate their first store in Chandigarh, Westside arranged for a special tasting session of their new brand of chocolates Cocoa West. The customers in Chandigarh are in for a treat as they will get a chance to sample the delicious handmade chocolates in mouth-watering flavours. CocoaWest will give you the chance to make your own chocolate, create a unique chocolate gift box, cookies with topping and many delectable options.   —TNS
Come celebrate
Taj Chandigarh, in keeping with tradition is celebrating Independence Day with enthusiasm and fanfare. The food and beverage outlets at the hotel are getting ready for the big celebrations on the auspicious occasion of countries 64th Independence Day.
RICE to the ocassion

Tilda Riceland unveiled an exclusive Independence Day promotion to the consumers in the city with Tilda Ke Sang, Aazadi Ke Rang. The special Independence Day festive pack branded as 'Aazadi Pack', includes two kilogram each of basmati rice, long grain rice and chota basmati. This pack comes with three pearlpet jars and exotic rice recipe booklet. 'Aazadi pack' will be available in Best Price - Bharti Walmart stores in Zirakpur on the occasion of Independence Day. The ideology behind the "Aazadi Pack" is to educate the consumers and introduce them to using different rice for different occasions