TÍte-ŗ-tÍte
Creative purist
Nonika Singh

I donít sing to entertain..." In the commerce-driven world where everything, even talent, is for sale these words may sound archaic. But for the man who proclaims so, this is no hyperbole but the cornerstone of his musical, nay, lifeís philosophy.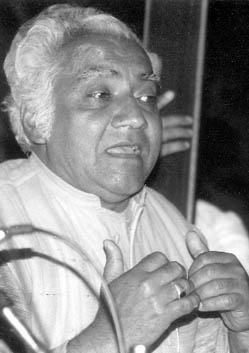 Pandit Yashpaul

Pandit Yashpaul, an indomitable classical vocalist of the Agra gharana, who sings for musicís sake, would never ever consider singing to appease audiences. He says, "Why should I dovetail my music to suit audiencesí tastes. Instead, they should follow my music." But then he belongs to a generation when saat sur were akin to God, the ultimate. Having learnt from stalwarts like Ustad Vilayat Hussain Khan and Ustad Yunus Hussain Khan (legendary doyens of the Agra gharana of Nouhar baani), for him the pursuit of music alone is knowledge and wealth. So, he has no problems with the so-called star system in the realm of classical music? He reasons, "Why should I hanker after the masses? Wahs wahs of those who know nothing about my music would give me no creative high."
And among those who matter`BE-the connoisseurs and fellow musicians`BEhe holds a commanding position. While honours like Sangeet Sumeru Award, Sangeet Shiromani Award, Punjab Sangeet Natak Akademi Award, et al, salute his musical prowess, discerning critics have gushed thus, " Yashpaul has the gayaki securely under his belt, an outstanding recital, a deep mellow voice that has been diligently adopted to classical singing." Traversing the expanse of music imaginatively yet without diluting of the purity of ragas he is only too proud to be a purist, albeit a, creative one who not only composes under the nom de plume "Sagun Piya" but has also discovered a new raga, Sanjog Sarang. Of course, he sees no dichotomy between being a purist and creative. Just as he feels there is no contradiction in Indian classical music being sacred and secular.
Back from the UK, where he participated in a seminar and delivered a lecture, "A journey through the sacred and secular music traditions of Punjab", he says, " Punjab is the cradle of innovations and improvisations in classical music. It is here where khayal gayaki came into being." Alas, today he canít help but bemoan, "Artistes will no more be born in this land." The reason, he asserts, isnít far to find and is quite elementary, "The people of Punjab have not cared to patronise its artists." Take the Harballabh Sangeet Samellan, the platform from where, incidentally, his musical journey began in 1948. He says, "At this prestigious festival now no one cares to invite artists from Punjab." Of course, in music he knows there are no geographical boundaries. Why else would he a Punjabi whose initial training was under the tutelage of Pandit Kasturi Lal Ji Jassara (disciple of late Ustad Chote Gulam Ali Khan) in Kasur gharana ultimately master the finer nuances of Agra gharana whose beauty steeped in dhrupad tradition, clarity of bols, layakari and much more, he feels is unparalleled. Acknowledging a debt of gratitude to his gurus the most important lesson he learnt from them was; "Always keep you mind open to other musical influences." Thus, he sought motivation from legendary greats like Ustad Bade Gulam Ali Khan.
But today, he rues that teachers, especially in colleges and universities, donít encourage students to learn music from others. The man who has taught music for many decades and was instrumental in the setting up of music department at Panjab University, Chandigarh, doesnít, however, think that academicians have damaged the cause of music. Instead he says, "It is good that music is now part of colleges and universities". Yes, he does feel that syllabus with greater stress on practical learning can be improved upon. Besides, he thinks that only those musicians who are trained in gharanedar parampara should be at the helm of teaching music. Sadly, the guru shishya tradition, he observes is on the decline, "How many come to me for learning?" How he would love to pass on his musical knowledge to posterity. So, why not write books? He quips, " This is oral tradition I would like it to be disseminated it that way."
Singing at significant platforms like Akashvani Sangeet Sammelan he keeps its flavour alive. No doubt classical music entails myriad rasas but the all-encompassing rasa he believes is bhakti. " Bols and sahitya whatever be its import", he quips, "are like a ladder whose ultimate purpose is spiritual enlightenment." Plumbing its depths he emerges enriched. And deepens the musical sensitivity of listeners, a whole tribe of whom he has cultivated not only through his music alone but also his cultural organisations, Swar Sangam and the Bhairavi Society, that were active in Chandigarh in the mid-eighties.