Back of the book
Variegated reads
Reviewed by Randeep Wadehra
Man of Glass
by Tabish Khair
Harper Collins.
Pages: xiii+82. Rs 199
Vishwamitra the Magician
By his spells and incantations,
Up to Indra's realms elysian
Raised Trishanku, king of nations.
Indra and the Gods offended
Hurled him downward, and descending
In the air he hung suspended,
With these equal powers contending.
Thus by aspirations lifted,
By misgivings downward driven,
Human hearts are tossed and drifted
Midway between earth and Heaven.
— H.W. Longfellow (cited in Wendy Doniger's The Hindus, p.251)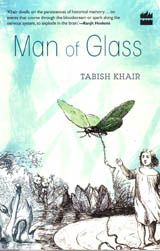 KHAIR's poems draw "upon three writers from across the centuries, cultures, literary genres and languages" viz., Kalidas, Asadullah Khan Ghalib and H. C. Andersen. The first part is a version of the Dushyant-Shakuntala fable, Abhijnana-Shakuntalam. However, while going through the poems, one could not detect much similarity with the Sanskrit original, which is a majestic amalgam of drama, sensuality and grandeur of thought. It is an enduring classic wherein the portrayal of love – both in union and separation – reaches sublime levels. Khair's representation, conversely, is sparse and stark. A chance meeting with the beau sets Shakuntala ("a Muslim girl with a Hindu name") off to a journey to opulent London. The subsequent letdown has been well depicted.
In the second part, Khair translates/reinterprets Ghalib's poetry through well-crafted verse. However, it is neither a traditional translation nor an original interpretation. The attempt could be compared to somebody touching up a Van Gogh original with a few strokes and claiming to have created a new version.
Andersen's fairy tales have something profound to convey to adult readers even as these entertain the younger lot. To "represent" these in verse requires a fair amount of imagination and poetic skill, as demonstrated by Khair.
After reading this volume, one can't help drawing comparisons with H. W. Longfellow's poem on Trishanku quoted above. When original thought, enlivened with cadence, is projected through a grand vision – genuine poetry is born.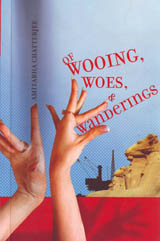 Of Wooing, Woes & Wanderings
by Amitabha Chatterjee
Gyaana Books.
Pages 258. Rs 250.
Rajarshi is an engineer working for an oil company named Worschroft. His job takes him to different countries like Venezuela, Syria, Qatar etc, providing glimpses of the local life and terrain in different places. The narrative is peppered with politics, ranging from official to ideological.
The manner in which Rajarshi meets Marisel in Venezuela is not exactly romantic. Their live-in relationship is sparsely described sans tender moments. The physicality of love scenes tosses traditional romance out the window. There are humorous moments when Marisel meets Rajarshi's kin in Kolkata, or when she demonstrates how her fair skin and good looks can open doors to the visa-issuing consulates.
Although the publishers have labelled this novel as "romance/humour," you'll enjoy it as a racy travelogue, albeit fictional, tinged with funny interludes and sensual sequences.
Of Love and Politics
by Tuhin A.Sinha.
Hachette.
Pages 301. Rs 250.
This novel's characters are based on prominent Indian politicos. Most of the political passages are stilted, verbose and boring because the cardinal principle of "show, don't tell" has been ignored. First-person accounts of the two male protagonists, Aditya (heir to an assassinated Congress leader) and Brajesh (resigns from IAS and joins BJP), resemble press communiqués of political parties in tone and tenor – lifeless and detached with full of 'I' and 'me'. The situations depicted, e.g., a widow being damned as a witch or a bomb blast in a politico's car, are familiar. The opportunity for dramatic build-ups from such incidents has been missed. The book comes alive in non-political sequences involving Chaitali's (later becomes a Communist leader) love life; the story acquires admirable tempo – either someone else has written these portions or the author's forte is sex and sensuality. IWE's political novels are yet to come of age.