Medal for Mother India
AT 20, ace shuttler Saina Nehwal has attained iconic status in Indian sports. The recent Khel Ratna award is a new feather in her cap. For this youth icon, a true patriot is one who does the country proud by achieving success in the chosen field.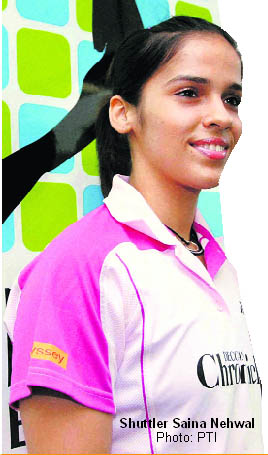 One act by which you would like to show your patriotism for the country?
By winning a medal for the country in badminton.
How would you like to see India as, five years from now?
India is a diverse country. It has the potential to produce world-class sportspersons in several disciplines. I want to see a healthy, prosperous and well-developed India in all spheres of life. I want to see a focussed pool of sportspersons in all fields.
The three things that really make you proud of your country?
Respect of elders, gurus and women, which are the hallmark of Indian culture.
The three things about India you would like to change?
Corruption, ignorance and discrimination.
One patriotic song or slogan you feel has become outdated?
Chak De, India!
The best ambassadors for Brand India?
All famous names in sports, cinema and politics. Of course, in sports, it is Abhinav Bindra, as he is an Olympic gold medallist.
Do you feel your generation is less patriotic than your parentsí generation?
Actually, we have learnt patriotism from books. But, our parentsí generation had seen it all and were part of the freedom struggle themselves.
ó Suresh Dharur, Hyderabad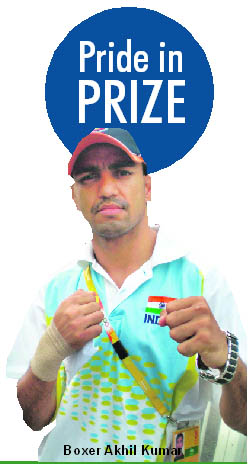 Showing patriotism:
I like to show patriotism by winning as many gold medals as possible, because that ensures that our national anthem is always played out. I anyways believe that there is only one medal, and that is gold.
Fast forward:
The picture in India is not exactly very rosy right now. But I expect things to improve, for us to get better, embrace our mistakes and work on them diligently.
Incredible India:
Our culture, values and the freedom we enjoy. You can do what you want, say what you want and be what you want. That is a great privilege.
A patriotic slogan that has become outdated:
Bhagat Singh had once said, Zindagi toh apne dum par ji jaati hai. Doosron ke kandhe par toh janaazey jaate hain. (You have to carry the burden of your life, others will only carry you when you are dead). I donít think that we believe in that attitude anymore.
Best ambassadors for Brand India:
Abhinav Bindra, Kalpana Chawla and Subhas Chandra Bose.
Generational shift:
Things are becoming different. People still love their country but, I guess, with time, we are becoming very self-centred.
ó Vaibhav Sharma, Chandigarh
Cheers to our culture!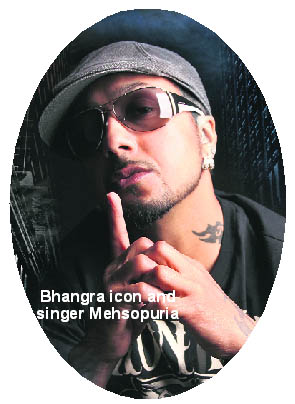 Showing patriotism:
A tattoo can show it, but that would be more of a material showing. I think true patriotism is internal, itís in the heart and mind. You live patriotism daily and wear your heart on your sleeve!
India in future:
It should continue to develop in the main cities, as it has, no longer should the world refer to it as a Third World country, it should be among the worlds most powerful countries. I hope our villages and places like Punjab hold on to their traditions, culture and folk life, as they are part of Indiaís beauty.
Incredible India:
Our culture, language and heritage are things to be proud of.
Challenge of change:
Bribery, corruption and the legal system need to be controlled. We need a more disciplined legal system built on the foundation of truth!
Song of freedom:
Deh Shiva Var Mohe, itís something we sang in Punjabi school while growing up in the UK. It still instills patriotism.
Patriotism, past & present:
Itís difficult to generalise. The true patriotic heroes of 1947 cannot be rivalled or replicated as they had a cause to fight for, which was the freedom of India. Todayís generation doesnít have that struggle. Therefore, the patriotic emotions possibly donít run so deep. I try to instil the patriotism through my songs, such as the title track for my album Fearless.
Best ambassadors for Brand India:
Non-political people, as their aims are to promote India without trying to use the people to line their pockets. The true ambassadors for India were Bhagat Singh, Udham Singh, Kartar Singh Sarabha etc, for they gave their lives to free India but in the modern day, I would say celebrities like Sachin Tendulkar, Shah Rukh Khan and A.R. Rahman are the best ambassadors.
ó Manav Mander, Ludhiana
Global great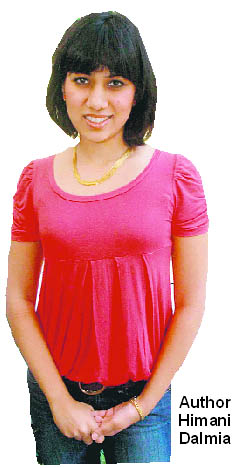 Projecting patriotism:
Patriotism can be shown by being an ambassador for my country when travelling abroad. Foreigners have misconceived notions about India. They ask if we have cars and chocolates and the Internet! They often assume that everyone here lives in stark poverty due to the images shown by the foreign media. I do my best to paint the correct picture of India Ė by showing the many aspects of our culture that are on a par with or far ahead of the rest of the world.
Indiaís future:
Iíd like to see India living up to its potential, with huge economic development, sustained democracy, stable governments and flourishing arts.
Incredible India:
The three things that really make me proud of our country is its ancient, rich and layered history; its classical arts; and its cuisines
One patriotic song that has become outdated:
Jai jawan, jai kisan. We are increasingly moving away from being an agricultural economy and the military is really not central to our idea of nationhood anymore.
Best ambassadors for Brand India:
Aamir Khan, Ratan Tata and the globe-trotting, educated Indian, who has chosen to live in India.
Patriotism over the generations:
Our generation is patriotic in a different way. We are farther removed from Independence, so we donít have the kind fervent nationalism our grandparents did, some of which may have rubbed off on our parents. But, in many ways, we have grown up in a much more culturally confident India and feel more self-assured as Indians, without having to prove it all the time.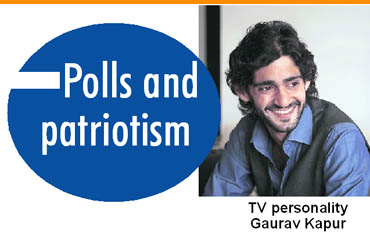 Showing patriotism:
Show it by a simple act: voting! We can only achieve big things if we start small. All citizens must pledge to vote so that we have the correct people leading our country.
India in five years:
I would like to see India as an international economic superpower while losing our image of being a corrupt bureaucracy. And Iíd like to see us winning gold medals and taking part in the FIFA World Cup.
Incredible India:
The ingenuity of its people, the beauty of its landscapes and the richness of its culture.
Challenge of change:
We need to check corruption, spread education and improve sports infrastructure.
Patriotism, then & now:
We still feel the same love for our country, that I feel cuts across generations. The anger toward polticians and corruptions demonstrates that. Now, we need to channelise that anger for the betterment of our country's future.
Best ambassadors for Brand India:
Ratan Tata for taking Indian money and buying out world brands, Sachin Tendulkar for his discipline and genius. Mahatma Gandhi for showing that the good fight can be fought in a good way
ó Shiv Kumar, Mumbai
Land of legendary heroes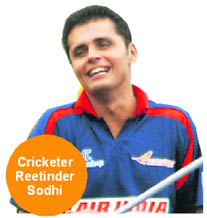 Being patriotic:
Itís by doing whatever is expected of a responsible citizen. Abide by the law, follow social responsibilities and contribute to the well-being of our country.
India in future:
I would probably want the health services to improve. Things to get better on that front for sure. Hospitals and basic health care for all.
Incredible India:
We have the greatest cricketer in Sachin Tendulkar, a legendary actor in Amitabh Bachchan and have always been a land of aesthetic greats like Rabindranath Tagore.
Generational shift:
Our parents wanted the nation to do well, and so do we. The current generation is also patriotic in its own way.
ó Vaibhav Sharma
Diversity a delight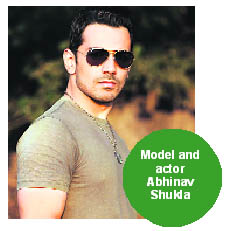 Plain patriotism:
True patriotism lies in helping fellow countrymen. We should become an example for others and not wait for others to set an example by helping others.
India of future:
I have two views in this regard; one is idealistic, and the other is realistic. Ideally, I would like to see more civilised people with ideal thinking, working towards the progress of our country, but in reality I feel nothing is going to change.
Incredible India:
Indiaís diverse traits really make me proud of our country. Firstly, it is Indiaís diversity of flora and fauna. Secondly, the number of languages spoken in our country is really large. Thirdly, there are so many religions in our country, still people of different faiths co-exist happily.
Need for change:
The traffic sense of Indians need to change. Corruption needs to be checked. And the population of our country needs to be controlled.
Patriotism, then & now:
No, it is not that we are less patriotic than our parentís generation, but, yes, those who participated in the freedom movement really sacrificed a lot and today, youngsters only resort to holding candle marches. In making sacrifices, our generation is no doubt lagging behind.`A0`A0
Best ambassadors for Brand India:
Dr A. P. J Abdul Kalam, environmentalist Sunderlal Bahuguna; and tycoon Ratan Tata.
ó Manav Mander