Romancing the rain
From Shree 420 to 3 Idiots to Raavan, dancing in the rain has been an integral part
of Bollywood masala movies, writes Shama Rana

THE drops of water falling from the sky have never failed to cast a spell on the 70mm screen. From the evergreen "Pyaar hua ikraar hua" from Shree 420 (1955) to the peppy "Zoobie doobie" from Rajkumar Hirani's 3 Idiots, Bollywood's romance with the rain continues. Bollywood's sizzling jodi of Raj Kapoor and Nargis made the melodious song "Pyaar hua ikraar hua" probably the most iconic rain song of Hindi cinema. Composed by Shankar Jaikishen and rendered beautifully by Lata Mangeshkar-Manna Dey, the song made 'under umbrella romance' a sure shot hit in the film industry.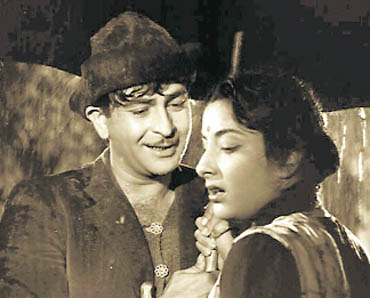 Raj Kapoor and Nargis made "Pyaar hua ikraar hua" the most iconic rain song of Indian cinema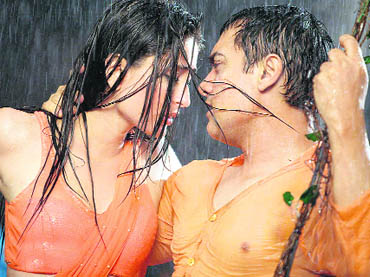 The dream sequence "Zoobie doobie" from 3 Idiots is shot in a contemporary fashion, yet it captures the essence of old Hindi love stories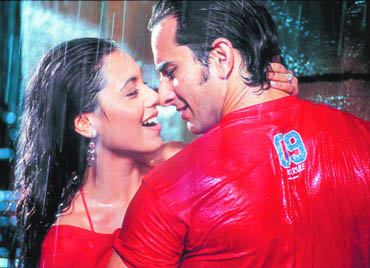 Rain-drenched Rani Mukherji and
Saif Ali Khan in Hum Tum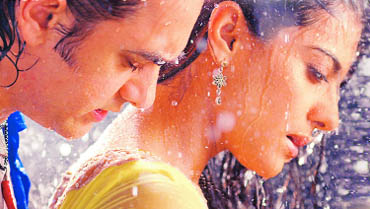 The song "Yeh saazish hai boondon ki" from Fanaa, in which Kajol plays a blind Kashmiri and Aamir Khan, a terrorist, marks a twist in the tale

Dancing in the rain has been an integral part of Indian mainstream cinema. There was also a time when the conservative audiences didn't like to be served in-your-face sensuality. So in a bid to create an illusion of exposure and spellbind the cinegoers with a whiff of western culture, the directors made the actresses sing and dance in the rains. Raj Kapoor was quintessentially the pioneer of this trend. From Nargis, Mandakini, Zeenat Aman to Dimple Kapadia, all were made to do the rain romance act by the showman himself.
The sparkling drops of water makes for a passionate setting to incite some sizzling chemistry between couples in Bollywood masala movies. While most of the rain songs turn out to be purely romantic evoking a magical feel, there are other fun-filled tracks shot in the rains. The lyrics, setting and, at times, the singing imbue a certain overtone to a song. "Ek ladki bheegi bhagi si" from the movie Chalti Ka Naam Gaadi (1958) starring Madhubala and Kishore Kumar is always looked upon as a cult song in the history of rain melodies of Hindi cinema. The song has Kishore Kumar crooning to Madhubala. A visual treat has the legendary singer and actor at his comic best.
The romantic melody from Barsaat Ki Raat (1960), "Zindagi bhar nahi bhulegi barsaat ki raat" is another timeless rain song sung by Mohammed Rafi and filmed on Bharat Bhushan and Madhubala. "Dil tera deewana hai sanam" is a great tune from the movie of the same title. With super performances by Shammi Kapoor and Mala Sinha, the song seems to be soaked in rain and marinated in the spice of nostalgia. "Rimjhim gire sawaan" from Manzil (1979), which was shot on Amitabh Bachchan and Moushmi Chatterjee on Marine Drive evokes an earthy aromatic feel. The composition is at the same time simple and sensuous. To this day, this track rendered by Lata Mangeshkar and Kishore Kumar remains as fresh as the first showers.
"Kaate nahi katte yeh din yeh raat" from Mr India (1987) had Sridevi in her trademark chiffon sari looking splendid and sensuous. She projected the quintessential Indian woman.
Drizzles on celluloid are as important to the Indian film fan as approaching rain-laden clouds are to the Indian farmer. Celluloid couples fall in love against the backdrop of rain and the ambience created by a sensuous rain track. "Rimjhim rimjhim, rumjhum rumjhum" from 1942 — A Love Story (1993) is a melodious rain track delineating the beauty and romance of the rains. Penned by Javed Akhtar, this song is one of the last songs composed by the legendary R. D. Burman. "Nahi saamne" is a quaint track rendered by Hariharan in Taal (1999) and shot on Akshaye Khanna skating through the roads portrays silent beauty.
"Bhaage re mann" from Chameli (2003), a soothing composition sung by Sunidhi Chauhan transports one to another time and place. Filmed on Kareena Kapoor, the song is a celebration of life. Similarly, Lata Mangeshkar's voice woven around Gulzar's mesmerising words in "Geela geela paani" from Satya (1998) soak you in the magic of rains.
The pouring rain also makes for an assorted range of moods. "Ab ke sawaan" by Shubha Mudgal and "Ghode jaisi chaal" (Dil Toh Pagal Hai) is an energetic number which makes one to want to go out and drench one's soul in the rain whereas "Lagi aaj sawan ki phir woh jhadi hai" from Chandni (1989) makes one mellow and nostalgic about the good old times. "Tip tip barsa paani" is a typical Bollywood rain song from the movie Mohra (1994) in which Raveena Tandon in a drenched sari tries all her tricks on naive police officer played by Akshay Kumar. Sung by Alka Yagnik and Udit Narayan, the song is hailed as one of the best in typical spicy rain songs of Bollywood.
The recent rain songs in film industry have stayed away from being titillating. Clich`E9s of yesteryear have metaphorically drowned. "Zoobie doobie" from 3 Idiots with Kareena Kapoor in an orange chiffon sari in a dream sequence is shot in a contemporary fashion yet captures the essence of a old world Hindi love story. Drenched Kareena and Shahid in Jab We Met (2007) singing "Tum se hi" is anything but titillating. The romance soared high in the song. "Barso re megha megha" song from the movie Guru (2007) has been beautifully shot with Aishwarya Rai amid the euphoria rain creates. In Raavan (2010), Abhishek Bachchan dancing to "Beera" and "Tod de killi" has been shot with artistic finesse.
Apart from singing and dancing and professing love, rains have also been used to guide the audience through the nitty-gritty of the movie plot. Vijay Anand used the concept of rain to unleash the power of faith and spirituality in his film Guide (1965) with Dev Anand and Waheeda Rahman playing the lead. The possibility of rain and dance and dark clouds looming over the horizon was also used by Ashutosh Gowarikar in Lagaan, where a song about the rain took the story to its next level. "Yeh saazish hai boondon ki" from Fanaa (2006) where Kajol plays a blind girl from Kashmir valley and Aamir Khan, a hardcore terrorist, marks a twist in the tale. The soothing song has been rendered by Sunidhi Chauhan and Sonu Nigam.