Peepli Live is best first film
Directed by debutante Anusha Rizvi, Peepli Live, a satire on farmers' suicides,
has been honoured at the Durban International Film Festival

Aamir Khan's forthcoming production Peepli Live has already won its first recognition — the Best First Feature Film award at the 31st Durban International Film Festival in South Africa.
Directed by debutante Anusha Rizvi, the movie is a satire on farmers' suicides and the subsequent media and political response in the country.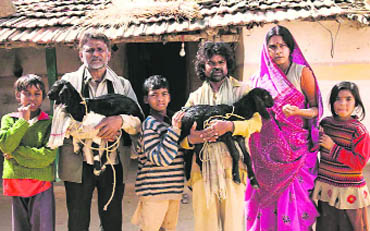 A still from Peepli Live

"Peepli Live has been awarded the Best First Feature Film at the Durban International Film Festival. Everyone is ecstatic about the win. The honour means a great deal, especially considering that Anusha Rizvi is a first-time director," said an official statement from Aamir Khan Productions.
"Peepli Live is an ambitious and well-realised film that deals with serious political issues in a witty and entertaining manner. It creates an enchanting world of colourful characters, images and music that engrosses viewers throughout," the statement said.
The movie revolves around two impoverished farmers — Natha (Omkar Das Manikpuri) and Budhia (Raghubir Yadav) — who live in a village called Peepli. They are about to lose their land due to debts when an incompetent politician suggests they commit suicide to get government help. The news spreads and the media turns Natha into a celebrity.
The film also stars Naseeruddin Shah, Malaika Shenoy, Nawazuddin Siddiqui, Shalini Vatsa, Farrukh Jaffer, Vishal O. Sharma, Aamir Bashir, Sitaram Panchal and Yugal Kishore.
Distributed by UTV Motion Pictures, this is the fourth film from Aamir Khan Productions Ltd. after Lagaan: Once Upon A Time In India (2001), Taare Zameen Par (2007) and Jaane Tu`85Ya Jaane Na(2008). — IANS