M A I N N E W S
Tatas surpass Ambanis as India's richest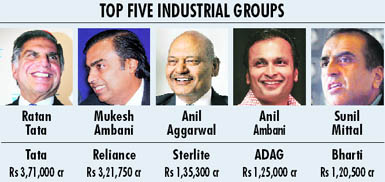 New Delhi, August 16
Coinciding with the beginning of a search for its chairman Ratan Tata's successor, the Tata Group has become the country's wealthiest, with a market value of about Rs 3,71,000 crore, higher than that of the business houses led by the two Ambani siblings.
However, the Tatas would be relegated to the second position if the market values of the two Reliance groups (one led by Mukesh Ambani and the other by younger sibling Anil) were combined in the backdrop of their present harmonious relationship after years of acrimony till a few months ago.
The combined market capitalisation of the two Ambani groups currently stands at nearly Rs 4,47,000 crore, higher than the Tatas by nearly Rs 77,000 crore.
On standalone basis, the Tata Group has replaced Mukesh Ambani-led Reliance Industries as the country's biggest in terms of market value at a time when the issue of finding a successor to iconic industrialist Ratan Tata as the next chairman of the salt-to-software group is hogging the limelight.
Earlier this month, the group announced that it had set up a search panel for identifying successor to Ratan Tata, who assumed charge of the group in 1991 and was scheduled to retire in December, 2012.
The cumulative market capitalisation of about 30 listed Tata companies currently stands at nearly Rs 3,71,000 crore, a surge of nearly Rs 35,000 crore in the quarter beginning July.
At the end of the previous quarter (April-June, 2010), the group had a total market cap of Rs 3,26,000 crore, making it the second most-valued firm after the Mukesh Ambani group.
With just two listed companies, Reliance Industries (RIL) and Reliance Industrial Infrastructure Ltd (RIIL), the Mukesh Ambani group had a market cap of nearly Rs 3,58,000 crore at the end of the previous quarter. But, it has declined by nearly Rs 37,000 crore in the current quarter so far.
The Anil Ambani group, with seven listed companies, currently has a total market value of nearly Rs 1,25,000 crore, down from nearly Rs 1,42,400 crore at the end of the June quarter. The group was the country's third most-valued after the Mukesh Ambani group and the Tatas at the end of the previous quarter. — PTI
What's market cap?
Market capitalisation is the total market value (in rupees) of a company's outstanding shares. To calculate market capitalisation (MCAP) or market cap of a company, the current market price of its shares is multiplied by the number of shares outstanding.