M A I N N E W S
Click Tribune in Punjabi, Hindi
Tribune News Service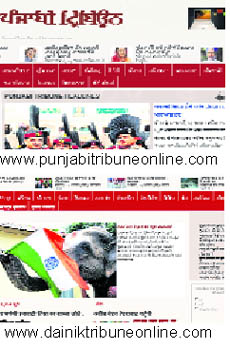 Chandigarh, August 16
The online editions of the Punjabi Tribune and Dainik Tribune were formally launched today heralding a new era for the two powerful sister publications of the Tribune Group of Publications.
Readers can now access both the publications on www.punjabitribuneonline.com and www.dainiktribuneonline.com.
At a simple function today at the Groupís headquarters, Prof R.P.Bambah and Justice S.S.Sodhi, both trustees of the Tribune Trust, launched the online editions. Speaking on the occasion, Professor Bambah said the Tribune group regards journalism as a service. The internet editions will help immensely in furthering that endeavour especially among the youth.
The Editor-in-Chief of the Group, Raj Chengappa, underlined the relevance of the online editions in the context of the new challenges faced by the print media and said it would act as a force multiplier catering to different segments of readership.
Among those present on the occasion Varinder Walia, Editor of the Punjabi Tribune, Naresh Kaushal, Editor of the Dainik Tribune and Sanjay Hazari, the General Manager.
The Tribune began its publication from February 2, 1881, from Lahore and moved to India after Independence. The Punjabi and Hindi versions, both, began publication from August 15, 1978. The sister publications have joined hands with The Tribune which went online with www.tribuneindia.com on July 28, 1998.