M A I N N E W S
Well-heeled of Leh remain unaffected
Ajay Banerjee writes from Leh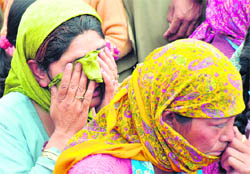 Victims at a relief camp in Leh. — A Tribune photograph
An ironical part of God's decree has emerged from the August 6 flood and mudslide. The posh area of Leh, the old city, which houses the classy eateries, lodges and restaurants, has escaped the fury of nature while the newer part of Leh where the middle class and the poor live, stands devastated.
The old city is where foreigners visit, the cream of the country stays when visiting this scenic destination. The Ancient fort is here, the finest of wine is served and it is the area, where even the waiters speak languages like French and Spanish. One of the finest bread is baked, exotic pasta, olives and cookies are available while foreigners spend thousands for buying delicate Tibetan Thankha paintings.
On the other hand, the devastated part of Leh city is its lower part where the working class lives. The Class III and class IV employees of the government, the families of jawans in the Ladakh Scouts and largely labourers live in these areas. The shops that have been destroyed around the new bus stand are all of the "small shop" variety while none of the "upper crust" shops in the old city have faced the fury which their poorer cousins had faced.
Separately, it emerges that very few of the damaged shops and houses were insured. Only those persons who had taken loans from banks were covered under the mandatory insurance cover. There is almost no insurance carried out by residents on their own, officers of the Insurance companies said. In case of insurance of bank loans the first right to the claim will be with the bank which will then pass on the remaining sum to the owner of the house or the shop.
The National Insurance company that is the only government agency, has started a survey. The company handles the insurance done for the State Bank of India. SBI's Chief Manager Amar Nath Bhardawaj said it was difficult to locate those houses which were covered under mud.