Last call of Hoopoe
Excessive use of pesticides is sounding the death knell for the hoopoe bird


Ever wondered what happened to that graceful bird strutting about in the lawns and flowerbeds, easing out worms with a forceps-like beak? Or that soft, musical hoo-po-po call wafting through a winter afternoon? But the hoopoe is dying a slow death in some obscure corner of Chandigarh's gardens. The culprit: Slow poisoning by pesticides and weedicides.
For arts' sake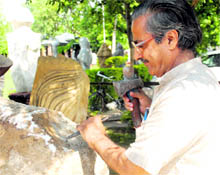 A bit of yellow and two drops of orange, Som Dutt Sharma mixes the two colours well…till they change into crimson. Without taking note of us or the other two fellow artists, forming a semi-circle around him, he continues with his work and lends what we thought were final touches to the characters of his painting — Shakuntla and Dushyant.




Photos: Pradeep Tewati

Mel-function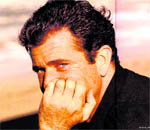 Hollywood superstar Mel Gibson escaped without injuries after crashing his car while on a late night drive in Malibu.The Academy award-winning actor who is involved in a court battle with estranged girlfriend Oksana Grigorieva over domestic violence, crashed his $ 110,000 Maserati. Gibson lost control of his car on the rocky hillside of Malibu Canyon road on Sunday night, according to the California Highway Patrol (CHP).

Mel Gibson

In the right company


Bollywood beauty Preity Zinta who rang the famed NASDAQ bell on Tuesday, now dreams of listing her own company at the world's biggest stock exchange. The Kal Ho Naa Ho star is only the third Indian actor to ring the bell, with Shah Rukh Khan and Kajol being the first. "Am invited 4 d opening bell ceremony at NASDAQ tue morning! Hope i can list 1 of my companies there sumday! Now i'm excited (sic)," tweeted Zinta who is the co-owner of the IPL team 'Kings XI Punjab'.


Preity Zinta

Launch pad?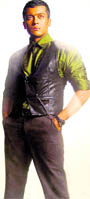 Tamil actor Surya Sivakumar, who is debuting in Hindi cinema with Rakta Charitra says even though the film is a perfect launch vehicle for him in Bollywood, he is not keen to go full throttle in B-town."I think Rakta Charitra is a perfect film for me in Hindi cinema. But I am not looking at making a full-fledged career in Bollywood...I am not shifting my base here," Suriya, who has acted in Tamil movies like Kaakha Kaakha and Ghajini, said. The 34-year-old actor also ruled out quitting Southern films for Bollywood."I have never pushed myself for Hindi cinema. If I get to do different roles that excite me then I will surely love to do Hindi movies. But I will not stop doing films down South," he said.


Suriya Sivakumar

On a song


It is just the beginning of a long journey in showbiz for Indian Idol 5 winner Mynampati Sreeram Chandra and the budding singer says he would also love to venture into acting. "As of now I want to settle down in Bollywood as a singer, but I wouldn't mind taking up acting at some point in my career," Sreeram said.The 24-year-old singer took up music five years ago with the dreams of achieving international stardom one day.

Sreeram

The dragon girl


Little-known American actor Rooney Mara has clinched the coveted lead role in the The Girl With The Dragon Tattoo, beating off competition from Hollywood biggies like Scarlett Johansson and Natalie Portman. The 25-year-old brunette will play Lisbeth Salander, the pierced and tattooed lesbian hacker, opposite Bond star Daniel Craig, in the film adaptation of Stieg Larsson's best-selling trilogy.



Rooney Mara

Knot now!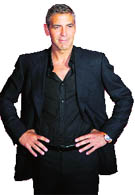 Hollywood superstar George Clooney's representative has shot down reports that he has proposed to his girlfriend Elisabetta Canalis after she was spotted wearing a sparkling ring on her finger. The Ocean's Eleven star, who has been dating the Italian model and TV presenter since last summer, sparked rumours he was heading to the altar when Canalis was snapped in Italy, smiling while waving her left hand in the air to show off her new piece of jewellery.





George Clooney
Music to the ear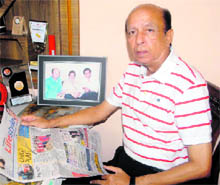 While sharing his views on 'voice and vocal culture' at a school in the city last year, legendary ghazal singer Jagjit Singh said AIR, Chandigarh, broadcaster Vijay Vashishth was gifted with a voice richer in quality than his own! The comment surprised a few, but only those who had not heard that magical voice. But instead of opting for a career in singing, Vashishth cultivated his voice to become an accomplished announcer at the AIR.



Vijay Vashishth. Photo: Vinay Malik

Back to back thrill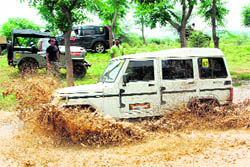 The members of 4x4 Off Roader Club (Regd.) returned from the Monsoon 4 Wheel Drive Challenge organised by North India Off road Club, New Delhi on August 14. The 20 member team returned from Gurgaon after driving through sandy, muddy, slushy and rocky terrains apart for few inclines and descents of various degrees. Sponsored by Michelin tyres, the event was flagged off by Sanjay Paharia, an Off Road enthusiast from Leisure Valley in Sector 29 Gurgaon.


Cast members Jennifer Aniston (L), Jason Bateman (R) and Thomas Robinson pose at the premiere of The Switch at the Arclight theatre in Hollywood, California recently — Reuters photo

Note it!
Routes 2 Roots in association with ICCR and Music Today brings in the singing sensation - Shafqat Amanat Ali for his musical concert covering four cities - Pune, Bengalaru, Delhi and Chandigarh to enchant the masses with his magical voice. Music Today has launched Shafqat's solo albums Tabeer and Kyun Dooriyan. Shafqat Amanat Ali, the son of the legendary Pakistani singer Ustad Amanat Ali Khan, has been a student of the classical music tradition of India and Pakistan since four and has been honoured with many prestigious titles. Shafqat was the lead vocalist of the Pakistani band Fuzon who mesmerised his fans with songs like Ankhiya and Mora Saiyan classic numbers. From singing for Nagesh Kukunoor's Dor and lending his voice to King Khan for his hit number Mitwa, this singing sensation is going places with projects like I Hate Love Storys, My Name is Khan, Aashayein etc.
Lip service
Let your lips bedazzle the world around you! Get those stunning, voluptuous lips with Avon's Glazewear Dimensions lipstick. Infused with new and improved prismatic pearl technology comprising of reflective pearls, Glazewear Dimensions lipstick will give a unique multi dimensional shine to your lips. Now, when you wear this lipstick the colour will change as the angle shifts! The magnified shine results in fuller, shinier lips with dazzling color that will add to your glamour quotient. Get set to lay your hands on this captivating range of shades like pink sugar, violet shine, sparkling plum, shiny rouge, nude gold, rose with gold and pink glimmer.
Heart-to-heart
Relationships in those young days; some last, others result in heartbreak. Here are a few suggestions on how to get over the dejection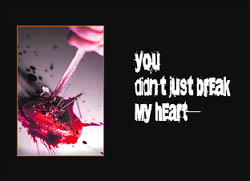 So you've spent the times together, those stolen moments, stealing glances, holding hands, long drives, beautiful evenings, shared dreams, sweet nothings, early morning text messages or late night whispers over the phone…and suddenly a heartbreak followed by heartache. Those 'emotionally wounded' would agree there's a vacuum unexplainable, a void impossible to fill, a space that just has no substitute. Leaving the logic to the sane, 'getting over someone' isn't easy. In trickle some 'pearls of wisdom', some guy-to-guy talk, and some all girls advisory.
Rock 'n' roll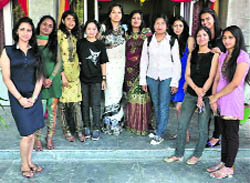 Research convention, online admission, graduation counselling, science congress, convocation…blah blah! But that's for the likes of those that are interested. A group of academic buildings and there are umpteen activities on. Picking on some interesting ones. A quick recee of the recent, more eventful, episodes around the campus… freshers' parties to be precise. Cultural programme, singing, dancing, item songs, solos, duets, isn't it always the same each year, every year? For others that's where the appeal lies. "Our weekend freshers' party was great fun.
Moving on, alone
No problem, according to a U.S. study that found growing up without siblings did not diminish teenagers' social skills. A study of more than 13,000 middle and high school students found that only children were selected as friends by schoolmates as often as youngsters with brothers and sisters.
Friendly touch
Warm friends' is quite a literal term, according to a new study, which says that being near a friend can make you feel as if you are inside a warm duvet. Scientists found people felt up to 2C (3.6F) warmer when standing 2ft away from someone they were emotionally close to, and colder when they were with a person who did not share the same interests.
No role model these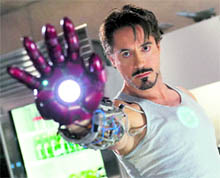 The present day's masculine, hunky and stereotype superheroes are misleading for boys, researchers have said. Watching superheroes beat up villains may not be the best image for boys to see if the society wants to promote kinder, less stereotypical male behaviours, suggested psychologists "There is a big difference in the movie superhero of today and the comic book superhero of yesterday," said psychologist Sharon Lamb, professor of mental health at University of Massachusetts-Boston.
Bang on Bangle