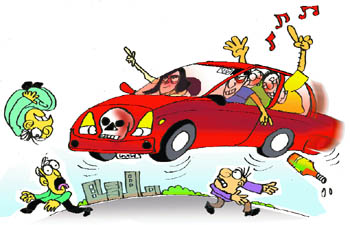 Road to nowhere
The recent case of road rage in the city has once again brought the 'elite' under scanner
Young rich kids, luxury car, high speed, racing for fun…so proud of the elite popular culture! Read again. Young rich kids, luxury car, high speed, rash racing…two dead. Not so proud of the elite culture now!

Illustration: Sandeep Joshi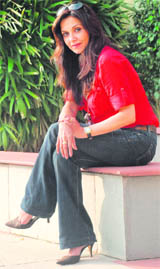 Her stage
Lillete Dubey is in the city with her play Love on
the Brink
If being a celebrity means red carpet entries at international film festivals and making glamourous appearances at award functions, then Lillete Dubey is not one. For the actor, who belongs to theatre and then films, is yet to make a red carpet debut! And the choice was a conscious one, like everything else in her life. 'Despite a number of my films winning at international film festivals, say Monsoon Wedding at Venice, I never went to attend any of the functions," she says. Reason? "I realised I am not just an actor but a wife, a mother and a daughter as well. I never could take out time for such things from my busy family life."

Photo: Pradeep Tewari
More than looks!
Hi-voltage melodrama, which the judges and contestants 'showcase' on singing reality shows, has become a norm now. The next most repeated and debatable thing on these shows is the demand for a 'singer in a packaged format'. Remember choreographer-director Farah Khan mentoring the contestants of Indian Idol to develop oomph and style! Singer and composer Shibani Kashyap, in the city to attend the dealers' meet of the UB group at Hotel Taj on Thursday, votes in favour of a combination of looks and talent in a singer.
Wedding bells
Come September and it's the official wedding season of India. In keeping with the spirit of the festive occasion, The Tatva-17 unveiled its collection by Delhi-based designer Swati Srivastava, ahead of the wedding season. "I unveiled three collections each comprising 10-15 outfits. The collections have been made keeping in mind the blend of traditional yet modern woman," she says.
Gems bond
Art Karat, a name synonymous with gorgeous silver jewellery and exceptional kundan craftsmanship, presents its latest collection Paheli.

Side Lanes
Welcome to China
The cups are in various hues - pink, green, blue, brown and black. They are thick, unbreakable and can withstand the rigours of constant coffee, tea and a dishwasher. The ones set aside for guests are of fine porcelain with a blue and white willow pattern. I flip both over. The legend says "Made in China."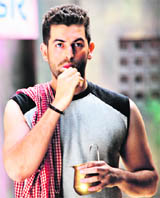 A SHOT in the arm!
Grandson of late Mukesh, Neil Nitin Mukesh, with his smashing, videshi looks, will yet again showcase his talent in Yash Raj Film's Lafangey Parinde , opposite Deepika Padukone. After remarkable performances in Johnny Gaddaar, Aa Dekhen Zara, New York and Jail , Neil Nitin Mukesh is all set to rock Bollywood with Lafangey Parinde . Lifestyle catches up with him.