Clerk accused of usurping Rs 85 lakh from GPF
Tribune News Service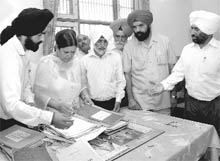 DEO Patiala sees records against the accused clerk at the block primary education office in Rajpura. A Tribune photograph
Rajpura, August 21
A female clerk deployed in the education department at Rajpura has been accused of usurping more than Rs 85 lakh from the General Provident Fund (GPF) since 2001.Officials in the education department lodged a complaint in this regard with the police yesterday. However, the police has not registered any case.
Education department officials said they would get a case registered against the accused only after the completion of the departmental inquiry.
District Education Officer (DEO) Varsha Shukla said the matter was brought to their notice after auditing. The auditors informed that GP funds of some of the retired employees had been withdrawn twice or thrice.
"It is yet not clear as to how the clerk managed to withdraw the GP fund. Only the beneficiary is entitled to get the money and that, too, only once,"she said.
The DEO revealed that the clerk was now missing and efforts were on to trace her. The officials broke open the cupboards of office yesterday, but failed to find cash books and other recent records pertaining to the funds.
The GP fund is given to retired people at the time of retirement and the state government maintains it for pension of the beneficiary.
The education department officials said the police summoned the retired officials in this regard. However, it was found that missing money was not credited into their accounts.
SHO Bikramjeet Singh said that the officials of the education department had told the police not to register a case against anyone before the completion of the departmental inquiry.