Pioneer of change
Brushing aside opposition, Jameela from Hyderabad has empowered women to
assert their rights and resist injustice, writes Tripti Nath

TWELVE years ago, Jameela Nishat, a middle-aged woman from the city of pearls, gave up a secure Central Government job to improve the lot of voiceless Muslim women, and of those belonging to the Scheduled Caste and backward classes.
A postgraduate in English literature from Hyderabad's prestigious Osmania University, Jameela grew up, imbibing the best from the world of art and literature, but helplessly observed that women in her community had no say in decision making. "Take my own case. I wanted to paint but I was not allowed to paint as family elders would say that sending a woman to an art school entailed drawing a nude model, and they found that revolting," says Jameela, who remembers artist M.F. Husain, frequenting their home in her childhood.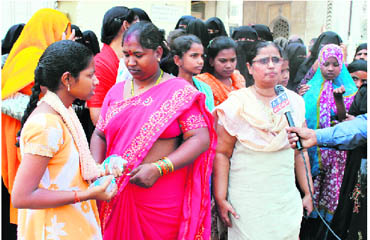 Jameela Nishat (centre) with the women whose lives she has helped transform Photo: WFS

Jameela's father, Syed Bin Mohammed, a portrait artist, who headed the Department of Painting in Jawaharlal Nehru Technology University (JNTU) in Hyderabad, was a close friend of India's best known artist Husain. In fact, Jameela shares Husain's pain of rejection by his compatriots, and has vivid childhood memories of the artist, spreading out a canvas, or a chart paper on the floor in her house in Vijay Nagar, then sitting and painting. She was barely six or seven at that time.
Today, Jameela herself is in the news. She was recently honoured by a group of women's organisations — Sangat, Jagori, Asmita and Kriti —- to mark 100 years of International Women's Day for her courageous work in promoting communal harmony and challenging patriarchy, among other contributions.
The compromised lives of Muslim women and the insecurity that members of the minority community faced after the 1992 Babri Masjid demolition were reasons compelling enough to galvanise Jameela into action. "I was born in Sultan Shahi in the old city, but raised in the new city. I always thought I was living in a cosmopolitan surrounding, but 1992 created a polarisation. That was the first time I realised my religious identity. We began to be reminded of our religion on a day-to-day basis, and interactions between members of the two communities ceased to be anything but free and easy."
Soon after, Jameela decided to go to the city of her birth to make a small beginning, aimed at narrowing the wide gap between the two communities. "I worked for five years with Asmita in Hyderabad, and then registered my own organisation — Shaheen Women Resource and Welfare Association — in 2002. In Iqbal's poetry, shaheen is a bird that flies very high in the sky. Our main office is in Sultan Shahi. We also have branches in the poverty-stricken Hasan Nagar in Ranga Reddy district, and another one in Mehboob Nagar district."
Over the years, Jameela has empowered young girls to assert their rights and resist injustice. They even staged an unusual public demonstration. The girls, along with Jameela, held hands and ringed Hyderabad's most famous monument, the Charminar, in support of women's rights.
With a sense of pride, Jameela narrates the success stories of Shaheen Women Resource and Welfare Association. "When I began work in Sultan Shahi, beating women was equated with masculinity. The girls have begun to question the stifling system. One of them, a 17-year-old from Hasan Nagar in the old city, who was being offered in marriage last summer to a 65-year-old sheikh of Qatar, helped us in an undercover operation. One of our field workers posed as her mother. This operation, carried out with the help of the hidden cameras of a private news channel, compelled the police to arrest the sheikh."
Jameela recalls how the girl was under tremendous pressure from her mother to give in to their wishes and marry the man. Her mother would try to convince her by saying that the marriage would serve to improve their lifestyle. She has now married a man of her choice. Baba Nagar is an area notorious for such fixed-term matrimonial alliances. We found that in 100 households, 33 girls had been given away to old Arabs in marriages. This is an organised racket in Hyderabad where the police is reluctant to help.
Married wealthy sheikhs from Gulf nations come to our city to escape the oppressive heat in their own country and stay in hotels. They contact middlemen, who then fix a safe place to introduce them to girls from poor families. In most cases, the middlemen take half of the mehr (bride price) given at the time of the nikah.
In another case two years back, Jameela's NGO helped a young girl from Jhirra, a slum area in Hyderabad. The young victim had been given a talaaq over the phone by her husband just a month after their marriage. Jameela narrates the story: "We questioned the talaaq. The man got a fatwa from Jame-Nizamia, a local madrasa, which we challenged. He had no choice but to take his wife back home."
This social activist hopes to empower Dalit women, too, to enable them to have an equal say in all matters. "There is a biradri system in many Dalit communities where women have no say in decision making. They also have no education," explains Jameela.
Today, she looks back with a sense of fulfilment. And why not? She has succeeded in building a cadre of young women who fight discrimination and oppression within the family and community. — WFS