Thursday, August 26, 2010, Chandigarh, India
Updated at 3:00 am (IST)

With 'intent' clear, nuke Bill passed
UPA pleases BJP, drops contentious provision in case of accident
New Delhi, August 25
The Lok Sabha today passed the controversial civil nuclear liability Bill by an overwhelming majority after the government agreed to rework the provision on the liability of foreign suppliers to the BJP's satisfaction, thus marking the successful culmination of an arduous exercise by the UPA government.
Editorial: N-Liability Bill
Tension mounts around Babri verdict in UP
Mayawati seeks 400 companies of paramilitary forces to deal with the possible law and order situation
New Delhi, August 25
The Centre, grappling with the stone-throwers in the Kashmir valley and the uncertainties hovering over the Commonwealth Games, is also worrying over what officials describe as a 'silent time bomb' that is ticking. The Lucknow bench of the Allahabad High Court last month reserved its judgment on the title suit (ownership) of the controversial site in Ayodhya, where the Babri mosque was demolished in 1992.
Delhi knee-deep in Yamuna waters
New Delhi, August 25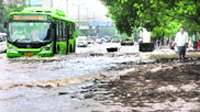 The National Capital is witnessing the wettest August of the past 15 years. The precipitation so far has been the seventh heaviest over the past 110 years, which has virtually brought the city to its knees.
A bus plies on a flooded road near the ITO after heavy rain in New Delhi on Wednesday. — PTI