THIS ABOVE ALL
A unique couple
Khushwant Singh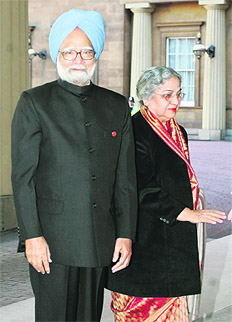 I have had dozens of book launches (I have written over 100 books without having to spend a single paisa). Most of them were launched at Hotel Le Meridian, courtesy its proprietor Harjeet Kaur, who lays out a lavish banquet of liquors and tastiest of snacks I have ever eaten. However, the results have been meagre. A few papers carried pictures of the chief guest and other dignitaries — Prime Minister Manmohan Singh, his wife, and the Bachchans. I also got some reviews, some favourable, some critical. The outcome of the launch of Humra Quraishi's Absolute Khushwant (Penguins), a compilation of my answers to questions put by her in book form by Diya Hazra at Ambassador Hotel a few weeks ago, came as a pleasant surprise. M. J. Akbar presided.
The focus of the attention was Gursharan Kaur. Among celebrities were Shashi Tharoor, Mani Shankar Aiyer and his wife Suneeta, Aveek Sarkar, Fali and Bapsi Nariman, Leela Seth, Mushirul Hasan and a few others, who I did not notice. I did not expect much media coverage. But most of the next morning's papers gave it front page, with pictures and a lot more on other pages. I wondered why this windfall publicity.
I then worked out the answer. All of it came from a few sentences comparing Manmohan Singh favourably vis-à-vis his predecessors, including Nehru and Indira Gandhi. In the process, I had listed some of their failings, and none of Manmohan Singh's, besides his gentleness and reluctance to hit back at his detractors. Many people believe that I am heavily biased in my judgement when I say he is the best Prime Minister we have had barring none. I am cheered to read he has been recognised as the most respected statesman in the world by a public opinion poll conducted by Newsweek magazine of New York. I am pretty certain that if a similar poll was carried to know the most gracious lady in public life, Gursharan Kaur would emerge the winner. The two make a unique couple.
Simla to Shimla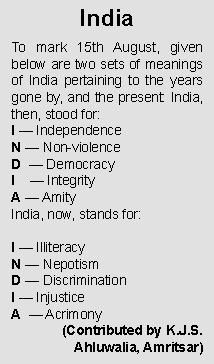 Simla was my summer holiday resort for a few years after Independence. My father and uncle Ujjal Singh rented a house for the two families. So I have lived in different parts of the city, starting from Chhota Simla to different locations. For two summers we stayed in MLAs' quarters after my uncle was elected member of the Punjab Assembly.
Then my father bought a spacious mansion called Apple Tree House, near Mashobra, from an Englishman returning home in 1947, and renamed it Sunderban. It had a large number of apple and cherry trees, a cider press, a snow pit to chill beer, a billiard room, a dance hall with a grand piano and a tennis court.
My happiest memories of Simla are of the time spent in Sunderban. It gave a spectacular view of the snow-clad mountains in the sunlit valley, and streams below, and village lasses singing doleful songs while cutting grass. I spent my evenings on The Mall starting from Wengers Restaurant to Davicos with long halts at Scandal Point ogling at pretty women and celebrities, who went by in rickshaws hauled by liveried pullers.
Then my wife inherited a bungalow in Kasauli, and I never went back to Mashobra. Simla changed its name to Shimla.
All these happy memories came back reading Minakshi Chaudhary's Love Stories of Shimla Hills (Rupa). Earlier, she wrote about Shimla's ghosts, about its flora and fauna. This one is about clandestine relationships. It makes one fall in love with Minakshi.