Sultan of swing
Arjun Atwal has scripted history by becoming the first Indian to clinch a US PGA Tour title, writes Donald Banerjee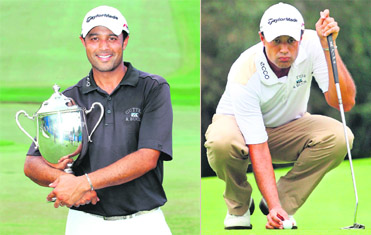 The title carried a prize money of $ 9,18,000 (around Rs 4.27 crore)

Consistent long drives, oodles of patience and long practice sessions with his Orlando neighbour and buddy Tiger Woods were the main weapons in the armoury of Arjun Atwal, as he scripted golf history on the US soil, becoming the first Indian to win on the US PGA Tour.
His triumph at Greensboro in the Wyndham Championship was all the more spectacular as Atwal had to qualify for the event after losing his playing rights on the worldís richest turf.
Atwal, who turned 37 on March 23, comes from an affluent Punjabi family, settled in West Bengal. His father, H. S. Atwal, has a booming mining business in Asansol and Kolkata. The doting father has not left any stone unturned in shaping the pro-golfing career of Arjun.
Known for his long drives, Arjun brought in consistency in those long hits, matching those executed by big-hitter Ernie Els of South Africa.
The new PGA Tour winner gives all credit to his swing coach Dale Lynch, whom he engaged barely a year back. In his words: "Dale Lynch has been of immense help to me, as even at 37, I can hit the ball longer than ever before." According to Arjuna Awardee, Harmeet Kahlon, the long drives decide the fortunes on US courses.
Patience was probably the biggest reason behind Arjunís historic triumph. He remained calm as many other US PGA winners wilted under pressure. Over the years, this Asansol-born golfer has mastered this art, which he acquired during his early golfing days in the US. "Veteran golfers instilled the philosophy of patience into me. And with Tiger Woods as a neighbour and friend to help me, what better guidance in mental fitness does one require". In one of his interviews published in the book, The romance of Indian Open, Arjun is quoted as saying: "Golf is a strange discipline and it can drive one mad if one is not patient."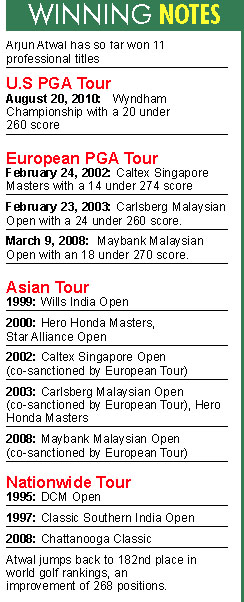 According to him, the third big weapon in his arsenal was the advice from none other than Tiger Woods. The former world championís text message to Arjun before the championship read, "Get to 21-under, buddy." And Arjun heeded the advice. He came just a stroke short of the target, but that was enough to win by one stroke over former Major winner David Toms. Arjun said he himself had set the target at 21-under. But coming from Tiger, it just sealed the matter.
Arjun admits that his nerves were put to test on the last hole. A bogey would have meant a play-off with former champion David Toms. In his own words: "My heart rate was really high when I was about to take that putt. But I calmed myself down. Part of me said I have done it so many times before on the European and Asian Tours. I know how to win."
He played a par and clinched the title with a 20-under 260 score. This triumph also gave him the playing rights on the US PGA Tour till 2012, besides participation in the Augusta Masters. He also pocketed a prize money of US $ 9,18,000 (around Rs 4.27 crore).
Arjun and his brother Govind were both sent to study at W. Tresper Clarke High School in Westbury, New York, after a short stint in St James in Kolkata. The avid learner showed his class early and was soon appointe captain of the school team that won the national championship.
Arjun got many scholarship offers while studying in WT Clarke. He eventually joined Nassua College where he got many opportunities to hone his game. He returned to Bengal and turned pro in 1995.
During the Wyndham Championship, Arjun set the winning start, firing a nine under 61. This score came about after Arjun had told his caddie soon after he qualified on Monday: "We got nothing to lose this week. We just go out there and try and win it. Guys are going to be out there trying to secure their FedExCup spots or whatever. We got nothing to do. I donít have a card or anything. Just go out and freewheel it. Thatís what I did, basically, this week."
After taking a three-stroke lead on the penultimate day, Atwal went into the final round with nerves of steel. He continued at 19-under for most of the day. But he bogeyed the par-3 12th to fall back. However, he was back in the lead with a birdie on the 14th. Leonard birdied the 17th and Toms the 18th to come back to 19 under. But Atwal still had three holes to play.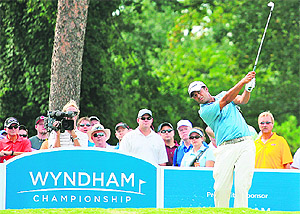 This triumph has given him the playing rights on the US PGA Tour till 2012, besides participation in the Augusta Masters

Atwal made his move on the par-3 16th, plopping his tee shot 6 feet from the flagstick and sinking his birdie putt to move to 20 under. He followed that with consecutive pars, sinking a 7-foot putt on No. 18 before dropping his putter and extending his arms upward in jubilation after closing out his first tour victory.
"I have no words to describe it," said Atwal, who has battled a serious shoulder injury last year.
Despite this triumph, Atwal wonít be in the PGA Tour Playoffs for the FedExCup because his temporary Tour membership from a minor medical extension expired after he failed to earn enough money by the RBC Canadian Open. Locking up a Tour card for the next couple of years will more than make up for it, though.
Although Atwal had started the day with a three-shot lead, at one point, seven guys shared the top spot on the leaderboard on Sunday. He was also in the top three in the field in driving and putting for the week, needing just 28 putts on the final day.
Atwal also became the first Monday qualifier to win on Tour in 24 years. Fred Wadsworth was the last to do it at the 1986 Southern Open.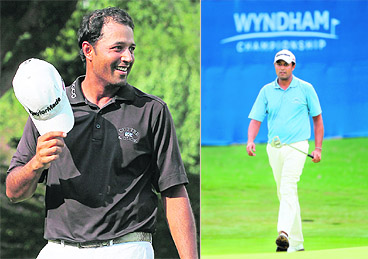 Atwal also became the first Monday qualifier to win on Tour in 24 years. Fred Wadsworth was the last to do it at the 1986 Southern Open

American David Toms finished second at 19 under 261, while his compatriots John Mallinger, John Rollins and Justin Leonard, along with Australiaís Michael Sim, were tied third at 18 under 262.
Padamjit Sandhu, director of the Professional Golf Tour of India, says: "This win is clearly a defining moment for Indian professional golf and will go a long way in inspiring the current generation of professionals in the country. It has been Arjunís sheer dedication and work ethic, which has made this feat possible, of becoming the first Indian to win on the US PGA Tour."
Asked how he felt soon after his first conquest on US soil, Arjun Atwal said: " I donít think it has sunk in yet, you know, seriously. Obviously, it was a long time dream of mine to win out here."
Talking about the last putt of the game, which he parred, Atwal said: " My heart rate was probably like 150 at the time but my caddy told me that, you know, hey, listen, you have made enough putts to win. I have. The last European Tour event that I won in Malaysia, I holed about a 20-footer on the last hole to get in a playoff. I went back to that and a couple of other putts that Iíve made in my life and kind of calmed myself down before I hit it."
Arjunís historic victory has spread cheer all around. Jeevís father Milkha Singh rang up Arjun and his parents in Kolkata to congratulate them. "It is a great feeling," says the Olympic sprinter. Milkha Singh said it was a great day for India as an Indian had triumphed on US soil. While accompanying his son Jeev on the US Tour, he found that the Americans made fun of Indian golfers. As if India could not produce world champions. "This victory should silence them for the time being," he adds.
Atwalís compatriot Jeev Milkha Singh also signed off on a positive note, carding a four-under 66 for a share of the 18th spot with a total of 14-under 266 (64-68-68-66). The Chandigarh golferís card had six birdies against a lone double bogey. It was the first time that two Indians figured in the top-20 of a PGA Tour event.