Melody king at 13
Sanjay Kansal on Abhay Goyale, who has mastered the piano so well that he is considered among the best in the country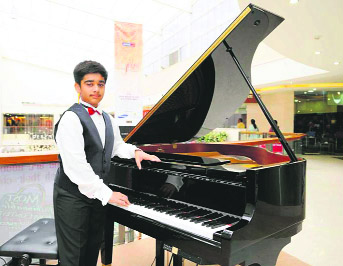 Abhay started his musical journey at six under the tutelage of his grandfather Brian Silas Photo by the writer

Unlike most young boys, 13-year-old Abhay Goyale is neither a cricket fan nor does he go to movies or have many friends. That's because most of his time is devoted to playing the piano. And Abhay is no novice. Even before reaching his teens, he has accompanied musicians like Jagjit Singh, Amjad Ali Khan, the late Naushad Ali, Anup Jalota, Pankaj Udhas, L. Subramanian, Kavita Krishnamurthy and many more.
Child star or prodigy? Call him what you like, the fact is Abhay is light years ahead of his peers in terms of musical accomplishments. Grasping the intricacies of a piano with an amazing alacrity, he is a picture of commitment and concentration when he is practicing. He started playing the piano at the age of six and has given outstanding performances in his so far brief yet accomplished career. He has a string of awards to his credit. He's been honoured by the former President of India, A. P. J. Abdul Kalam, has received the Pogo Amazing Kids Award, has featured in the Limca Book of Records and was India's representative at the musical welcome of participants at the 2006 Asian Games in Doha.
Having learnt under the tutelage of his piano-playing grandfather and Brian Silas, Abhay started his journey into the realms of music at six. Abhay's first piano was a present from his grandfather — a vintage 1838 German-made August Foster.
"My grandfather encouraged me immensely. I was a fast learner and everyone around me was surprised at how effortlessly I caught on to a tune."
Sitting in front of his piano, Abhay asks solemnly, "Can I play for you?"
Before you can say yes, the musical notes spring into a slow and soulful start. Belying his age, Abhay looks like an artist giving expression to his creativity.
"I have had no formal initiation, it was only few years back, that I went to a music school in Delhi to hone my talent. Of course, Brian Silas was a great teacher. He taught me how to put real feelings into my music," says Abhay.
Solo performances
Interestingly Abhay is very popular in the diplomatic circles in Delhi. He has given solo concerts for ambassadors and high commissioners of America, England, New Zealand, South Africa and a number of other embassies. He is often invited by All-India Radio and various television channels for performances and recently appeared in a live concert in Headlines Today.
Besides attending a music school every week, Abhay practices for two hours daily. He has complete control over the movement of his fingers, which is so essential for a good pianist. Recently, he was given the Outstanding Pianist Performer Award by Anoushka Shankar, daughter of sitar maestro Pt Ravi Shankar.
According to social scientists, gifted children like Abhay need constant stimulation.
Their interest has to be energised by frequent pats on the back. While genetic factors do play a role, there are no short cuts. They have to toil for excellence though in return they expect applause for their hard work.
Vintage melodies
In his formative years, the applause was provided by his grandfather. "He was a great person. He encouraged me even when I made mistakes. He too was an excellent piano player and had a great fondness for old Hindi film melodies which he could play to great effect," remembers Abhay.
Though he plays devotional and patriotic numbers as also some western classical melodies, Abhay's real talent — like his grandfather — lies in playing old Hindi tunes. His favourite numbers are, "Babuji dhire chalna", "Pal pal dil ke pass", "Sau sal phele", "Ajeeb daastan hai yeh", "Yeh raat bheegi bheegi" and "Piya tose naina lage re".
"This is just the beginning and I have a long way to go and a lot more to achieve," says Abhay, whose next target "is to become a successful music director in Hindi films." — NF