Games may crash over cash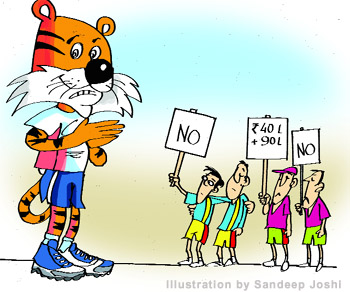 K. Datta
At a time when our MPs think nothing of voting themselves a trebling of wages and perks, why blame our tennis players for wanting their old dues to be cleared? If the MPs have had their way, the issue of the tennis players is also likely to be resolved. To compare MPs with sportspersons may be inappropriate, but is not untimely. With the Commonwealth Games a few weeks away, all that the tennis players were asking was that they be reimbursed the expenses, which, they say, have been incurred by them over the last year or two. The Sports Ministry, on its part, sees little difficulty in paying.
Poses for pregnancy
Subhangi Baspure
Pregnancy is one of the most beautiful aspects of womanhood. Each pregnancy, each child born, is a special opportunity for a woman to discover within herself great strength and flexibility. Motherhood is the most precious moment for a woman. Harmony in the mother's mind, body and soul is important for the emotional, physical and spiritual development of the child. Yoga and meditation have the capacity to produce a higher quality of conception, a healthier maternal environment for pregnancy and a more harmonious birthing experience.
Fit for the world
With the Khel Ratna in her kitty, ace badminton player Saina Nehwal is now aiming for the world No.1 position. Aviroop Mukherjee catches up with her
Already a world No.2, the country is expecting nothing but the world title from the Hyderabad girl, who is riding high on confidence after her hat-trick of Super Series win in the last four months.