TÍte-ŗ-tÍte
Probing depths, enriching canvas
Nonika Singh

DON'T let her gentle soft-spoken persona beguile you. Arpana Caur, one of Indiaís leading contemporary artists, has nerves of steel. And a heart that despite an open-heart surgery bleeds for the cause of environment, people, tigers, peacocks, migrant labour ... the list of her interests is endless. No wonder. though her work is definitely marked by womanly sensitivity and sensibility, she doesnít care to be clubbed a woman artist. "Issues that I tackle go far beyond the conventional feminist perspective." In fact, even her Sohni of the famous Sohni-Mahiwal legend is not just a lovelorn woman, albeit a person who is not afraid to take a risk and plunge deep.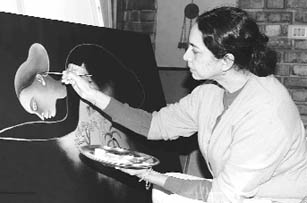 Arpana Caur at work

Arpana, too, plumbs the depths of human emotions, love legends and, of course, tradition. Greatly inspired by the miniature tradition, particularly of the Pahari School, she has often used architectural elements from the Basholi style. "Art", she asserts "is part skill, part imagery and part imagination. The source of imagery is often mysterious and often an amalgamation of experiences like the mysticism of Sultanpur Lodhi, the serene ambience of Shri Sahib jiís ashram in Jagraon and Ghaziabad, where I learnt the true essence of Gurbani." So, as she listens to the shabad, "Bini rainriye chamkan tare. jaage sant jaana mere ram pyare" ... the image of Guru Nanak, on whom she has done a complete series, emerges anew on her canvas.
The mind, according to her, is a repository of inexhaustible resources, memories and tales constantly refreshing her visual vocabulary. Subconscious influences, like being the daughter of celebrated writer Ajeet Cour, too, have rubbed on her. She recalls, "Books were important but the world of colours offered me the greatest ecstasy." Add to it the sublimation of an artistís struggle and her colour palette and imagery have only grown from strength to strength ever since her exhibition "Missing Audiences" at Jehangir Art Gallery, Mumbai, in 1980 was a complete sold out. Thereafter, she has brought forth the trauma of 1984 riots, the unenviable plight of Vrindavan widows and redefined concepts like Laxman rekha. "An artist", she deems, "may not be a chronicler of the times, he or she lives in but art is a way of capturing time." Thus time, its endless cycles are a recurring leitmotif in her work. While the calligraphy "Time go slow" is etched in her latest series, she muses, "How time slips by..."
No wonder, at 56, she feels like a 14-year-old and paints with the same enthusiasm and is ever eager to learn, "I am no Leonardo or Michelangelo ... I try to improve everyday." And innovate, too.
Besides the canvas, she has painted murals as well and more recently tried her hand at sculptures. She reasons, "Painting canít take rain or sunshine but sculpture can." Anyway, she cares deeply for public art, the reason why for a mural in Kathmandu she didnít demand more than the price of a painting. For art museums also, she is more than willing to part with her paintings for a small amount. She whose works are already a part of major museums like Asian Art Museum, San Francisco, Peabody Essex Museum, Boston and Victoria and Albert Museum, London, wants the ones at Chandigarh to have more of her recent works and has no hesitation in giving at hugely discounted price`85 only if museum authorities would show interest. Does she feel her home state has not given her the due recognition? The Delhi-based artist has no grudges against Punjab. Her only lament is, "Wish there were more funds for arts`85may be a book on Punjabi artists."
A diehard Punjabi, who loves to soak in the whiff of air near the Kali Bein. who has stood by the side of the Chenab in Sohniís birthplace Akhnoor, near Jammu, and shed tears of joy, has not only reinvented Punjabís love legends but also made it part of international art collection. A 12 x 6 foot ĎSohnií hangs in Bradford Museum next to a Romeo and Juliet by a 19th-century British artist. She shares excitedly, " School children there, who made a small animation film, now know who Sohni was."
With all humility, she admits, "My cups are full." So ,she stands fulfilled. Not merely at the thought as to how Delhi that housed two museums in mid-seventies has grown into an art nucleus with over 200. Or the fact that her paintings now fetch prices that can support many of her philanthropic causes. Rather, the most comforting is the realisation, "An artist is in a rare privileged position to be able to plunge into inner and outer worlds." And she has the unique distinction of sewing the two, the metaphorical and the real world into one. Her constant preoccupation with the symbol of scissors may have compelled noted sculptor Satish Gujral to call her kainchi. However, her art is in essence about the uncanny knack of bringing it all together. Thus tradition and modernity, everyday reality and spiritualism, love and the ability to transcend inhabit her artistic space. Without contradiction or dissonance. That explains why one can sense a perfect harmony both in her work and her being that otherwise often goes fighting court battles for concerns dear to her. An irresolute determination backed by a heart of gold ...? Only, this Punjaban doesnít see herself as a crusader but a human being who finds it impossible to shut her eyes to the reality around her. So, she responds to it, both in her art and life.