SHORT TAKES
Canons, Constitutions and crusaders
Reviewed by Randeep Wadehra

Managing in Changing Times
edited by Sid Lowe Response.
Pages xiv+398. Rs 495.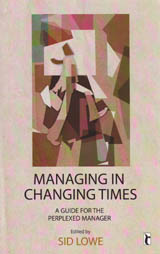 OVER the past two centuries, economic scenarios in most of the countries have undergone great transformations. This is as much due to perpetual technological developments as the ever-changing political-ideological-commercial dynamics. Consequently, the postmodern business/production entities have not only expanded in size but also have become extremely complex in character – a process that appears to be perennial. Therefore, managers have to consistently upgrade their basic skills as well as acquire and operate more sophisticated management tools. Debates are no more limited to the conservative/neo-conservative versus liberal/neo-liberal frameworks. More and more thinkers are feeling the need for inventing new metaphors to understand and articulate new challenges that managers are increasingly facing in the post-modern milieu.
Dynamic and variegated economic conditions around the world demand new ideas and perspectives from management theorists and practitioners. It is generally believed that, while setting up shop in different parts of the world, transnational managers ought to factor in local ethos while prescribing/fashioning new/'imported' work ethics/cultures for specific business/production units. Although production and distribution processes and structures can be globally standardised – MNCs and automated production lines have become commonplace – man-management remains a test for today's managers. This tome seeks to provide perspectives that challenge the neoclassical scientific management approach even as its learned contributors attempt to build upon, and go beyond, Schumacher's pyramid of four-layered hierarchy (which has uncanny resemblance with the Hindu concept of spiritual evolution) and Capra's 'Kite' that depicts modernist management theory.
Looking for fresh, well-informed, perspectives on management? This book is for you.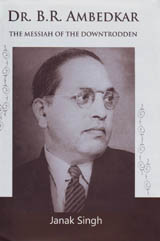 Dr B. R. Ambedkar
By Janak Singh Kalpaz.
Pages 377. Rs 650.
Dr B. R. Ambedkar (1891-1956), was essentially a thinker and social reformer who fought for the rights of the "untouchables", now called Dalits. Born into a poor Mahar family of a Subedar Major, he went abroad for education on scholarship. Although he studied economics in the USA, he went to England in 1916 to study law. In 1923, he was called to the Bar. In 1924, he began his legal career in the Bombay High Court. In 1935, he distinguished himself by gaining the post of Perry Professor of Jurisprudence at the Government Law College, Bombay.
All his life, Ambedkar fought discrimination against himself as well as his fellow untouchables. Such was his commitment that when he discovered that constitutional provisions for the safeguards of untouchables were inadequate, he condemned the very Constitution he had helped in making. He launched several organisations dedicated to the progress of untouchables. He was invited to the Round Table Conference (1930-33). His demand for separate electorates for the untouchables pitted him against Mahatma Gandhi. Ambedkar led his community into mass conversions to Buddhism when he realised that both the Congress and the Muslim League leaders had no empathy with untouchables and wanted to use them for electoral purposes.
Despite its hagiographic overtones, the tome is an invaluable addition to the subaltern literature.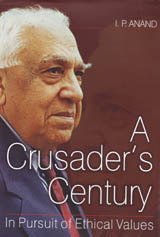 A Crusader's Century
By I. P. Anand.
Knowledge World.
Pages xix+314. Rs 695.
Anand has lived an interesting and eventful life. More fascinating is the restructuring of his family tree that corresponds with the evolution of not just the Khokhrain group of castes but of the entire other Khatri tribes, too, viz. starting off as warriors and nobility, settling down as landlord-agriculturists and finally moving on to business and service sectors. Anand was born in what is now Pakistan. He was actively involved with young political activists during the Quit India Movement. The British held him as a security prisoner for two years. Apart from being a successful corporate manager he has been associated with the Geneva based ILO's governing body.
This book narrates Anand's achievements in different fields of human endeavour.