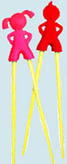 Hindi in Dragon country
Shanghai offers a taste of bhasha, business and beyond. Megha Mann reports after a recent visit
LOOKs can betray. One look at this woman from the dragon country and you don't believe she is called Meenu. A correspondent with the renowned China International Radio (CRI) , Meenu is one of a favourite with the radio's audience in that country.


Not just noodles

Shanghai Noon

Will leopard go the lion way?
The fear about the danger of leopards to human life is a cause of concern for the future of this wild cat, says Lieut-Gen Baljit Singh (retd)
THE worth of a civilisation is judged by the manner it treats its animals," said Mahatma Gandhi. We do not know the nature of neglect and the magnitude of cruelty inflicted on animals, which the Mahatma witnessed to have made that anguished and at the same time the most compassionate statement in defence of the animals of India.
When Sikhs captured the Red Fort
The Sikhs attacked the Red Fort on March 11,1783, and hoisted the Nishan Sahib. The Emperor offered a treaty, and accepted their terms, writes Major-Gen Kulwant Singh (retd)
NADIR Shah's brutal offensives and eight invasions by Ahmed Shah Abdali had made the Mughal Empire fragile and weak. Sikhs had emerged as a strong and powerful force in northern India. The Sikhs eventually halted Abdali's invasions.
On a spiritual track
In her quest for some lesser-known spots, Aradhika Sharma discovers a beautiful monastery near Solan
OUR discovery of the Menri Bön Monastery (or the Yung Drung Ling,) was as sudden as it was delightful. A few friends had planned a Sunday trip to the hills to Giri Ganga, close to Solan, and try and find some untouched spots — may be go down to the river there, attempt to catch some fish, or maybe a short trek.
Krishna in Hadoti art
Chandan Sen
Different facets of Lord Krishna's life have been depicted in the art and cultural heritage of the entire Hadoti region in Rajasthan. Miniature paintings at the royal palaces in Kota, Bundi, Jhalawar etc have Krishna themes.
Joy of fasting
The traditional Ramzan meals should be carefully planned. Make sure you are eating a balanced diet, says K. D. L. Khan
IF the industrialised world is top-heavy, i.e. the ratio of youth to elderly is low, the ratio of the emerging Generation X in Islam is the opposite.
Fighting for love
Love Commandos reach out to stop honour killings, writes Azhar Qadri
IN the face of a spurt in the number of reported honour killings in the country, couples marrying against their family's wishes and khap panchayat norms have a ray of hope as a novel civil society initiative is reaching out to protect them.
Denim goes wide
WOMEN who hate skinny jeans can rejoice when the extra-tight denim, that has dominated the market for more than two years, makes way for wide-leg cuts. Bell-bottoms and boot-cut styles will appear in stores shortly.
Connery drama rediscovered
A long-lost BBC period drama, starring young Sean Connery, has been rediscovered 49 years after it was first shown. The drama, which aired on November 3, 1961, is to be released on DVD.
Cut to direction
After essaying a medley of characters on the big screen, Raghubir Yadav wants to go behind the camera, writes Bedika
HE ran away from home at the age of 15 to become a singer but destiny had different plan for veteran actor Raghubir Yadav, who, after essaying a medley of characters on big screen, wants to go behind the camera.
'I was intrigued by Hinduism'
Julia Roberts tells Seema Hakhu Kachru that she became a practising Hindu after visiting India while shooting for her latest movie
PrETTY Woman star Julia Roberts, who recently converted to Hinduism, says she took up the religion because she was intrigued by it. The 42-year-old American actress grew up in Georgia, the US' famous 'Bible belt' and was born to a Catholic mother and Baptist father.