Hindi in Dragon country
Shanghai offers a taste of bhasha, business and beyond. Megha Mann reports after a recent visit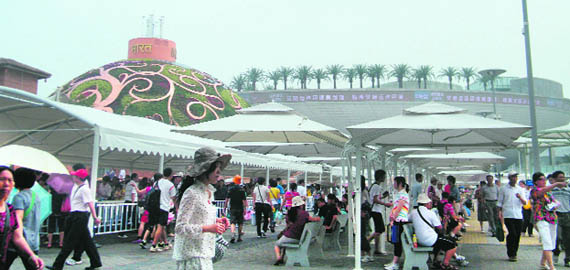 An outer view of the Indian pavilion at the Shanghai Expo. The dome, constructed using
large bamboos, is among the largest at the event Photos by the writer

LOOKs can betray. One look at this woman from the dragon country and you don't believe she is called Meenu. A correspondent with the renowned China International Radio (CRI) , Meenu is one of a favourite with the radio's audience in that country.
Chen Xiaojiao was also named Meenu after she joined the CRI Hindi service almost two yeas ago. The CRI is a leading radio service of China that runs a special broadcast in Hindi and has especially trained its employees in the language.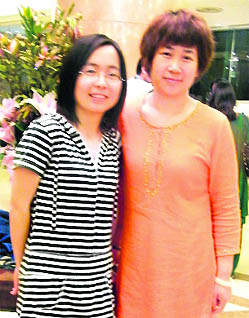 Chen Xiaojiao (L), whose Indian name is Meenu, and Sapna, aka Tang Yuangui, are correspondents of China
International Radio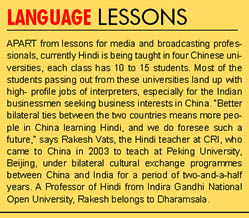 "An Indian name ensures sharing a better wavelength with the audience. The listeners feel connected to you and there is a comfort level," she reasons with a smile.
Born with a flair to work in the media and communications sector, young Meenu has been covering various events for an Hindi audience and was an integral part of the Indian youth delegation that visited China recently under the Sino-Indian youth exchange programme.
Like Meenu, her senior, Tang Yuangui, aka Sapna, has been a CRI correspondent for the last 10 years. A decade of speaking Hindi has gifted her an insight into India and its people.
"Indians come across as a sentimental and soft-spoken people. It's always an enlightening experience to talk to a Hindi vidvaan (intellect)," she feels.
"Namaste, mera naam Meenu hai aur main China International Radio ki samvaddata hoon," says Meenu as her foreign accent gives away her status of being an amateur in Hindi, while Sapna speaks just like any other All India Radio correspondent.
For Sapna and Meenu it has been fun learning Hindi. "Our major role at the CRI is to keep the Indian audience connected with Chinese culture and values as well as to maintain cordial relations between the people from Hindi-speaking and Chinese-speaking communities," Sapna points out.
Both Sapna and Meenu feel grateful to their Hindi teacher, Rakesh Vats, who had taught them the nuances of the Hindi language and opened an entirely new world of learning and opportunities for them. "Rakesh ji has taught Hindi to many of our colleagues. Now, all of us communicate in Hindi, even in office," adds Sapna.
Their families, however, do not share their love for the language. Sapna says that use of Hindi is restricted only to official work. "But, at times, when we come across Indians in our day-to-day functioning, it becomes easier to communicate. The youth delegation's visit to the cities of Shanghai, Hefei and Chongqing gave us a better insight into the minds of the Indian youth," she says.
The influence of the local dialects of India on Hindi surprises them. Sapna feels a sense of wonder at the way a simple word like mujhe is spoken in so many ways such as mere ko, mera etc.
While these young Chinese women have mastered Hindi, English evokes another response. As Meenu explains, "English is a universal language, needed mostly when we move out of our country looking for livelihood. There are so many opportunities in China that I do not need to look beyond it. So, the very necessity of learning English does not arise."
Both of them feel gratitude towards the CRI for equipping them with a knowledge in Hindi. Besides Meenu and Sapna, other Chinese employees with alternative Indian names at the CRI include Chandrima, Rupa, Pawan, Lalita and Vinita.
The CRI – earlier named Peking Radio --- was established on December 3, 1941. This is the only international radio service of China providing and giving information about the country and helps in maintaining international ties and relations.
In its initial days, Radio Peking used to broadcast programmes in Japanese for 15 minutes a day. The radio now imparts services in 38 international languages, Mandarin and four dialects for 211 hours per days. Work on Hindi CRI started in 1957 and it finally came into being on March 15, 1959. The CRI understands the 2000-year-old
Sino-Indian relations and the long cultural heritage history the two countries share.
With improving India-China political relations, the CRI has registered an increase in popularity in the country. Earlier, the listeners of the programmes mainly included students. Now, the audience comprises teachers, workers, retailers, technical professionals and even doctors. The radio also has listeners' clubs in India that keep on writing to the CRI.
CRI also comes out with all-Hindi magazine. Even the CRI website dedicates a complete portion to the 60 years of the India-China relations.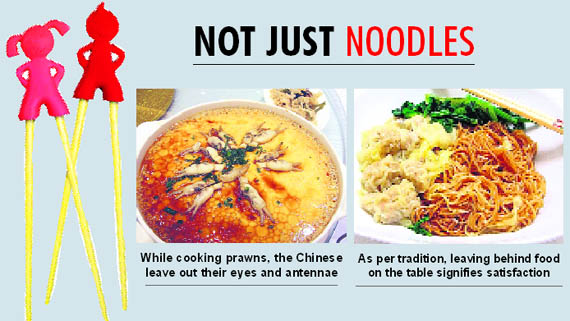 THE only mouth-watering Chinese delicacies, available at a nearby Indianised Chinese food joint, are noodles and manchurian. While noodles do form an integral part of Chinese cuisine, China does not have any dish named manchurian.
The Chinese believe that whatever is alive, is eatable. The finest of Chinese dining restaurants, like the Old Shanghai Restaurant at Shanghai, which serves traditional dishes, concentrate on providing as much non-vegetarian food as possible. In China, fish and eggs are not considered a non-vegetarian diet. Even the oil for cooking vegetarian food is fish oil.
As Vinayak Chavan, first secretary, cultural-general, Embassy of India, Beijing, points out that China, especially the northern parts, reeled under biting cold due to which it was very difficult to grow vegetables.
"The genesis of the Chinese penchant' for non-vegetarian can perhaps be had from their history. At the end of each war, the government or monarch had to feed a huge population. Frequent and long war caused shortage of grain or other edibles, making them look for other sources of food, such as sea food or animals," he explains.
This is why most of Chinese fine-dine restaurants exhibit live animals that can be eaten, as per choice. Customers at these restaurants are free to select the kind of animal they want to eat, right from lobsters to snakes.
Prabhat Kumar, a Chinese student from Jawaharlal Nehru University, Delhi, who has been scholar at Beijing Foreign Study University, Beijing, points out that in China business runs on the dining table. "At the dining table, if you don't leave food, it means you are not full. In a way, leaving food signifies satisfaction," he reveals.
While the Chinese food is a delight for non-vegetarians, it has enough to offer to vegetarians, too – albeit minus the Indian spices and in boiled form. In China, it is a transition for the vegetarian taste buds, from having spicy Indian food to bland Chinese cuisine.
For Indians, living in China, the transition comes slowly. For instance, Ninad S. Deshpande, consul (commercial and political), Consulate-General of India, Shanghai, came to China two years ago. "I am a strict vegetarian and I carried almost 200 kg of wheat and 100 kg rice with me, besides regular pulses and cereals, before coming to China. Now, all of my family members have grown fond of Chinese food," he adds.
The Thai food centers in the city of Chonging have dishes on the menu quiet similar to Indian cuisine. These Thai restaurants use an array of spices, including cloves and cardamom, and one can even find the favourite Indian aloo ki sabzi – with a little Thai twist. — MM

Shanghai
Noon
THE Indian pavilion at the recent Shanghai Expo has failed to impress and live up to the expectations of people, especially the Indians.
Woven loosely around the idea of unity in diversity, named "Cities of Harmony", the pavilion's aura and ambience was a far cry from the actual theme of the expo – Better City, Better life.
The Indian Government had assigned the task of managing and setting up of the pavilion to the Indian Trade Promotion Organisation (ITPO), which ended up giving it more the look of a regular trade fair held at Sarojini Maidan in Delhi rather than making it an international showpiece.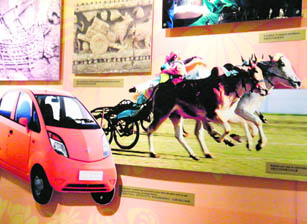 An image of the Nano features
in the Indian pavilion

Indian officials visiting the pavilion felt that instead of the ITPO, the Ministry of Urban Development, Government of India, should have been handed over the task in collaboration with state art and cultural societies. "This would have made the India pavilion reflect the culture of each and every state," said an Indian official.
The Indian pavilion had the world's largest bamboo enclosure, with a 17-m high dome having a diameter of 34.4 m that covered 4000 sq m. The dome doubled up as a 360-degree screen for exhibiting a holographic audiovisual treat showing the Seven Chakras (circles of energy) and the way the ancient system inspired urban development. There were around 65,000 plants on the roof of the dome that collected rainwater for use in the pavilion.
It talked about the peaceful co-existence of urban and rural development and was designed around the five cardinal elements – space, fire, water, air and earth. Despite having the best of architectural designs and configuration, the pavilion seemed to lack soul.
"The Indian pavilion does not seem to be in consonance with the theme of the expo. The 3D show exhibits our rich cultural past and our present. We could have done better in terms of showcasing young Indians' achievements and the rising IT power that we are," said a visitor to the pavilion, Aniket Nikam, a lawyer from Mumbai.
Comparing the Indian pavilion with that of Pakistan, Nikam felt that the latter did a better job, talking about China-Pakistan relations – a thing that was missing at the Indian pavilion. Another Indian visitor was critical about Mumbai being shown in a poor light with a slum as the main photo.
Visitor Sagar Aggarwal from Cuttack said, "There was nothing at the Indian pavilion which we did not know. The pavilion should have been an eye opener not only for foreign visitors but for Indians as well. The pavilion was big enough to have more stuff than the 3D animated films and a few statues," he felt.
Media reports from Beijing, meanwhile, claimed that the pavilion had a huge footfall of 25, 000 persons daily. "This perhaps may be due to the Indian food, which has proven to be a rage amongst the foreign visitors," pointed out G. S. Randhawa, the manager of the Indian youth delegation to China.
As many as 189 countries and 57 international organisations are a part of this six-month-long expo. — MM