'I was intrigued by Hinduism'
Julia Roberts tells Seema Hakhu Kachru that she became a practising
Hindu after visiting India while shooting for her latest movie

PrETTY Woman star Julia Roberts, who recently converted to Hinduism, says she took up the religion because she was intrigued by it. The 42-year-old American actress grew up in Georgia, the US' famous 'Bible belt' and was born to a Catholic mother and Baptist father.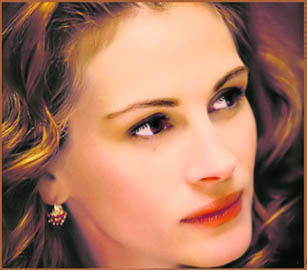 In an interview to fashion magazine Elle, Roberts had admitted that she became a practising Hindu after visiting India while shooting her upcoming movie Eat Pray Love.
Roberts said she, along with her husband Danny Moder and their three children — five-year-old twins Phinnaeus and Hazel and three-year-old Henry — go to temples to "chant, pray and celebrate".
"I practice. I practice a lot of things. Hinduism is something that I'm very intrigued by and very interested in," Robert said on the Good Morning America show.
She has now become one of the most famous converts since the late George Harrison, a member of the Beatles, who embraced Indian mysticism in the 1960s. According to Roberts, her interest in the faith started after she found the photograph of a Hindu guru.
"I was so drawn to this picture of this person and I didn't know who he was or what he was about, but I felt a very strong interest. That's the way things come into our lives. They're not these big, great, crashing moments. It's just the little like, 'Hmm, what is this about?'" Roberts said.
This step in her personal growth seems appropriate given her newest film, Eat Pray Love, which focusses on a woman's personal growth looking for a fresh start.
The movie is based on a book written by Elizabeth Gilbert's best-selling memoir in which Roberts visits Italy for food, India for spirituality and Bali, where she finds love.
The actress had caused controversy in India last September when local people were reportedly barred from celebrating Navratri while she shot scenes for the film in a temple on the outskirts of New Delhi. — PTI