Krishna in Hadoti art
Chandan Sen

Different facets of Lord Krishna's life have been depicted in the art and cultural heritage of the entire Hadoti region in Rajasthan. Miniature paintings at the royal palaces in Kota, Bundi, Jhalawar etc have Krishna themes.
According to Krishna Mahawar, a painter from Kota, "In the Hadoti kalam, Krishna has been depicted extensively ranging from simple images, raas, Radha-Krishna divine love episodes, Meera-Krishna and mythological themes etc". Experts owe the extensive presence of Krishna in art to the rulers and kings, who worshipped him.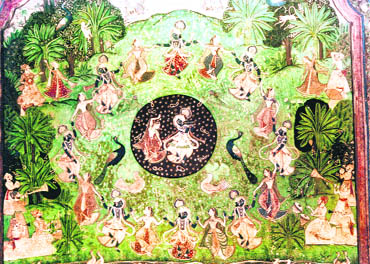 The Raas Leela between Krishna and the gopis has been a favourite theme with artists

At the famous art gallery Chitrashala, known for the Bundi School of Paintings, the colours are limited to blue, green and turquoise. Scenes of Krishna's life are still in very good condition. The Badal Mahal has paintings with mythological themes. Different moods of Krishna have been depicted in style. The paintings at Badal Mahal depict the colourful raas and maharaas and the images of Ranganathji and raas-leela etc. Krishna has also been depicted in the Bara Masa series from the Chaitra to Phalgun months of the Hindu calendar with Krishna as the subject.
Abdul Hanif, artist photographer from Government College, Kota, says, "Even today, people prefer to take Krishna or Radha-Krishna paintings more than other subjects in silk, paper or cloth".
Chandrashekhar, an artist from the Kota Art Gallery, says, "In the traditional style of Kota-Bundi paintings, the Bhagvadagita has been thoroughly depicted with the images of Krishna as Balkrishna, Gopikrishna, Radha Krishna and Rasik Bihari Krishna. The Pichwai paintings on cloth are also very popular here."
In the personal collection of the erstwhile ruler of Jhalawar, a room with paintings has been dedicated exclusively to Shrinathji. The depiction of Mathuradheeshji and Shrinathji has been done wonderfully. Well-known painter Ashish from Bundi says, "Kota has also been a centre of Pushti Margiya sect religious activities. Lord Krishna has been depicted in the Kota style in innumerable ways. Themes like Bal Leela, cow grazing and Makhan Leela etc are aplenty."
According to Ashish Shringi, a young artist, "The Bundi, Kota, Jhalawar and other styles of the local thikanas can be called the Hadoti style and Krishna has been dominant in it. The royal palace of Kota is famous for its wall paintings, which has scenes from the legend of Lord Krishna."