Denim goes wide
WOMEN who hate skinny jeans can rejoice when the extra-tight denim, that has dominated the market for more than two years, makes way for wide-leg cuts. Bell-bottoms and boot-cut styles will appear in stores shortly. Many apparel watchers predict the eventual demise of the skinny that has spurred both adoration and revulsion.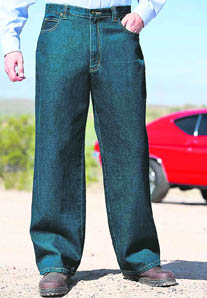 "The pendulum is swinging away from skinny," said Ryan Dziadul, a spokesman for VF Corp's 7 For All Mankind. "There are millions of pairs out there. It is about bell-bottoms."
Wider-leg jeans made an appearance at the magic apparel trade show, the twice-annual Las Vegas pilgrimage, where retail buyers place orders for the newest looks.
Jeans makers are looking for something new to entice shoppers who have proven scarce at the checkout line since the recession.
The move comes as jeans as a category will lessen in importance, experts said. Khakis and corduroy pants are expected to steal the focus, said vendors.
True Religion Brand Jeans is increasing the amount of non-denim apparel in its line to between 30 per cent and 40 per cent, from about 5 per cent last year.
"Denim has slowed down dramatically. She doesn't want to buy more jeans," said Oscar Feldenkreis, president and chief operating officer of Perry Ellis, speaking of the female shopper. "And the jeggings trend has slowed down."
Jeggings, or leggings designed to emulate the tightest jeans, have been popular this past year across a variety of retailers, from high-end Bloomingdale's to discounter Wal-Mart Stores.
"Retailers are seeing it in the trend reports. They are very curious, but they are not really booking it heavily yet," said Hala Jbara, director of marketing for Pepe Jeans. — Reuters Life!