On a spiritual track
In her quest for some lesser-known spots, Aradhika Sharma discovers
a beautiful monastery near Solan

Menri Bön Monastery, near Solan, is a haven of peace

OUR discovery of the Menri Bön Monastery (or the Yung Drung Ling,) was as sudden as it was delightful. A few friends had planned a Sunday trip to the hills to Giri Ganga, close to Solan, and try and find some untouched spots — may be go down to the river there, attempt to catch some fish, or maybe a short trek. To our delight, we discovered that there was a monastery just a few kilometres off the road near Ochhaghat, which is the Narag-Sarahan road.
This unexpected fillip added even more excitement to our expedition. The drive to the monastery was through the lush greenery of the yet virgin hills, through the hills and dales, until Riyaal, the youngest amongst us, yelped in glee on spotting the golden roofs.
Built at several levels on the hillside, one has to climb a few flights of stairs to reach the main temple. There is a huge basketball court on way to the temple, where you are likely to see little monks dribbling ball.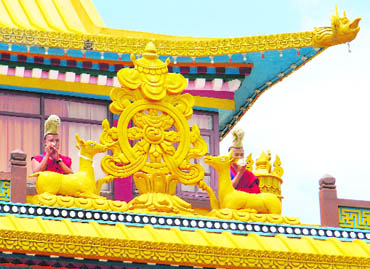 Monks atop the monastery roof calling others for prayers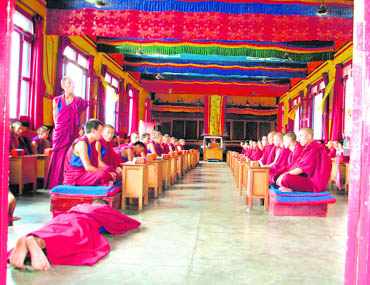 Bön monks praying inside the monastery Photos: Paramjeet Singh


You climb further and pass a modern guesthouse, go through the living quarters of the monks, and then to the main temple, which rises proudly from a precisely planned garden. White stairs lead to the veranda where a sign requests you to remove your shoes.
There are vast red pillars on either side, holding up colourful frescoed brackets, leading to rooms on top. The roofs are in the typical Tibetan sloping style, golden in colour, embellished with rich decorations that have come to characterise Tibetan religious edifices. Huge doors lead into the temple.
While we were still trying to get our breaths back from its sheer majesty, we spotted two monks atop the roof, wearing a curious headdress, chanting in deep voices. Evidently, it was a call for prayers because many monks were hurrying up the stairs. We saw a monk beckoning us to the main temple doors, which, to our disappointment, had been locked. "Do you want to go inside?" he asked.
"Oh, yes, please," we chorused. He smiled and unlocked the doors, and we entered the vast hall, with the statue of the Thanka Sherab, our monk guide told us, in the centre of the opposite walls. Lined in precise rows were desks with low stools, where monks conduct prayers and study. Strange and fascinating musical instruments were specifically placed. We were told that they were used during the 'big prayers'.
I wanted to know where the monks had been hurrying to and was told that they were at prayer in another complex behind the temple. We found ourselves in another, smaller hall, amidst student monks chanting prayers.
At the end of the prayers, the monks were served food from the adjoining kitchen, right there in the prayer hall. They were served steamed flour cakes, somewhat in the shape of small croissants and in their bowls (every monk has his own) was poured a thick dal.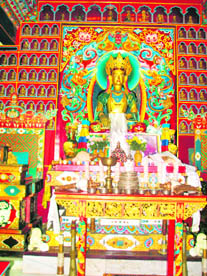 The statue of the Thanka Sherab inside the monastery

Back at the temple, we met a Bön monk from France, who explained that the Tibetan Bön religion has its roots in pre-Buddhist religious practices. The Bön religion developed at the same time as Buddhism in the 7th century. Today, Bön forms a structured doctrine, but had had to go through a long struggle for identity. In 1978, the Dalai Lama acknowledged the Bön religion as a school with its own practices after visiting the newly built Bön monastery in Dolanji.
The followers of Bön are known as the Bönpo, and unlike the Buddhist monks who wear yellow-orange robes, they wear deep maroon robes with a royal blue vest.
We were told that this monastery is known as Menri Monastery and is the second oldest Bön Monastery in the world (after the one in Tibet). It was founded in 1969 by the Abbot Lungtog Tenpai Nyima. At the time of inception, there were around a 100 monks. Now, there are more than 350 residents. Large Tibetan-style buildings have come up to house the new temples, a library, dormitories, health centre, nunnery and a Bön Dialectic School.
Menri Monastery is the seat for all spiritual and administrative aspects of the Bönpos worldwide. The chief lama of Menri Monastery is Menri Trizin, who, at 80 years of age, is also the titular head of all Bönpos.
The world is now getting to know that Tibet is not synonymous with Buddhism, but is also home to this other great religion of the world.
fact file
How to reach: The monastery is located 12 km from Solan, one needs to take a minor road at Ochhaghat, which is the Narag-Sarahan road.
Distances to Solan: Delhi 315 km, Kalka 42 km, Chandigarh 68 km and Shimla 48 km. From Chandigarh, one can either take a bus or drive down. By train, it is midway on Kalka-Shimla narrow gauge train.
What to eat: You will have to stop at Solan for food. There are plenty of dhabas and small restaurants there. Or one may carry your food and drink.
The residents speak Hindi and a smattering of English.
Where to stay: There are plenty of luxury and budget hotels to suit every pocket. Those who plan to stay, can visit www.travelmasti.com/solan.htm and http://indoexpedition.com/solanhotels.html for further information
Other places of interest:
Jatoli Shiv temple (6 km from Solan): This is an old temple. Every year an annual fair is organised here on Mahashivratri.
Barog railway station (8 km from Solan): Inspired by Scottish architecture, Barog's railway station, on the Kalka-Shimla train route, is one of the most picturesque stations.
Giri river (20 km from Solan): The banks of the Giri river, 20 km from Solan, offer some great picnic spots
Sholoni Devi Temple in Solan: This beautiful temple is dedicated to goddess Sholoni Devi. It is famous for Sholoni Devi fair, celebrated with great fervour in June.