Fighting for love
Love Commandos reach out to stop honour killings, writes Azhar Qadri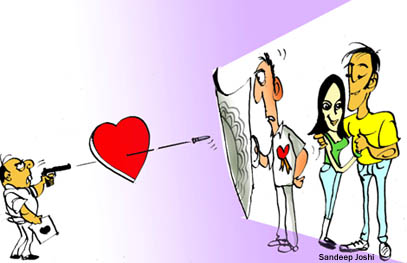 IN the face of a spurt in the number of reported honour killings in the country, couples marrying against their family's wishes and khap panchayat norms have a ray of hope as a novel civil society initiative is reaching out to protect them.
Dubbing themselves Love Commandos, a motley group of volunteers comprising lawyers, journalists, professors, actors, students and human rights activists are, through a telephone helpline, offering counsel and safety to love-struck couples facing the wrath of families and village elders.
"We receive calls from lovers from all over the country," says Harsh Malhotra, a social activist and chief coordinator of the helpline that has been operating out of a secret location.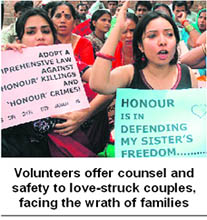 Active since last month, the helpline had on the first day itself received hundreds of calls from frantic couples.
The group requires member 'commandos' to be above 18 years of age and without any political party affiliation. It currently has over 90,000 members and the numbers it claims have been swelling. More than 2000 commandos are working round the clock at present for the helpline.
Most of the calls received come from the areas in western Uttar Pradesh, Punjab and Haryana, regions from where most of the honour killings have been reported.
"Upon receiving a call from the desperate lovers, Love Commandos inform the police and also activate their legal cell in the area. If the police does not respond, they then promptly move court seeking legal protection for the couple," informs Malhotra.
The Love Commandos also help the lovers, who have crossed the age-limit of 18, for girls and 19, in case of boys, in getting married. The group also provides the services of priests, imams and pandits to conduct marriage ceremonies.
Khap panchayats are local caste councils in northern India, which are against inter-caste and same gotra (sub-caste) marriages.
Some of the recent high-profile cases of alleged 'honour killing' include that of Delhi-based 23-year-old journalist Nirupama Pathak and Punjab University's 25-year-old research scholar Shama Shukla. — PTI