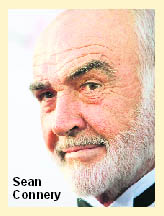 Connery drama rediscovered
A long-lost BBC period drama, starring young Sean Connery, has been rediscovered 49 years after it was first shown. The drama, which aired on November 3, 1961, is to be released on DVD.
It was an adaptation of Tolstoy's Anna Karenina.
Claire Bloom played the title role opposite Connery, who starred in the first 007 film, Dr No, a year later, reports the BBC.
The drama tells the story of a Russian society woman, who puts her marriage in jeopardy by embarking on a passionate affair. — ANI