Ulta Pulta
Injurious games
Jaspal Bhatti

THE government has established India's first sports injury centre for the Commonwealth Games. Kalmadi sahib was first to reach there, not for the inauguration of the centre but for the treatment of his own injuries.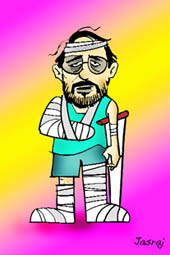 The head of the department said, "Sir, you didn't participate in any of the event. So how could you get an injury?" Kalmadi said, "This is more than an injury. The media has been thrashing me mercilessly for a month. I am mentally broken." Meanwhile, T.S Darbari, Sanjay Mohindru, the committee members who had been suspended for their dubious roles, too, came limping to the sports injury centre. They also pleaded to be treated.
The doctor himself swallowed a muscle relaxant tablet. "Sir this centre is strictly for those who get physical injuries while playing on the ground, practising or running on the tracks.' Kalmadi flared up, "The government doesn't understand. After the games, there will be more inquiries. More heads are going to roll. There are going to be numerous casualties.
The doctor said, "For that kind of treatment, the Indian Government needs to provide us with special equipment worth more than Rs 100 crore." One of the suspended officers said, "if I am made in charge of this purchase committee for special equipments, my injuries will be healed automatically."