PUNJAB
HARYANA
JAMMU & KASHMIR
HIMACHAL
REGIONAL BRIEFS
NATION
OPINIONS
LETTERS
BUSINESS
SPORTS
WORLD
Friday, September 3, 2010, Chandigarh, India
Updated at 3:00 am (IST)

Sonia set for 4th term
Files nomination papers for post of Congress president with PM leading party leaders in proposing her name
New Delhi, September 2
Her re-election a mere formality, Sonia Gandhi is all set to become the longest serving president of the Congress party. She will don the mantle of party chief for the fourth successive term and hold office for an uninterrupted 15 years.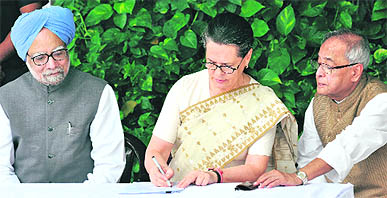 Congress president Sonia Gandhi signs the nomination papers as Prime Minister Manmohan Singh and senior leader and Finance Minister Pranab Mukherjee looks on during nomination filing for Congress presidentship in New Delhi on Thursday. Tribune photo: Mukesh Aggarwal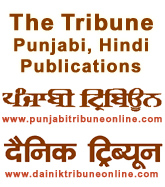 EDUCATION
JOBS & CAREERS
HEALTH & FITNESS
SCIENCE & TECHNOLOGY
REAL ESTATE

SPORTS & WELLNESS
Packed back to Pak
Dropped from series, but Pak govt rallies behind them
London/Karachi, September 2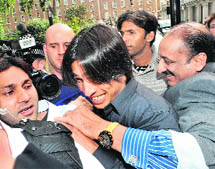 Bowing to intense pressure, Pakistan today left out Salman Butt, Mohammad Asif and Mohammad Aamir from the Twenty20 and ODI series against England but strongly defended them.
Mohammad Aamir (centre) and Mohammad Asif (rear) arrive at the Pakistan High Commission in London on Thursday. — AP/PTI

Players are innocent: Pak envoy

Veena submits 'proof' to ICC


After Sibal, Sukhbir wants to help Leh girl
Punjab govt adopts 9-yr-old Skalzang Angmo; on Leh visit, Deputy Chief Minister makes announcement
Choglamsar September 2
The Punjab government today adopted Skalzang Angmo, a nine-year -old girl, who lost her sister, house and entire belongings to the devastating August 6 cloudburst that left over 200 dead in Leh.
Punjab page: Punjab to adopt Leh village
UNION BUDGET 2010-11
RAILWAY BUDGET
2010-11

NDA 60 Glorious Years
1857 The First Challenge
E - Revolution 2005:
A Two-day IT conclave
Assembly Elections - 2005
Turbans
Chandigarh is 50
125 Years of The Tribune
India: The Tasks Ahead
India at Sixty
A Tribune Supplement
EARLIER FEATURES
On Sundays
On Saturdays
Maoists begin killing of abducted cops in Bihar
Patna, September 2
With the Naxals claiming today to have killed one of the cops from Bihar Police held hostage by them since the Lakhisarai encounter on Sunday, the situation seems to have taken a serious turn.
PPSC need not give info under RTI, rules SC
New Delhi, September 2
Setting aside a Punjab and Haryana High Court verdict, the Supreme Court has ruled that the Punjab Public Service Commission need not allow candidates to have unrestricted access to examination records under the Right to Information Act.
Punjab Mahila Cong leaders look to Sonia for justice
Legislators get away with nominating wives as delegates
Chandigarh, September 2
Hell hath no fury like Punjab Mahila Congress leaders scorned. And the women are not going to sit back and lick their wounds. In fact they plan to take their grievance to the very top -- to party President Sonia Gandhi.
Special to the tribune
Treated as possible terrorists, Pak officers fume
Pakistanis have reacted with fury to how US officials treated members of a high powered military delegation after they were mistaken for terrorists and ejected from a domestic flight between Washington and Tampa.
Sibal blames bad floor management
September 2, 2010
SC raps Pawar, says ruling was an order
September 1, 2010
More muck flies off match-fixing scam
August 31, 2010
CRICKET SHAMED AGAIN
August 30, 2010
Jet crew suspended for serious lapses
August 29, 2010
LS plugs forex flow for religious conversions
August 28, 2010
Direct Taxes Code Bill gets Cabinet nod
August 27, 2010
With 'intent' clear, nuke Bill passed
August 26, 2010
Green spoke in Vedanta's mining plot
August 25, 2010
Three dams full, Bhakra board calls meeting
August 24, 2010
Gilani defends India's aid
August 23, 2010