COLUMNS

THIS ABOVE ALL
SIGHT AND SOUND
GOOD MOTORING
AUDIO SCAN
MUSIC ZONE
WEBSIDE HUMOUR

FOR CHILDREN

CROSSWORD
RHYME TIME
ROOTS
Switching


The glamour of Bollywood actors, and the adulation received by sportspersons have often attracted stars in these fields to exchange roles, albeit not too successfully, writes V. Gangadhar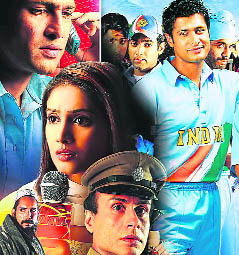 Good looks, wealth, public adulation, almost to the point of hero worshipping blindly. Two categories of Indians were blessed with these qualities — our sportspersons (particularly cricketers) and our filmstars. Constantly featured in the celebrity list of Page 3, they often indulged in mutual back scratching, yet made no attempt to hide the desire to exchange their roles, filmstars wanting to play cricket and cricketers being featured in films. The Indian scenario offered full scope for such role switches.
Former pace bowler Salil Ankola's films like Kurukshetra, The Dressing Room, Pitah and Chura Liya Hai Tumne were non-starters but he had better luck on the small screen

Sporty act
Jeans fit, life hit
Skinny jeans are a combo of ease and style, says Shama Rana
While celebs like Rihanna, Paris Hilton, Kim Kardashian, Nicole Richie and Jessica Simpson look divine in them, back home Bollywood actresses like Katrina Kaif and Sushmita Sen swear by this piece of fabric. The fad of slim, tight and skinny pants has hit the fashion scene like a storm, and fashion Moguls have termed it the hottest trend, one cannot afford to overlook this season.
We have not received Mannika Chopra's column Teleprompt this week