Voices from the South
A recent volume on South Indian paintings takes one to a different world
while correcting our bias towards art from the North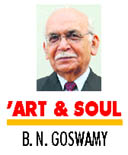 Whenever one picks up a book on Indian painting, the eye begins to look for paintings in styles that one has more or less grown up reading about or seeing: Shahi kings being instructed in matters of the spirit by Jain monks, resplendently attired Mughal emperors drawn with the keenest of brushes, Rajput rulers taking aim at leaping tigers in wild terrains, Krishna eagerly waiting for Radha in the lush surroundings of a Pahari landscape.
Seldom, if ever, one searches for or lands upon anything truly south of the Vindhyas. Paintings from the South do not — ordinarily — even enter our ken. And yet if only one were to take just another step, a different world could open up.
I discovered this for myself when I was working some years back on "Domains of Wonder": an exhibition of selections from the famed Binney collection of paintings at the San Diego Museum of Art. In that collection was an illustrated manuscript of the Bhagwata Purana from Mysore, which just took my breath away. It was of a late date — close to 1840 AD — by which time the European presence in Indian art had started becoming palpable and nearly everyone thought that the great tradition of Indian painting had begun to dry out on the branches of time.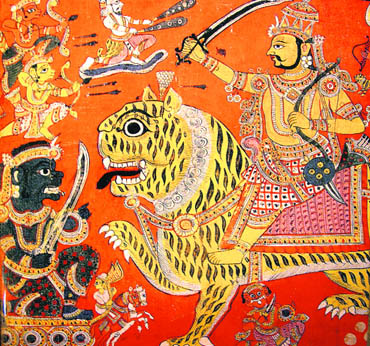 Bhavan Rishi battling a dark-bodied opponent. Panel from a Telengana Scroll; late 18th century. British Museum, London

But when one saw the quality of this manuscript and others of its kind, dating seemed to be of no consequence. For so compelling was the vision which shone through the pages of that manuscript, and so splendid the execution. From the very first folio — a double page showing an enormous courtyard in intense red with innumerable figures disposed around it, in whose virtually vacant centre exquisitely detailed standards raise their lofty heads while pennants of all descriptions fly — the reader/viewer was led into a world of incredible visual excitement. "Rich, saturated colours", as I, then, wrote in the catalogue of the show, "invade the senses; streaks of gold shimmer and gleam; tiny little figures bustle about, moving, embracing, glancing, combating; seas surge, clouds rumble, elephants move with incredible dignity".
But there was in those paintings no attempt at creating any deliberate 'effects', or at setting up theatrical contexts, for over everything fell the even, warm light of deep devotion, bhakti.
Episodes from the great text were rendered with the conviction that this is the only way in which these things could have happened; characters, whether human, semi-divine, or divine, all appeared to be true and believable.
Regardless of the fact that one saw, even in that ancient context, soldiers in British uniforms forming part of Jarasandha's army, or wind-filled European sails on boats crowding the seas that surround Dwarka, the unnamed painter/s of the manuscript saw no anachronism. For in their understanding, time moves differently, and the present fuses, as it always does, with the past.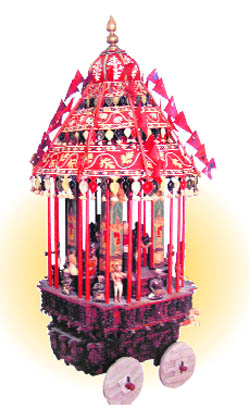 Model of a Processional Chariot.
Possibly from Thanjavur; ca. 1750.
British Museum, London

That single manuscript came only as a confirmation of what one vaguely knew or guessed at: that, as stated before, there were fresh worlds in the South that needed to be approached and entered. It is in that context that the recently
published volume, South Indian Paintings, that catalogues the collection in the British Museum, and is the work of Anna Dallapiccola — a former colleague with whom I had worked at Heidelberg for close to 10 years — serves an admirable purpose: that of correcting our old bias favouring the North as far as painting is concerned.
There are remarkable riches in the book and Anna reveals them for the reader with assiduity and at length. Hindu Mythology, broadly, is what the volume opens with, as many as 500 drawings of deities, saints and holy places featuring in it.
One can be certain that nobody knew more about iconography than the great pundits of the South and it is they who must have sat with the painters as they went about conjuring that world into being in visual terms. The push towards producing work of this genre might have come from European patrons — French, English or Dutch — for they must have wanted to know the gods and goddesses, who the populace under them lived by, so to speak. But, in the process, a remarkable gallery of images got assembled. There, in album after album, or series upon series, one sees them all: from the wide range of the great classical deities — Brahma, Vishnu, Shiva, Durga, at the head of them all — to locally celebrated divinities like the goddess Mariamma or the saint Nammalvar. It is an endless procession, as it were.
Revealingly, a large number of drawings are inscribed with captions in Latin, the fact clearly giving away the class from which patronage for this kind of work came. But this does not take away any part of the interest that resides in them even when their quality remains, understandably, uneven.
In the book, however, slowly other riches are spread out as if on a dazzlingly designed carpet: from relatively dry paintings that are 'depictions of native life' as they were called — representations of castes, trades and occupations — made mostly for a European clientele, to grand painted narratives on paper and textiles. There are those wildly innovative works, bursting at the seams with energy, that were once named "Paithan Paintings", and now more appropriately "Chitrakathi", combining chitra with katha: all a part of performances by itinerant storytellers. And then, there are those remarkable 'Telangana Scrolls' painted on cotton — one of them nearly 10 m long — that narrate the origins of a particular caste in visual terms. Displayed to the accompaniment of stories told by professional performers, and meant ordinarily only for the eyes of members of a designated caste, they are works filled with vigour and great, sustained rhythm.
In these, against a blazing red ground, remarkable action unfolds: two-headed eagles take to wings, vast forests burn, three-legged figures dance, and rishi-heroes ride tigers to take on dark-bodied demons in combat. And all this while great gods and goddesses flit in and out of scenes. There is not an inch of space in which some wondrous thing or the other is not happening. It is all dense and challenging, and visually defiant, raising questions about what accepted aesthetic norms are.
And then, there is that wonderful three-dimensional model of a processional temple chariot from the South that was presented to the museum as early as 1793. Made of wood, cloth and pigments on wood, it is remarkably fashioned, with arches and pillars and openings into interior chambers, and dvarapalas holding the emblems of the great god, Vishnu. There are no images inside, but close to the entrance are stationed delicately carved figures. As if to invite the viewer, like the reader of this remarkably detailed volume, to enter a different world.