Game for civility!
Kiran Bedi co-authors a book on civic sense ahead of the CWG

MoVED by the 'not so good' image of civic sense of Indians among foreigners, India's first woman IPS officer Kiran Bedi has brought out suggestions for laymen to improve their civic behaviour ahead of the Commonwealth Games.
"There are article after article in foreign nations is calling Indians unhygienic and dirty. Being a true Indian, I wanted to change the scenario," says Kiran Bedi, who has collaborated with socio-political thinker, Pavan Chaudary, for the book Broom and Groom. With an introduction by former President A. P. J Abdul Kalam, the hardbound book suggests globally accepted manners and etiquette and features a 'muppet' and other illustrations on its pages.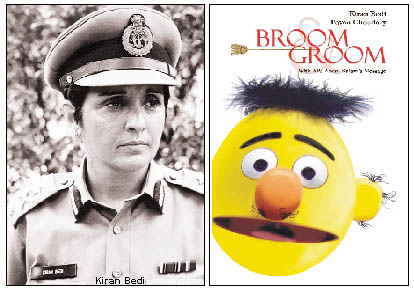 "Foreigners hug and hold hands in public. We should not stand and start staring at them, else they will carry the bad impression of us back home," Bedi said while releasing the book in New Delhi recently.
Co-author Pavan Chaudary says the government should stop tweaking and wake up before the games to provide good sanitation and hygiene conditions.
"India was first cradle of civic virtue in the world as Indus and Mohanjodaro civilisations had irrefutable evidence of good sanitation and code of conduct," he says.
Invoking the Father of the Nation, Mahatma Gandhi, he said,"Gandhi ji said our Swaraj will stink if we do not clean our backyards. But, post-Independence our governments have failed to provide education and infrastructure for good hygeine." According to the authors, the idea to write the book came due to appalling living conditions in our country and from their desire of not seeing India lag behind other nations in terms of civility.
"The book tells that we are not giving up. We are starting a revival and revolution of civility. The book is for civil responsibility," says Bedi.
The book focuses on civic sense issue such as not spitting paan at public places, ogling at female co-passengers in an elevator or quarrelling in front of a guest at home.
Catering to a variety of sections ranging from the elite to government servants and domestic help, the book covers such issues such as restaurant and banquet manners, auditoria or airplanes must do's, gymnasium and sports field behaviour, greeting properly as well as being a good host or house guest.
Anu Anand, publisher, Wisdom Village (Publication Division) says," We are happy to introduce the book just before the CWG. We hope our readers will learn and put their best foot forward before our guests from 54 countries during the Delhi CWG." The publisher has started a website and blog to get the feedback from the readers and their suggestions will be included in the next edition of the book. The book would also be released in Hindi and other regional languages soon.
"Keeping a good hygiene has been brought out very nicely. Each page in the book is useful to improve the way of life," says Kalam in his foreward.
Bedi, who is often described as a national role model, says the Capital has fallen back on visible leadership at the ground level.
"The capital needs visible leadership on ground. We have given up on certain problems, resulting in frequent violations of law," Bedi said.
"We have to deploy more resources, better technology with a certain amount of innovation for better enforcement of law and regulation," she added.
Bedi said the "timing of her book is significant". "The Commonwealth Games 2010 is barely a few days away. India needs to put on its best manners and shun habits that offend the eye," she said. "What we have done in the book is to flag off our own mistakes and explore our sensibilities."
The illustrated book, with accompanying capsules, lists Indian malapropisms and instructs readers how to shun "oddities like spitting, scratching genitals in public, using mobile phones in company of friends and in prohibited zones, quarrelling with spouses in the presence of house guests and desisting from frivolous speech in the company of erudite men", Bedi said.
"The book is an ongoing process. It will become participatory in the next level. We have created a blog space for readers and citizens to share their experiences and contribute suggestions on how to conduct with dignity in life. The suggestions will be included in the subsequent edition of the book," she said.
For example, what should one do with a house guest when one goes to work? "Should you ask him to go away and return in the evening?"
"Assess your guests' needs and plan out his itinerary together so that it is mutually convenient. If the guest is more comfortable staying at home by himself, give him access to his room, kitchen and the common areas," Bedi recommended. Reverting to the issue of leadership, Bedi, also a television presenter, said: "Even a constable can be an effective leader on the ground to ensure uninterrupted flow of traffic and better policing."
"Begin with a leadership that is functional, accessible and meaningful at the grassroots. I am not speaking about the top of the hierarchy. People have to be brought back to the centrestage so that they become more responsible," she said. "Governance should be a partnership between the political dispensation and the people. Delhi is full of youth, but where is youth participation in leadership? We require a wholesale attitudinal change," she added. — PTI, IANS