Pizza point
With its myriad toppings, bhura pizza is a visual delight
KIDS love pizza, so do their parents. It is a visual delight with myriad toppings with different hues their magic. The base is baked crisp, the cheese is creamy, the veggies have a refreshing crunch and meats (if used) and mushrooms retain some bite. The tomato sauce and mustard add the tang. Sprinkled chilli flakes and seasoning are a bonus.
We have never understood why the poor thing is derided as junk food. We think that itís the bias against maida that causes the damage. Replace the usual base with brown bread and do-it-yourself instead of ordering home delivery and see the difference. For the price of an extra topping, you can treat the kids to another wholesome pizza.
Bhura pizza gets its name, like the Brown Sahibs of yore, due to the colour of its skin.`A0We are happy with our tinkering and feel that it is only snobs who can keep quibbling henceforth about wood fired ovens, thin-crust, hand tossed and/or pan baked versions. The pizza in its desi`A0moti roti-like avatar is good enough for us. But some ultra patriotic foodie friends with fertile imagination have, after tasting this version, at our table started speculating that Marco Polo carried the recipe from India with him to Italy, along with the nuskha for noodles from China.

Bhura Pizza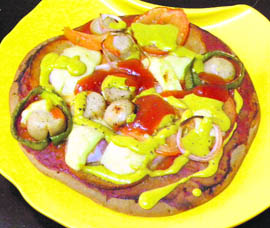 Ingredients
Brown bread pizza base one
Salami pieces 4-6
Sausages
(cut into 3-4 pieces each) four
Cheese (preferably mozzarella) 100 g
Capsicum (medium) one
Tomato (medium) one
Onions (medium) two
Mushrooms (medium-size pieces) five
Tomato pure 3 tbsp
Chilli flakes 1 tsp
Method
Pre-heat the oven to 200`BA C for 10 minutes. Peel and slice the onions in rounds. Wash and slice the tomatoes similarly.`A0Wipe clean the capsicum and slice after removing the core. Spread the tomato puree evenly on the pizza base. Now arrange salami, sausages, cheese, capsicum, tomato, onion, mushrooms and chilli flakes.
Put pizza in the preheated oven and bake for 20 minutes till done. Remove carefully. Sprinkle over with chilli flakes, seasoning, pour tomato sauce and mustard. Enjoy.