Absorbing fare
The action in The Expendables is racy and dotted with the choicest humour


Hollywood may have lost it with comedy but for action films they can still turn on the heat and with dashes of humour create an ideal amalgam of entertainment. In almost the same tradition of The Dirty Dozen, The Magnificent Seven and The Five-Man Army, comes The Expendables and it is a good mix of action and humour.
Remember Sylvester Stallone of Rambo and Rocky fame? He also wrote some of the scripts. At 63, he can still do it and he has biggies like Arnold Schwarzenegger and Bruce Willis for company, albeit briefly. The younger bulls include knife-wielding sidekick (Jason Statham), reminiscent of James Coburn in The Magnificent Seven, and a little martial arts maestro (Jet Li).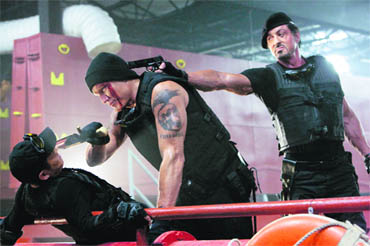 Scripted by Sylvester Stallone, the film is a mix of action and comedy

Of course, they are there to eliminate a South American dictator. It all begins after a local freedom fighter (Giselle Itie) is taken captive and this dadís army is getting ready to set her free and give the dictator his just desserts.
But the action is racy and dotted with choice humour. Director Stallone does a fair job but there are some dull moments. Eric Roberts is cast in the role of the villain. But Stallone (who has also scripted the film) and Statham reel off some amusing one-liners.
One-time action hero Mickey Rourke, now staging a comeback after living through a bad patch in life, shares a poignant monologue on his experiences in war-ravaged Bosnia. With a good deal of variety and a range of eccentric characters, the fare continues to be moderately absorbing.
Stallone canít be blamed for looking jaded but he still delivers those lines from the side of his mouth, in trademark style. Willis and Schwarzenegger are just flashes but Jason Statham impresses and we are sure to see more of him as is cute newcomer Giselle Itie.Worth a dekko.