Teachers as torchbearers
A guru is like a beacon that shows us the right path. This Teacher's Day, celebrities remember
the mentors and guides who helped shape their future, writes Vimla Patil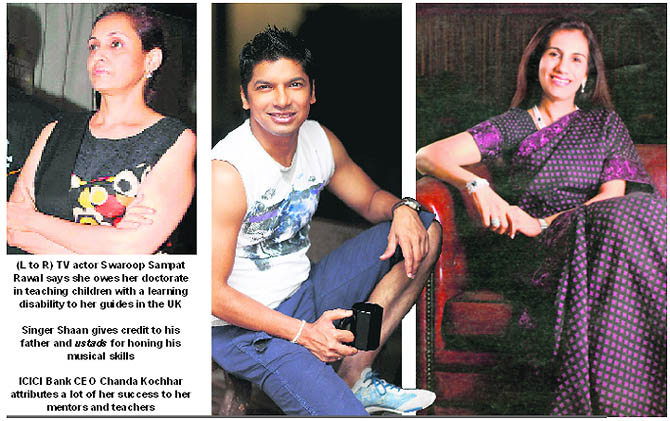 NOT so many years ago, singer Shaan and his sister Sagarika were a struggling pair that made music videos in the Indo-western style for collegians. Later, while Sagarika married and settled down, Shaan got the opportunity to sing as a playback artiste. His destiny changed dramatically and he became one of Bollywood's top singers under the training of Ustad Ghulam Mustafa Khan. He also became a youth icon when he hosted reality music shows for prominent TV channels. Then followed marriage and children and his life was complete. Today, with recent hit numbers in films like Fanaa, Sanwariya, 3 Idiots and others, Shaan is indisputably the top singer of Bollywood.
However, something he never forgets to do is give credit to those who shaped him. "My father, Manas Mukherjee, was one of the most gifted musicians of India but he was not destined to achieve the success he deserved," he once said tearfully in a TV programme, "He is the guiding light of my life, he trained me with complete dedication and gave me the strength to struggle through difficult times to achieve the success I have today. I owe everything to him and, of course, to the ustads and pandits of Hindustani music who have trained me over the years."
Shaan is not the only celebrity to readily acknowledge his debt to his teachers and gurus. A huge number of successful people in India take the opportunity on Teacher's Day to pay a tribute to their teachers and gurus because in the Indian tradition, a teacher or guru occupies the place of 'God', because he or she inculcates the discipline and passion to achieve success in a student's life.
Chanda Kochhar has been nominated as one of the most powerful women in the world. Managing Director and Chief Executive Officer of the ICICI Bank, she, too, says that her success would not have been possible without the support of her teachers, parents and family. At 49, she has reached the acme of her career with guidance from her seniors in the bank and the dedicated co-operation of her team, ever since she joined the bank in 1984.
"I am grateful to all these people – my family, my staff and my teachers who have given me guidance and support throughout my career to reach where I am today. Next on our list of celebrities is the beautiful Swaroop Sampat-Rawal, Miss India 1979 and wife of renowned actor Paresh Rawal. Swaroop, who is looking forward, this year, to the publication of her book on children with special educational needs. She earlier won another kind of 'crown' for her success, for which she is grateful to her teachers and family. She holds a doctorate from Worcester University, UK, for her thesis in teaching children with a learning disability.
"I come from a family that has been involved in theatre for decades," she says, "My father Bachoobhai Sampat was chairman of the famous Indian National Theatre and my mother is a doctor. I was steeped in theatre even as a college student and as I completed my Master's in English, I performed in many commercial plays in Gujarati, Hindi and English. I also acted in 12 films before and after my marriage, the last being Shaad Ali's Saathiya (2002), in which I acted as Vivek Oberoi's mother! In my theatre days, I met Paresh Raval, who was equally passionate about theatre and acting. Soon after, Paresh's film career took off successfully and we were married.
"I enjoyed my life as a mother and wife, but at the same time, I wanted to do something on my own and Paresh encouraged me completely," Swaroop continues.
"I visited the kiosk of Worcester University at an educational fair and applied for a part-time course to work for a Ph. D in teaching children with learning disabilities. I got a full scholarship and accommodation plus the unique permission to attend the university for one month every year till I completed the doctorate. Every year, during the children's school holidays, I religiously went to Worcester University, stayed in their student quarters, ate canteen meals and studied for 18 hours till I fell asleep with exhaustion. I read books on all subjects concerning educational psychology, skills for teaching children with learning difficulties, slow learners and dyslexic children. I worked with Dr. Stephen Bigger and Dr. Philip Chamber, my gurus and guides. I would give full credit for my success to my professor guides and to the support of Paresh – who encourages me to call myself Swaroop Sampat – and our two sons. They want me to return to the stage and films, too."
Shakun Kimatrai is a prominent social worker who comes from an affluent business family. An ardent contributor to the project to clean up and resurrect the holy towns of Gokul and Vrindavan, she has made efforts to bring a new life to this crowded pilgrimage centre with dexterity. She says, "We are working to clean up and reinvent Kishor Van, the actual Raas Leela venue of Lord Krishna in Vrindavan, which is rapidly turning into a concrete jungle. We really need to work hard to make it green and beautiful. We wish to restore all places of environmental-spiritual interest in Braj and Vrindavan, beginning with the Kishore Van revival. Once the Kishore Van project succeeds, the owners of the other places will be interested to restore their temple groves. We are asking the people of India to support us."
Shakun continues, "I believe my work is inspired by my spiritual guru, Indira Devi, and my Ishta Devta, Krishna. Teachers and gurus are necessary because they help us to connect to the correct way to achieve success or enlightenment. They know your strengths and weaknesses and the qualities that resonate your personality. I am happy that my family, my colleagues in my work and my guru supported me throughout my journey and I am what I am because of them all."
Thus, whatever your dream or career path, the guru or teacher always looms as a larger than life figure over your success and efforts. It could be your teacher in school or college, or guides in your workplace or, simply, your parents, family and friends, who cheer you on to work harder, to focus on your goals, and to finally succeed in whatever you wish to do. They are all your teachers and supporters. They help you to look in the mirror and admire the winner you see there in the reflection.

In a class of their own
Inspiration and Innovation have been the hallmark of these teachers...
Stage for studies
Papri Sri Raman
Ours is a love marriage," she says, smiling proudly at him. One does not expect such a bold declaration at the very onset of our conversation, but there an unmistakable pride in her voice, as she is referring to an achievement rare in those days.

Each One, Teach One
Danish Khan
Ech One, Teach One — one of the most effective schemes to promote education today was popularised by a woman few remember, but who was a pioneer in the field of adult literacy in India.


Sanctuary of learning
Smita Deodhar
Armed with colourful posters, picture cards and slides, Pune residents Sharmila Deo and Purnima Phadke have been
heading to Bhimashankar Wildlife Sanctuary each month for two years now.
Stage for studies
Papri Sri Raman
Ours is a love marriage," she says, smiling proudly at him. One does not expect such a bold declaration at the very onset of our conversation, but there an unmistakable pride in her voice, as she is referring to an achievement rare in those days. Meet 85-year-old Rajalakshmi Parthasarthy, or Mrs YGP, or simply YGP, who was recently in the news for being honoured with the Padma Shri for excellence in teaching.
Most people are familiar with Mrs YGP's rise in the world of academics - she started the well-known Padma Seshadri Bala Bhavan (PSBB) group of schools in Chennai. But as one settles down to learn more about her life's journey, one gets to see a rare side of her personality — Mrs YGP as a woman with a passion for theatre.

Rajalakshmi Parthasarthy's biggest innovation has been the introduction of
theatre as a teaching tool
Photo: WFS

She uses the present tense while referring to her late husband, Y.G. Parthasarathy (YGP), a government official, noted dramatist and a stage actor, who founded the United Amateur Artistes (UAA) in 1952. The theatre company continues to stage plays under the able guidance of Mrs YGP's son, Y.G. Mahendran, also a noted actor and the brother-in-law of superstar Rajinikanth.
"YGP's sister, Vaidehi, was my friend. She would write long letters to her brothers from her husband's home, and once, when he enquired about my well-being, I wrote to him directly. I was very bold," she says.
It was in Vaidehi's mother's house that Rajalakshmi met YGP, a budding theatre actor, and their love blossomed. Before the two married, Rajalaxmi completed her graduation in Mathematics as well as post-graduation in journalism from Madras University. She went on to work with The Hindu and was possibly among the first women journalists in the country.
After her marriage, she quit her journalistic career, and in 1952, the theatre-loving couple set up the legendary UAA.
In 1958, with the help of the women of the Nungambakkam Ladies Recreation Club, Rajalakshmi started a small school, Bala Bhavan, on the terrace of her home. "In the day time, there was the school... in the evenings, there were the rehearsals with actors," she recalls.
The Bala Bhavan also simultaneously grew from an institution that had begun under a thatched roof, to the PSBB group of schools with many branches and many famous names on its alumni — most of whom have something special to say about their 'YGP' or Rajalakshmi Rajamma.
In fact her biggest, but perhaps unrecognised, innovation in education has been the introduction of theatre as a teaching tool. "We must introduce creative drama from Class I," she says.
"One needs to act out dry history, if one is teaching the Battle of Panipat... the children need to become characters in that war... a soldier, a commander... Even the Constitution Assembly lessons... how interesting [they will be] if children acted the parts of the debating leaders... Mrs YGP certainly knows how to make learning fun and at the same time effective. Little wonder then that her students , past and present, call her the ultimate guru. — WFS
Each One, Teach One
Danish Khan
Ech One, Teach One — one of the most effective schemes to promote education today was popularised by a woman few remember, but who was a pioneer in the field of adult literacy in India.
Kulsum Sayani's name might not ring a bell for many but her life and work are truly remarkable. Mother of the well-known radio personality Ameen Sayani, Kulsum was born in 1900. Her inspiration was none other than Mahatma Gandhi. Her father, Dr Rajabally Patel, was the personal physician to Gandhiji and Maulana Abul Kalam Azad.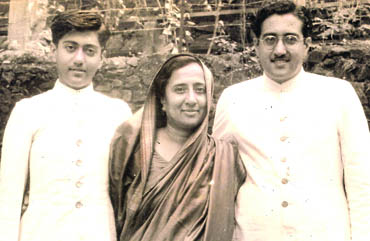 The late Kulsum Sayani (centre) with her sons, radio
broadcaster Ameen Sayani (left) and Hamid Sayani
Photo: Courtesy the Sayanis

Describing those trying times, Kulsum Sayani wrote, "A new Congress hospital was founded to care for the wounded. My late husband, Jan Mohamed Sayani, was the first physician to be put in charge if it. "
Sayani's interactions with Gandhiji and the importance attached to education in her family made her realise the need to eradicate illiteracy. In 1938, with a capital of Rs 100 (US$1=Rs 46.7), she employed two teachers and made the rounds of Muslim localities to get students. Considering the conservative attitude towards female education even now, imagine the effort it must have taken on Sayani's part to convince families about the importance of educating girls at that time. There were times people used to slam their doors on her face, exclaiming, "Why should women learn to read?"
Her tireless efforts proved that there was a tremendous need to work in the field of education, which needed a more organised set-up. It was in spreading the word on education that she is best remembered.
Sayani was very pragmatic and initiated several schemes to spread literacy, notably among them, 'Each one, teach one'. She used to visit several schools and encourage young students to devote 15 minutes every day to teach one adult. Another literacy initiative she undertook was reading out aloud. School students were encouraged to gather friends and adults and each one had to read out aloud.
Sayani's life is an inspiration to many. Married when she was only 18, she managed her family and pursued her social interests with equal elan. Her sons, Hamid and Ameen, both radio broadcasters, created their own identity. Ameen Sayani attributes his "basic grounding in clear and credible communications in Hindustani" to his involvement in assisting his mother in bringing out her publication Rahber.
She received the Padma Shri in 1960 and was also awarded the Nehru Literacy Award in 1969.
Sayani, who died in 1987, belonged to an era where people believed in giving their best to the nation without expecting anything back. — WFS
Sanctuary of learning
Smita Deodhar

Armed with colourful posters, picture cards and slides, Pune residents Sharmila Deo and Purnima Phadke have been heading to Bhimashankar Wildlife Sanctuary each month for two years now. They have a mission on their mind — to instill in the local children of Bhimashankar an appreciation and protective attitude towards their verdant home.
Bhimashankar is an evergreen forest in the Sahyadri range, 120 kilometres from Pune, Maharashtra. Declared a reserve forest in 1985, it boasts of several varieties of trees, 236 species of birds and 66 of mammals. But the region also faces multiple threats: The unchecked tourist influx that has led to an increase in air pollution. Even an 18th century Shiva temple that stands within the forest has contributed to its ecological woes. Large-scale pilgrim presence causes extensive littering. The plastic bags, bottles and wrappers that are strewn for miles not only choke the water bodies, but are also increasingly responsible for the death of wild animals that ingest them. The sanctuary is definitely in dire need of conservationist intervention.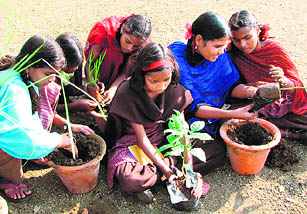 Children plant saplings of medicinal plants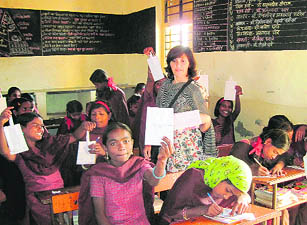 Students show off dainty paper bags as Sharmila Deo looks on proudly Photos: WFS

In 2008, prominent Pune-based environmental NGO, Kalpavriksh, decided to conduct a sensitisation drive on these issues among the local residents. A two-year environment education programme for school children was a part of this effort.
Kalpavriksh officer Sharmila, 37, who had earlier done similar work in Ladakh, was put in charge of this project that was sponsored by the Concern India Foundation and Ruffords Small Grants Foundation (UK). She roped in a German language teacher, Purnima, 64, as collaborator and voluntary educator. The two had met and found shared interests when they did a one-year diploma on environmental conservation in 2003.
"I looked after the organisational and financial aspects, while Purnima designed a lot of the content, after deliberating with me and the experts at Kalpavriksh. We conducted the actual workshop together," Sharmila informs. Extensive research and several exploratory trips to Bhimashankar later, the project got underway.
The svelte jeans-clad Sharmila and the matronly Purnima soon became familiar figures in the 'ashramshalas' of Tekavade and Terungan villages, where their playful, hands-on half day sessions provided relief from monotonous classroom studies and opened a whole new world of discovery for the 150-200 students of Classes VII and VIII. The 'ashramshalas' are government run residential schools for tribal children.
"In the beginning, the students were completely non-responsive, as they were accustomed to passive learning. Breaking the ice was the most difficult part of this job," recalls Sharmila.
The educators had decided that teaching would be non-pedantic, context specific, and rooted in the children's world of experience. Cultural events were turned into teaching opportunities. The human pyramids formed by the students during the Dahi-Handi festival, for example, became a tool for explaining the concept of the energy pyramid.
Soon a rapport was established, and the children's enthusiasm soared. They learnt about the food chain and the web of life through role-playing of different birds, mammals, insects and aquatic animals.
"We gave them many opportunities to display their creativity," says Purnima. The children made collages out of various kinds of leaves to produce a fascinating array of patterns and shapes - green snakes, insects, peacocks, airplanes and Ganesha figures! That year, an anti-plastic drive during the Mahashivratri festival, which brings thousands of pilgrims to the temple, gave an opportunity to train them in activism. Draping themselves in assorted plastic waste and dubbing themselves as plastic monsters, the children moved among the crowd, singing anti-plastic songs and asking the pilgrims to eschew plastic.
The comprehensive, ingenious programme that the two women ran is indeed a model of how environmental science must be taught. Prakash Dudhe, the principal of the Tekavade school, expresses appreciation for the efforts of the two women. "The classroom walls melted as children trampled through the jungles, and explored their own environment with more scientific eyes." As they bid their students goodbye after the last session of academic year 2010 – though Sharmila is still trying to source funds to run to for another year - the children asked, "You will come back again next year, won't you?" The hopeful query was a gratifying indication that the environmental cause had found a place in the children's hearts. Sharmila and Purnima needed no other reward. — WFS