Island of thousand temples
The island of Bali, known for its lovely beaches, also has some of the most exquisite
temples in the world, writes Nivedita Choudhuri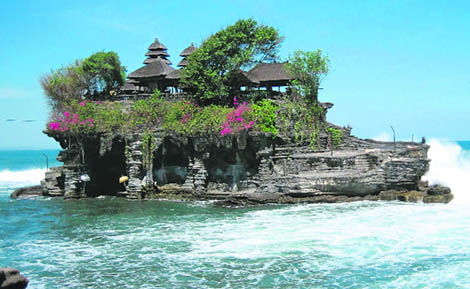 Pura Tanah Lot is built on a rocky outcrop that is cut off at high tide

DEspite the troubles of recent years, the magical island of Bali has lost none of its vibrancy. With its lovely beaches, palm trees and warm, blue waters, it delivers on all the tourist expectations of a tropical island. But for me, Baliís main draw was its exquisite temples.
From Hong Kong it is a five-hour journey to Denpasar, Baliís capital. The road to Ubud from the Denpasar airport is dotted with magnificent spread of rice terraces on both sides, Baliís beauty mark. Most farmers wear the traditional, woven cone-shaped hat to ward off the sun.
Ubud, situated in Baliís mountainous interior, is a far cry from the hubbub of the islandís coastal resorts, awash with shops and restaurants, touts and tourists. A cool mountain breeze that disappears into deep gorges was rejuvenating, as we feasted our eyes on a gurgling river that flanked our hotel.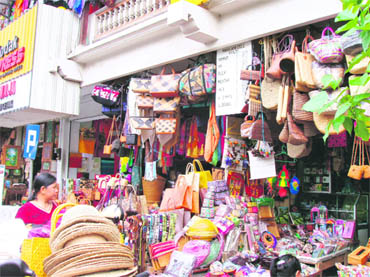 A market in the village of Ubud, which is one of the cultural centres of the island

Although Indonesia is a Muslim country, people in Bali are principally Hindu. Every sunrise, Balinese women clad in traditional clothes, commence the morning offerings to the gods. This blessing for the day is a must in every home, garden, business or hotel. A tiny basket of rice, fruit and flowers is likely to greet you almost everywhere.
As we waited for our guide Made Vijaya, we were intrigued by what Made (pronounced mad-ee) meant. He told us that all first-born Balinese are Wayan. The second-born child is called Made, then Nyoman, then Ketut. And then the naming starts over again, although families tend to be smaller these days.
We proceeded to the southern coast, which has some of Baliís most splendid temples. Although there are some truly magical ones in the mountains, edging picturesque lakes or tripping down the sides of volcanoes, those on the south coast have sensational seaside backdrops.
Pura Tanah Lot is perhaps the best known. In the 15th century, a priest spent some time on the rocky outcrop of land that is cut off at high tide. Afterwards, he told the villagers that it was an ideal place for a temple, so they built Pura Tanah Lot. At sunset, it is flooded by sightseers, as the small buildings are silhouetted against a blood red sky.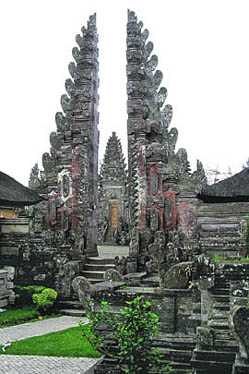 Pura Ulun Danu Batur is the second most important temple in Bali, where 45 gods are worshipped

Next, we took a trip to the crater rim of the live volcano Gunung Batur, which rises nearly 2,000 m above the turquoise Lake Batur. From the viewing point at Penelokan, we went to the ornate temple complex of Pura Ulun Danu Batur, the second most important in Bali, where 45 gods are worshipped. Outside the temple, the hawkers are rather pushy, but useful for hiring the obligatory sarong before entering the temple complex.
The next day, we went to the mother of all temples in Bali ó Pura Besakih. It is a grand complex of 22 temples spread over one-sq mile on the slopes of Gunung Agung, where the Balinese believe the spirits of their ancestors live. Said to have been founded in the late 8th century by a Javanese sage, most of the temples were destroyed in an earthquake almost 100 years ago. Several major renovations were then carried out later.
The most important shrine is Pura Penataran Agung, which rises on seven terraces towards the mountain. The entrance is a superb black, split gateway soaring skywards with the mountain standing proudly behind. This is the holiest temple on the island and, apart from regular festivals, Balinese people are always praying and making offerings. With thousands of visitors arriving daily, the whole place can sometimes seem like a circus, but visit either early morning or late evening to avoid the chaos, or wander among the trees to the further-flung temples and there is a timelessness, a grandeur and a special atmosphere.
Our last stop for the day was Pura Tirta Empul, a sacred spring temple near the source of the river Pakrisan. The main feature is a series of courtyards, containing rectangular bathing pools. The temple is thought to date from the 10th century; the present walls are recent.
It can get pretty difficult keeping track of all the temples on the island. Every household and village have their own temples, not to mention all others scattered across the island. Whoever originally awarded Bali the epithet ĎIsland of the Thousand Templesí clearly couldnít count: there must be hundreds of thousands of them, each one more stunning, more beautifully elaborate, than the last.
fast facts
How to get there: Fly from New Delhi to Bangkok (several airlines have direct flights). Take an Air Asia flight from Bangkok to Denpasar.
Local transport: Taxis are easily obtainable. Negotiate the fares beforehand.
Festivals: Baliís holy days, often an occasion for extravagant celebrations, are calculated according to either a lunar calendar or the 210-day Balinese calendar. Odalan (temple festivals) are the anniversary celebrations of particular temples.
Places to visit: The village of Ubud, a cultural centre and former kingdom, is a must see. The Air Panas at Banjar, a natural hot spring, is popular with visitors in north Bali.
Things to buy: Silver jewellery from Celuk, silks and cottons from Denpasar, wayang kulit (shadow puppet) from Sukawati, wood and stone carvings from Mas, paintings from Ubud and teak furniture from Kuta.
Local cuisine: Gado gado Ė a warm salad of blanched mixed vegetables, tofu and egg, with a sweet and spicy peanut sauce is a delicacy. Another popular dish is bebek bututu Ė duck stuffed with spices, wrapped in banana leaves and cooked in an earth oven.
Places to eat: Dirty Duck (Bebek Bengil) at Ubud is an institution. This sprawling, open-air garden restaurant and bar is surrounded by rice fields with numerous cosy spots for dining.
Where to stay: Tegal Sari rests within an enviable, peaceful location in the middle of ricefields, just outside the centre of Ubud. It features rooms and duplex bungalows, each one different.