M A I N N E W S
Bihar still awaits hostages' release
Sanjay Singh
Tribune News Service
Patna, September 5
The naxal outfit CPI (Maoist) that has still kept three cops from Bihar police under its captivity demanding the release of eight of their comrades locked in the jails in exchange is yet to respond to the offer of talks made by the Chief Minister Nitish Kumar. The meeting of all political parties held by the Chief Minister had also endorsed the offer of Nitish Kumar to the naxals with the assurance that they would be given a safe passage to and from the meeting venue. The all-party meeting was held on Saturday after the maoist ultras had killed one of the policemen Lukas Tete and abandoned his body in the jungles of Lakhisarai with a hand written note threatening to kill the remaining three cops held hostage by them if their demands were not conceded to.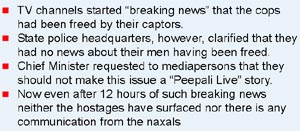 Following the appeal made by all the political parties, a self-proclaimed spokesman of the outfit named Avinash spoke to some regional channels saying that the government's offer would be discussed in their Central Committee meeting and a decision would soon be taken on it.
Subsequently some other TV channels started claiming that they had also been contacted by the naxals who said that they would free the remaining three cops by Sunday. Not to be left behind in the TRP race some other TV channels started "breaking news" that the cops had been freed by their captors. They also started giving the location where the armed squad of the outfit was spotted with the captive cops. All this while, the state police headquarters kept on clarifying that they had no news about their men having been freed.
Notably all this was happening despite the Chief Minister's request to the mediapersons that they should not make this issue a "Peepali Live" story. Now even after 12 hours of such breaking news neither the hostages have surfaced nor there is any communication from the naxals either to the media or the government agencies. Uncertainty still prevails over the fate of the hostages. Surprisingly all the TV channels who were out to beat each other in breaking news last night have gone mum on this issue.
Meanwhile, the police claimed to have intensified its operation against the naxals in Lakhisarai and the adjoining districts of Jamui and Munger.