The new face of Rural Punjab
More and more girls from the rural areas of Punjab are shunning a conservative mindset to carve a niche for themselves in the hospitality and aviation sectors, writes R.M.S Atwal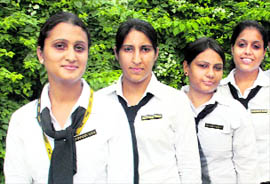 The rural social fibre has been known for its strong conservative thread and an orthodox warp of stereotyped roles for women. But all this seems to be changing as many young girls from the rural and semi-rural areas of the state are dreaming beyond the stereotyped roles and are scripting success stories for themselves. These girls have been able to convince their 'orthodox' parents that hospitality is a great career option for them today.

These girls from rural areas are learning the ropes of the hospitality industry

Career Hotline


A strong FOOTHOLD
Q. I am studying in Class XII. Unlike most of my friends who are opting for garment and textile designing, I am keen on doing something in the footwear industry, preferably as a designer as I just love shoes (and have a large collection of them. Please tell me about the prospects in this field.
Safe and healthy
Paying Research
No handicap
Careercature
Sandeep Joshi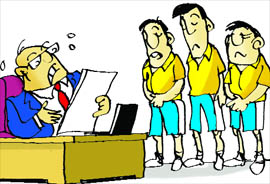 Sir, we are working like a team but there are some match-fixers among us.

A buoyant jobscape
Findings of two surveys and an industry insider's views give an overview of the job market in the country at present. The sentiment is buoyant and positive with companies across all sectors on a hiring spree of sorts. The experienced as well as the fresh workforce has bright chances of career growth and fatter pay cheques.
Attrition bug in police force
Seeking greener pastures, 80 IPS officers quit jobs in seven years
New Delhi: Belying the popular perception that IPS is an elite all-India service, nearly 80 officers of the cadre have left the hallowed portals of the top policing job in the country for greener pastures in the past seven years.
FIELD NEWS
Fair for farmers
Guru Angad Dev Veterinary and Animal Sciences University (GADVASU), Ludhiana, will organise Pashu Palan Mela on September 14 and 15. This year university is dedicating mela to the slogan "Vigayanak taknikan apnao, pashu palan ton munafa vadhao "(earn more profit in animal rearing by using scientific methods).
The sweet fruit of FOCUS
If you look at your work as a punishment and drudgery, you are headed for failure. Look at it as a pleasure, as a means for the expression of your personality, and you are courting success.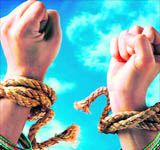 Women on top
The time for women to shine at the workplace is not too far! By 2020, one in every three workers will be a woman and they will increasingly be in control of the workplace, a study has revealed. "This will change company culture in an in-depth manner due to the difference in female management styles," says the study on 'Working in a globalised space' conducted by Ericsson Malaysia.
Happiness @ work
Gems of ancient wisdom
Change targets with situation
Some goals set at the onset may require revision. Be flexible and make the correction so that juniors and coworkers are not ill at ease.